The Easy Stir-Fry Recipe for Whatever Is In Your Fridge
Seriously, you can use practically any veg here!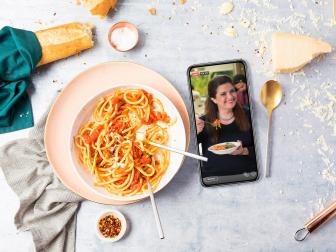 Download Food Network Kitchen to sign up and get access to live and on-demand cooking classes, in-app grocery ordering, meal planning, an organized place to save all your recipes and much more.
Even if you're in the habit of meticulously planning out your meals and grocery shopping accordingly, there's always a chance you'll be left with some produce you're not sure how to use up. Rather than seeing those scraps as a nuisance that might go to waste, Amanda Cohen, chef and owner of Dirt Candy, a vegetarian restaurant in New York City, suggests turning them into something exciting. Her class for Rainbow Stir-Fry on the Food Network Kitchen app is the perfect catch-all for creating a flavorful dish out of whatever you have on-hand.
Cohen starts her dish with a bed of raw cabbage tossed with thinly sliced ginger, a squirt of lime, a splash of olive oil and rice vinegar and a hint of salt. If you received a head of cabbage in your grocery delivery box as a substitute for lettuce recently, think of this as the perfect solution. For the actual stir-fry, Cohen opts for cauliflower, choy sum, kale, zucchini, bok choy and carrots but emphasizes that, "This is about using whatever vegetables you have on-hand."
No matter what vegetables you have in your kitchen, the main thing to remember is to add them to the pan in order of how long they will take to cook. For example, Cohen adds thinly-sliced carrots and cauliflower to an oiled pan over high heat first, as they will take the longest to cook. But, make sure you wait until the pan gets to the proper temperature before adding anything — for a good stir-fry, cooking vegetables at a high heat is essential for retaining crunch. Next, she adds in zucchini and then roughly-chopped greens. Cohen suggests keeping the pan moving while the vegetables cook, adding in a splash of water for steam if they need a little boost.
For an extra boost of flavor, minced garlic and ginger are added last, a technique that ensures the dish has some bite. Finish it off with some final ingredients and this stir-fry comes together in under 20 minutes and is packed with flavor. Whether you eat it as-is or serve it with a side of rice or noodles, you'll have a complete meal and, best of all, no more wasted food.