Beat the Heat with Key Lime Margarita Pie
Serve your favorite cocktail for dessert.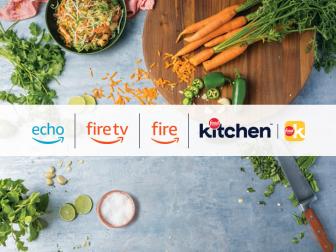 Download Food Network Kitchen to sign up and get access to live and on-demand cooking classes, in-app grocery ordering, meal planning, an organized place to save all your recipes and much more. Own a Fire TV, Fire tablet or Echo Show? You can now get a 1-year complimentary subscription to the app — read here for more details. Terms and conditions apply.
Nothing is more refreshing during the hot summer months than a cold margarita. Or a chilled slice of key lime pie.
Zac Young combines the two to create the best of both worlds with his Key Lime Margarita Pie class on the Food Network Kitchen App, just don't expect this pie to be too boozy. Zac explains the tequila mostly cooks out, getting slightly more mild-flavored in the oven, but the end result still packs a nice smoky tequila flavor.
In the class, Zac walks you through the entire process so you can make a picture perfect pie. A measuring cup is the key tool to help shape your graham cracker crust. By pressing the cup along the bottom of the tin it helps mold the crust for a smoother finish. As for the sides of the tin, it's best to mold the smaller areas with your fingers. And the back of a spoon can help create "perfect little peaks" in your whipped cream. Bonus: this easy technique can also be used to decorate cakes.
Check out this class for other helpful tips, like how to make this pie kid-friendly or what the "magical ingredient" that thickens the custard's texture like no other. Sorry, it's not more tequila.