3 of a Kind: Barrel-Aged Cocktails
Wine is aged in a barrel, so why not spirits? That's the thinking behind the newest trick of the artisan bartender trade: barrel-aged cocktails.
Wine is aged in a barrel, so why not spirits? That's the thinking behind the newest trick of the artisan bartender trade: barrel-aged cocktails. "Barrel aging will refine the product and round out any harsh notes, making the spirit a bit more palatable for guests," explained Maxime Belfand, head bartender at New York City's Saxon + Parole. "The wood also imparts interesting flavors into the spirit, so you can experiment with different types of woods for this as well. Also, the barrel aging exposes the spirit to oxygen, which also adds a new flavor element, making it a bit more complex." Here are three top spots where you can sip your next barrel-aged cocktail.
Belfand believes any serious bar program requires at least one barrel-aged cocktail. "Barrel-aging cocktails is not necessarily a new technique, but it allows bartenders to experiment with different spirits, allowing them to shine in a different light and opening a world of possibilities for the guest," he says. S+P's Prince Edward cocktail, which combines Chivas 12, Drambuie and Lillet Blanc, is aged in oak barrels for five to eight months, depending on the climate, especially the humidity in the room and in the barrel. After it's aged, the cocktail is transferred to a tank, and served on tap, similar to beer. "The advantage of this process [is that it] helps a great deal in terms of speed and consistency, so your guests will never be waiting for a drink that's perfect every time," says Belfand.
Bar Director Maureen Donegan serves two barrel-aged cocktails — the Aged Reasons Rye combines Templeton Rye, Punt e Mes, Cointreau and orange bitters, and the Aged Negroni is a mix of Citadelle gin, Carpano Antica and Campari. Both are aged in American oak for four to five weeks. If you like what you're drinking, the cocktails are also sold to take home in gorgeous bottles sealed with reusable silicone caps that have a distinct vintage flair. The perfect gift for a good friend, or really, just for yourself.
The newly opened Bar Room at the North Branch Inn in the Catskills features an exclusive menu of New York spirits. Sims Foster, the owner of the North Branch Inn, who runs the restaurant and bar alongside wife Kirsten Harlow Foster and Executive Chef Erik Hill, ages Catskills Provisions New York Honey Rye and St. George Smoked Pear Liquor for four weeks in oak casks for his North Branch Cider. The aged cocktail is kept in small oak casks at the bar, and then mixed with hot cider and served in an old fashioned glass. "We are aging two different distilled spirits that have already been carefully matured and aged," said Sims. "What we are doing is a final blending, merging them into one spirit and adding a final layer to the cask flavor. It adds a finish that is unique and only comes from this simple last gesture."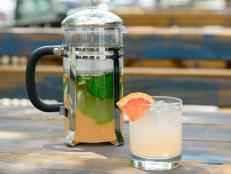 These three restaurants and bars prove that coffee tools don't have to be one-beverage wonders.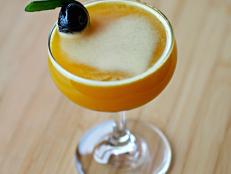 Curry has become one of the more popular flavors in mixology, adding an unexpected twist to classic cocktails.