3 of a Kind: Steeped Cocktails
These three restaurants and bars prove that coffee tools don't have to be one-beverage wonders.
Shaken, stirred … or steeped? French press coffee is served after dinner at many restaurants across the country, but a select few spots are steeping cocktails to serve in these press pots, too. Turns out, manual coffeemakers work perfectly for booze infusions like fresh fruit, herbs and spices. These three restaurants and bars prove that coffee tools don't have to be one-beverage wonders.
It's all about shareable fare at this bi-level restaurant and bar on D.C.'s bustling 14th Street, and that also applies to the drinks. Provision's large-format French press cocktails pour four to five servings, with combinations that change with the seasons. One refreshing fixture on the cocktail roster is the Grapefruit Press (pictured) made with vodka, grapefruit, mint and basil. As temperatures fall, order a hot Cider Toddy press with Laird's Bonded Applejack, Irish whiskey, cider, honey, lemon, quassia (a bark used to flavor bitters) and cardamom tea.
Only true coffee geeks (and shops like Blue Bottle) brew their coffee beans with a siphon, but at The Aviary — the forward-thinking cocktail bar from acclaimed chef Grant Achatz and partners — you can sip a cocktail made in one. "We made a private-label strawberry brandy with a distillery in Chicago called Rhine Hall. So I wanted to take that and highlight flavors that taste great with strawberry," says beverage director Micah Melton. For the Goodnight & Goodmorning cocktail, brandy is combined with yellow Chartreuse, Elixir Combier and Pineau des Charentes (a French aperitif) and infused tableside, via the vacuum-like siphon, with an array of aromatic botanicals: rooibos tea from Chicago's Rare Tea Cellars, vanilla bean, cubeb pepper, lemon, orange, mint and bay leaf.
Bar food is taken to the next level at this casual spot (think taco burgers and a fancified corn dog), and to follow suit, they've upped their cocktail game. Instead of shaking and stirring, bartenders are French-pressing cocktails like a sweet-and-spicy Pepper-Fruit Press, a vodka-based drink infused with fresh grapefruit, basil and pink peppercorns. "We are lucky enough to live in an awesome city where we get to experience all four seasons," says bar manager Kristen Johner. "We plan to change our pressed cocktails with the season. Think apple, pumpkin and ginger flavors in the fall, and lavender and lemon in the spring."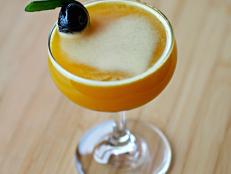 Curry has become one of the more popular flavors in mixology, adding an unexpected twist to classic cocktails.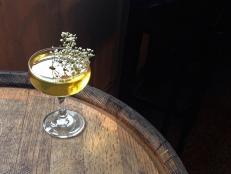 Wine is aged in a barrel, so why not spirits? That's the thinking behind the newest trick of the artisan bartender trade: barrel-aged cocktails.