Chefs' Picks: Family Meal
The pros share their best dishes for breaking bread together before the shift begins.
Chefs' Picks tracks down what the pros are eating and cooking from coast to coast.
Chefs spend all day feeding other people, but they rarely make meals for themselves. Many larger restaurants have instituted a pre-shift spread, often called the "family meal," which has turned into a tradition of sorts. In addition to providing nourishment for the staff, this meal can serve as a way for the cooks to play in the kitchen by testing new recipes or finding creative uses for leftover ingredients. Chefs have even been known to share their own family traditions by using recipes that have been handed down to them from previous generations. Here, the pros share their best dishes for breaking bread together before the shift begins.
Dream Team: Tacos and Tiramisu
At Italian restaurant 312 Chicago, pasta is the name of the game, but behind the scenes, tacos are a regular during family meal. "We go all-out and don't skimp on the ingredients: tons of veggies and sauces," says Chef Luca Corazzina. He also makes sure to order a surplus of ground beef, so that it can be used for various dishes on the restaurant's menu (including in the sauce for the Calamarata Bolognese) and also serve as a staple ingredient in the tacos. Sometimes the kitchen staff also gets the dishes that didn't quite make it onto the menu because something went wrong during the cooking process, which can make for interesting family meal matchups. "One day we served tiramisu with tacos because the batch came out with the ladyfingers slight soggy; I like to serve our guests a version that's firm and more on the dry side," Corazzina recounts.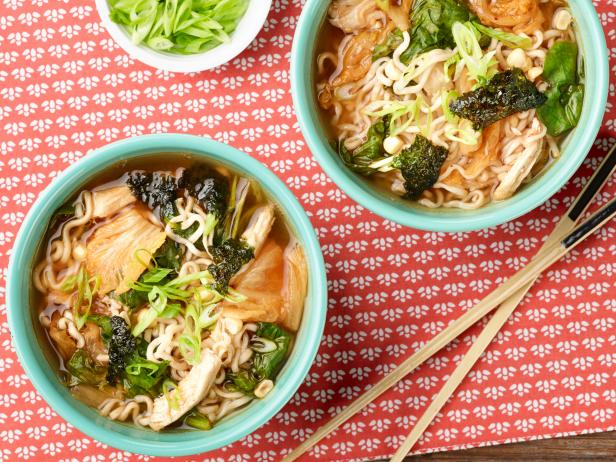 FNK_10_MinuteChickenCornAndKimchiRamen_H
Chef Name: Food Network Kitchen Full Recipe Name: 10-Minute Chicken, Corn and Kimchi Ramen Talent Recipe: FNK Recipe: Food Networks Kitchen's 10-Minute Chicken, Corn and Kimchi Ramen, as seen on Foodnetwork.com Project: Foodnetwork.com, Beat the Clock Dinners / Thanksgiving Show Name: Food Network / Cooking Channel: Food Network
Renee Comet, 2013, Television Food Network, G.P. All Rights Reserved
For Aaron Cuschieri of the new, upscale American restaurant The Dearborn, his go-to family meal is a ramen dish. That's no surprise, given Cuschieri's extensive background working with Chef Takashi, and later helping him open Slurping Turtle in Ann Arbor, Mich. "Ramen is a great dish to serve for family meal because it's not expensive, it's soul soothing and everyone loves it. It's also a great way to get rid of anything you have in your kitchen," Cuschieri says. He first encountered this dish as a family meal concept when he worked at a restaurant that featured ramen on its Sunday brunch menu. It became standard practice for the kitchen to cook off some noodles the next day and combine them with the ingredients from the Sunday ramen. The result? Hodge Podge Ramen. "It was everyone's favorite family meal, and we all looked forward to it every week," Cuschieri recalls. "Ever since then, I've served ramen for staff meal at all of my restaurants." His garnishes of choice are scallions, cabbage, eggs (hard- or soft-boiled), braised pork and chicken (grilled or roasted), but he says you can really use "anything in your cooler."
Four 5-ounce portions ramen noodles
1/2 cup ground sesame seeds
2 tablespoons Korean chili paste
1 tablespoon minced garlic
1 tablespoon minced ginger
Combine everything together and simmer over low heat for about an hour. Remove pork fat and hold warm. Add garnish of your choice.
Get creative with add-ins: This recipe from Food Network Kitchen calls for corn and kimchi.
Coq au Vin in the Kitchen
For Chef Christopher Schaefer of Brandon's Palm Beach at Kimpton's Tideline Ocean Resort & Spa, the pre-shift meal is a way to celebrate the staff as family, and it's also a way to strengthen the team members by helping them refine valuable skills such as roasting, braising and blanching. "Family meal, to me, is a great way for staff members to learn new techniques with scraps that would otherwise be trashed," he says. And the one dish that perfectly captures the essence of this team experience for Schaefer is coq au vin. "I love the perfuming smells of smoked bacon, red wines and chicken marrying together to make this harmonious dish. It truly embodies family to me," he says.
Stir up your own wondrous medley of fragrances and flavors with this Coq au Vin recipe from Ina Garten.
"We have an amazing team and refer to our meals together as 'family meals' because, well, they are family," says Daniel Weinstock, owner and partner of Maple Block Meat Co. in Culver City, Calif. And when it comes time to decide on which dishes to serve the staff, one of the restaurant's most-popular menu items — brisket — is often top of mind. "Our team enjoys the brisket as much as our guests, and it's fun to come up with new ways to present it at family meal," Weinstock notes. One crowd-pleasing plate is the brisket taco.
For the tacos, the brisket is sliced, then heaped along with pickled onions, fresh cilantro and pico de gallo on fresh corn tortillas that have been warmed in a wood-burning oven. A bit of zest is added by way of a charred tomato sauce and a simple salsa verde. The tomato-based "Tejano Ted" sauce is spicy and sweetly tart. Though no vinegar is added to the sauce, it derives a natural acidity from the tomatoes. The salsa verde includes fresh jalapenos that bring the heat and tart tomatillos for an added punch, though sometimes the culinary team will switch up the flavors by removing the seeds from the jalapenos, to reduce the heat, and substituting Granny Smith apples for the tomatillos, to add sweetness and extra acidity.
"These brisket tacos are always a hit!" Weinstock says.
Tiramisu photo courtesy of 312 Chicago and brisket tacos photo courtesy of Maple Block Meat Co.