Tasting Atlanta, Years Later
One Georgia native revisits his hometown's growing food scene.
When I go home to Atlanta once or twice a year, my mom always has a vat of kimchi fried rice waiting for me on the stovetop. It's my desert-island food, the thing I want to eat most when I'm homesick. One bite and my hectic life in New York dissipates into that chewy, caramelized rice studded with kimchi, nori and rendered pork fat, a perfect fried egg on top.
Working in food, I'd always regarded the Big Apple as America's gustatory capital (San Francisco coming a close second).
But where in New York I ate to learn about new cuisines, in Georgia I ate to remember, and to fall into old ones: honey-pepper fried chicken and greens at Greenwood's; a single waffle with scattered hash browns at Waffle House on Christmas morning (when nothing else is open); a gargantuan platter of discount, landlocked nigiri and hot sake at Sushi Yoko (always the Last Supper with my parents the night before my flight back to Manhattan).
As much as I looked forward to these fattened-calf eating opportunities on my prodigal-son visits, I'd never associated Atlanta as a food destination — that is, as somewhere into which I could dive headfirst and feel ruffled with the portent of a challenged palate. My hometown had always been for me, at least in terms of food, an apotheosis of the familiar, the changeless.
(My mother, for instance, keeps my bedroom exactly how it was in high school, for fear that moving my Michelle Branch poster even one inch would break the spell of the past and its undying endurance in the present.)
And then, this summer at the James Beard House, I met Dale DeSena, CEO of Taste of Atlanta. Hailing from Savannah herself (my absolute favorite city in Georgia), she had a way of talking about regional cuisine not as something we can, or should, pinpoint as a unifying parochialism, or even as some inconsequential collection of mere "local" ingredients as it too often is (e.g., peaches, pecans and shrimp), but as something irrevocably diverse and unpinnable, constantly metamorphosing, living and breathing, adapting to its time but also to its place.
Eric Kim
Seasons 52's Georgia pecan pies, layered with vanilla bean mousse.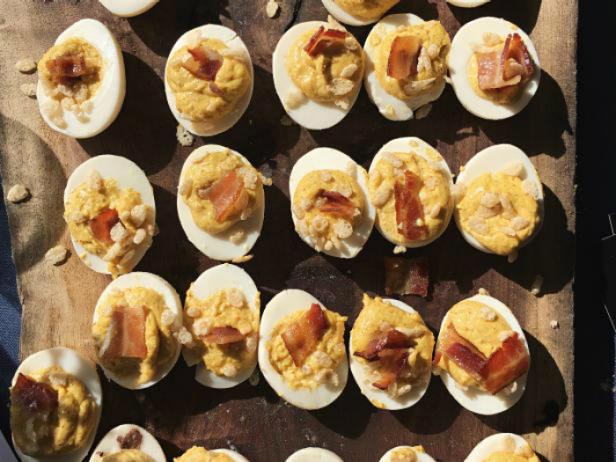 Eric Kim
Hampton + Hudson's curry deviled eggs with bacon and puffed rice.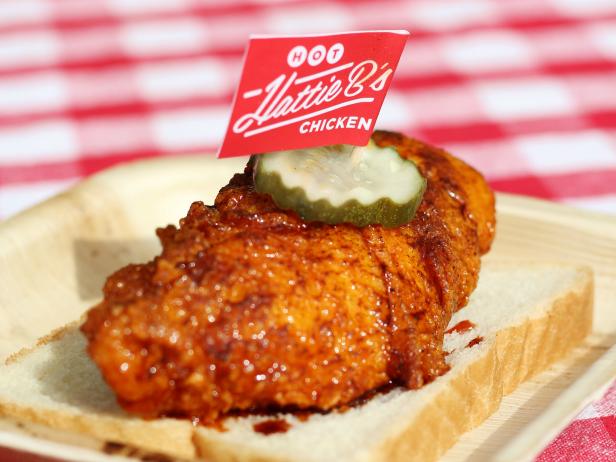 Eric Kim
Hattie B's hot chicken, "with your choice of heat level"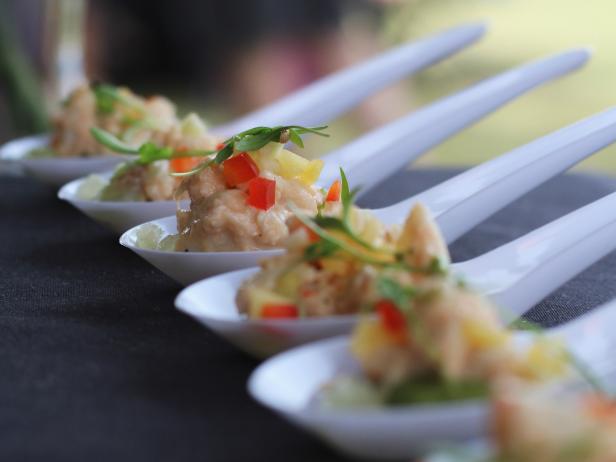 Eric Kim
Le Bilboquet's avocado and crab salad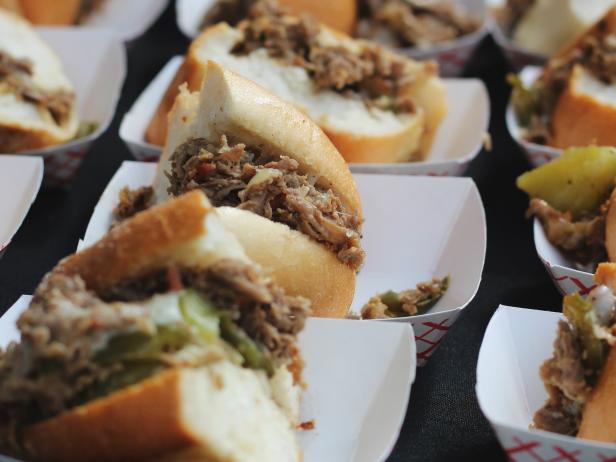 Eric Kim
Woody Cheesesteak's imperative Philly cheesesteak bar.
Taste of Atlanta — the gorgeous 100-restaurant festival and tasting event that DeSena started 16 years ago to foster a sense of community among her city's chefs — has taught me that my hometown's food scene is anything but changeless. The event's exponentially growing turnout is proof of this: Thousands of people now flock to Atlanta every year just for a bite of DeSena's giant block party, this year situated right in Historic Fourth Ward Park.
And you can feel it, the creative commingling, the spirit of camaraderie banding the Southern chefs together. Everyone knows everyone, and everyone has everyone's back. Though some healthy competition is baked into the daily voting of "best dish" over the three-day weekend, the point of the event is more so to celebrate a shared experience — that of cooking and eating in the same blooming metropolis — and to showcase the city's best food with your neighbors.
Later, I would learn that DeSena's husband is my friend's landlord, and that the marketing manager with whom I was in contact these last few weeks, Skye Estroff, was my next-door neighbor all through elementary school. When I ran into a couple high school friends, and then a couple more, it dawned on me for the first time in a while that I was home, and that the world is small and round, especially if you're from Fulton County, Georgia.
One beautiful thing about Atlanta, too, is that it doesn't seem to try as hard to copy the trends of the internets, or to the haute "restaurant chef" climates of other cities. Over the years — at least in the last eight years since I moved out of my parent's house — I've found that Georgia has developed its own culinary pheromones, its own idiosyncratic tastes, influenced for sure by its locale and its particular "placeness."

The New York Times, for instance, has covered Miller Union, Atlanta's farm-to-table darling, thrice. Lauded for his careful use of "the South's okra, field peas, turnips and tomatoes," the restaurant's chef, Steven Satterfield, just won the James Beard Award for Best Chef: Southeast this year.
It took me eight years, but I've finally realized that my hometown is on the map (or at least on some map), and that its food has a long, rich narrative to which I was never privy during my 17-year tenure there as a resident peach.
The dishes at Taste of Atlanta are documents of what make Georgia so particular: a Southern state proximal to the Caribbean and its jerk influence, an unexpected hub for a thriving Korean immigrant population (a direct result of the Immigration Act of 1965), an international airport whose infamy reigns supreme.
Whether you're from there or not, as The Times once quoted John Brady, chairman of the Transportation Committee of the Chattanooga Chamber of Commerce at the time, "to get to heaven or to hell you'll have to go through Atlanta."
The influence of modern television on today's tastemakers.