This Ice Cream Rose Is Much Better Than Real Flowers
Let your ice cream obsession blossom.
Everything comes up roses when you order a scoop at Cauldron Ice Cream.
The California shop — with locations in Orange County and San Diego — fashions its frozen-to-order ice cream into edible bouquets. It all starts with a puffle cone, an eggy, honeycomb-like cake that's a popular street snack in Hong Kong. Once the pliant cone comes out of its special waffle iron, a scoop of just-frozen ice cream (made with liquid nitrogen) goes in.
"It's more work, but we find that making it with liquid nitrogen, it forms so quickly that the ice cream comes out with the best texture," says co-owner Desiree Le.
Believe it or not, the social-media-beloved flower shape was created purely by accident from a lopsided scoop that was pressed on with too much pressure. One petal led to another and soon, a blossom was born. The ice cream roses were originally only available as Cauldron's H2O Rose flavor, but Le says they quickly expanded to include other varieties, including the top-selling Earl Grey-lavender.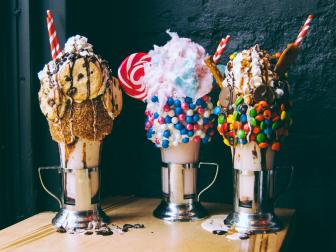 Sink your spoon into bold ice cream creations at these 11 shops pushing the boundaries far past basic vanilla. They're serving gold-flecked sundaes, hot fudge-drenched ice cream pizzas and more.
No matter the flavor, we'd prefer an ice cream bouquet over a regular one any day.