Shop Amazon's Cyber Monday Sales on Must-Have Kitchen Items
Get Instant Pot, SodaStream, All-Clad and more on big Cyber Monday discounts!
Keep in mind: Price and stock could change after publish date, and we may make money from these links.
We've been browsing Black Friday deals for the past month, but the season's other major shopping day has arrived — Cyber Monday! We're kicking off the holiday with some amazing home and kitchen deals at Amazon, there are limited-time savings on some of our favorite brands including All-Clad, Cuisinart, Instant Pot and Dash.
Plus, this year, Amazon is highlighting small businesses with special Small Business Holiday Deals, so you can support an independent business without leaving your couch.
Ready to start shopping? Check out these major savings on top-rated small appliances and cookware. These prices end today, so don't delay — start shopping now, and snag fast free shipping with your Amazon Prime Membership.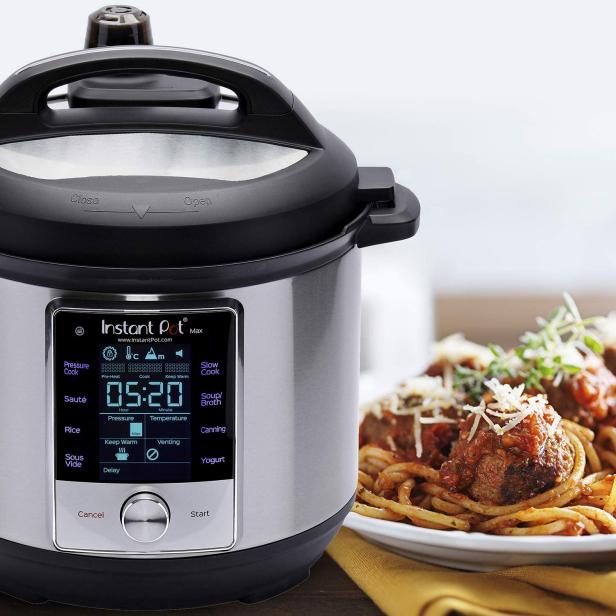 The Instant Pot Max is different from other models because it can reach higher pressure levels — so it's perfect for safe home canning. The Max also has more cooking functions than other Instant Pots, including a sous vide program, and the NutriBoost technology ensures delicious results when you're making soups and stews. Best of all, during Amazon's Cyber Monday sale, you can save nearly $120!
Buy It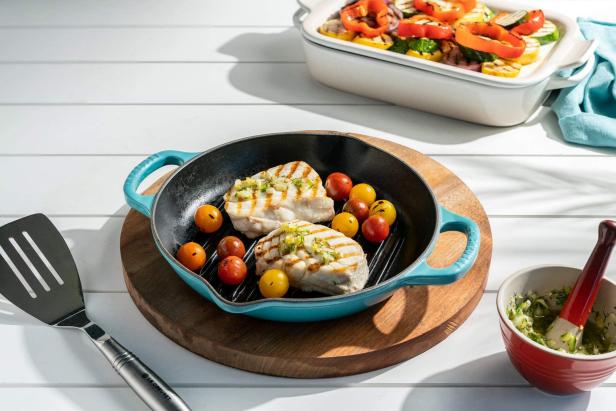 Grill pans are a great alternative to outdoor grilling as the weather gets colder — use them for steaks, chicken, burgers, paninis, veggies and so much more. And at under $100, this Le Creuset model is a great gifting option for the grill master in your life! Pour spouts on each side ensure for grease-free serving, and high ridges will give you perfect grill marks on whatever you're cooking.
Buy It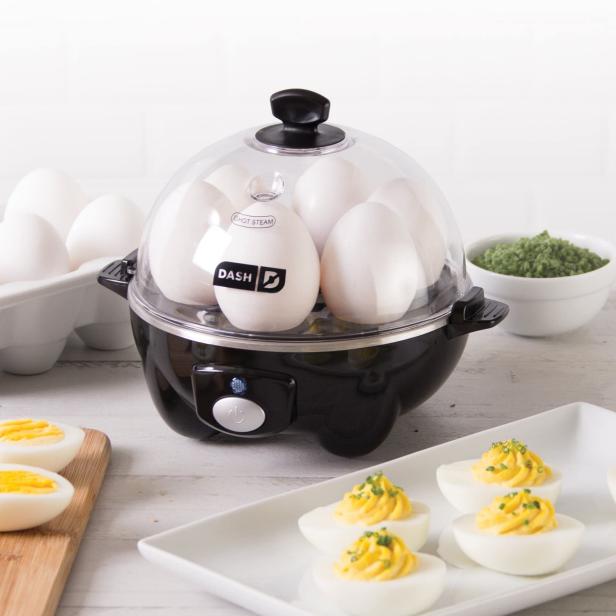 The Food Network team loves this gadget for foolproof hard-boiled eggs — and, now you can get it for less than $20! Make six eggs at once by filling the bottom compartment of the Dash cooker with water, adding the eggs (pierce a small hole in each shell), and pressing a button. Voila! You'll have perfectly cooked eggs in sixteen minutes.
Buy It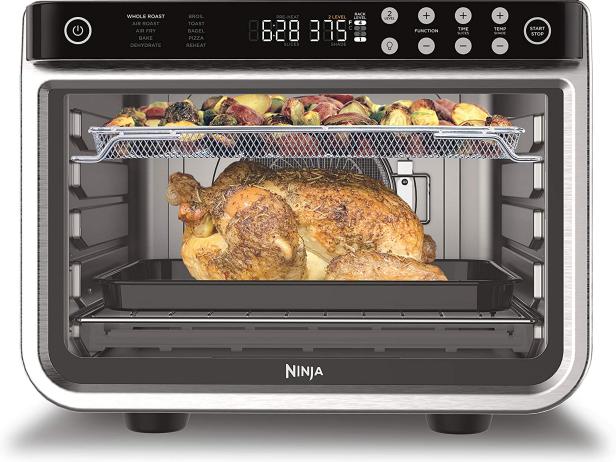 We already love the Foodi, Ninja's multi-cooker, so we think we'll love the brand's new take on a smart oven. Save more than $100 when you buy it on Amazon today, and get ready to air fry, roast, bake, broil, toast and dehydrate from the comfort of your countertop. With a 90-second preheat time and huge capacity (it can fit two 12-inch pizzas or a 12-pound turkey!), this gadget will change the way you cook.
Buy It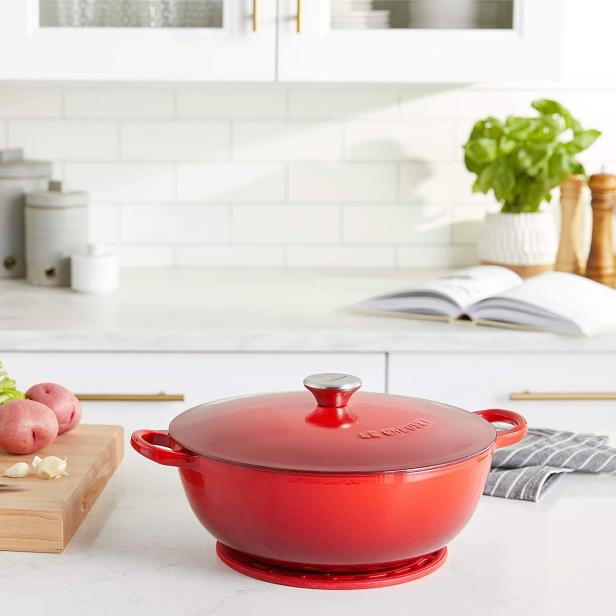 This isn't your classic Dutch oven, but it's just as versatile — and, at less than $200, it's a sale we simply can't pass up! This cast iron oven is great for soups, stews and one-pot meals. The sloped sides make for mess-free mixing, and the sand-colored enamel interior makes it easy to monitor food while it cooks. This item is sold as a set, so you'll get a matching silicone French trivet. Choose from two in-stock colors (Cerise and Soleil).
Buy It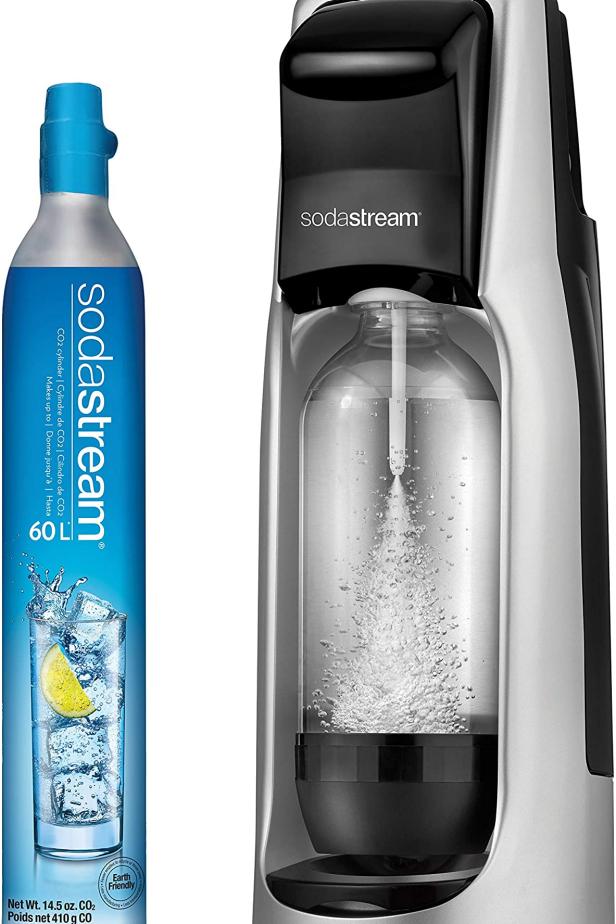 Need a holiday gift for the seltzer lover in your life? This less-than-$50 SodaStream deal is a total win, and it comes with everything you need to start making sparkling water at home. Amazon shoppers love the Jet's ease of use, durable design and perfectly bubbly results.
Buy It

All-Clad makes some of the very best cookware, and Amazon's offering $100 off this everything-you-need set. You'll get two fry pans, two covered saucepans, and an eight-quart stockpot with a lid. Each piece has a nonstick finish for easy cleaning and healthy cooking, and everything is dishwasher-safe. Amazon shoppers love this cookware set for the stay-cool handles, high-quality construction and even heating.
Buy It