The Best Bento Boxes to Buy Online
We rounded up our picks for the best bento boxes available online. From traditional Japanese models to adorable French designs, these are some must-haves for bento aficionados and novices, alike.
Keep in mind: Price and stock could change after publish date, and we may make money from these links.
Bentos or bento boxes are a type of food container that originated in Japan. They are often described as Japanese lunch boxes, but that's only part of the story. Bento is a whole artform surrounding packing meals to-go. Typically, bentos feature during lunch time, especially in schools. However, there are bentos you can get at train stations to eat while traveling and even luxurious haute cuisine bentos for special occasions, including weddings. Bento is just as much about how beautifully you arrange the foods inside a box as it is about the box itself. The goal of a bento is to get you excited about eating and make it a feast for your eyes as well as your palate.
The idea of bento has traveled throughout the world and become very popular in Europe and North America as a more aesthetically pleasing approach to packing lunch. At the same time, bentos have adapted to meet different cultures' aesthetics and dietary needs. Whether you are looking to get started expressing yourself creatively through your packed lunches or simply want a beautiful new lunch box, we've rounded up some of the best bento boxes available online. From high-tech insulated models to ancient handcrafted styles, you're bound to find the perfect bento box for you.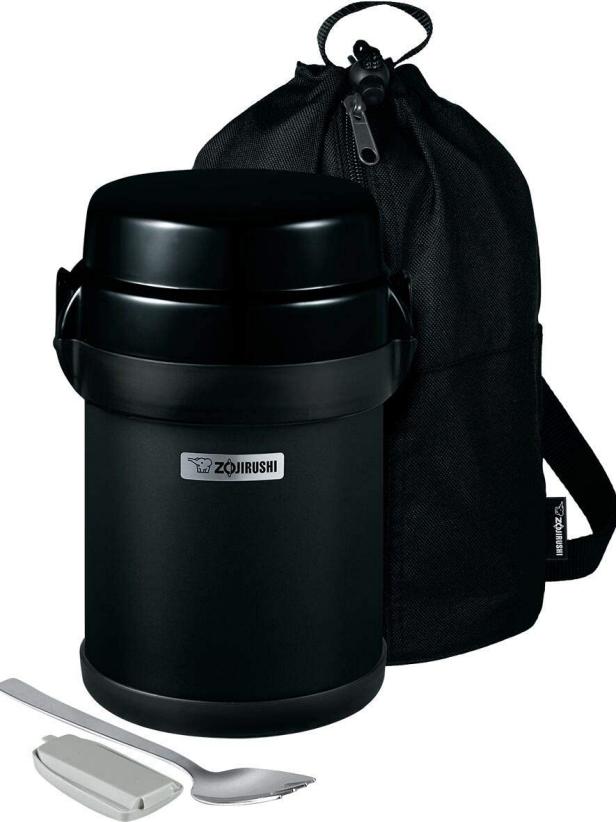 Zojirushi is a household name in Japan, Asia and among the Asian diaspora for their top-of-the line, high-tech rice cookers. However, they are also well known for their insulated lunch boxes. The Mr. Bento model is one of the most iconic of the lunchbox line. The design is closer to an Indian tiffin carrier than to what most people imagine a bento to look like. This set consists of four covered bowls that stack inside a highly insulated cylindrical container. The insulation keeps your food hot or cold for hours, so you don't need a refrigerator, microwave or toaster oven to enjoy your meal. As well, this model comes complete with a zippered back with a handle to put everything inside, plus a spork with a cover to keep your eating utensil clean. This is definitely a bento for those who prefer functionality over aesthetics as the design leans utilitarian. It is also fairly heavy at nearly two pounds without food.
Buy It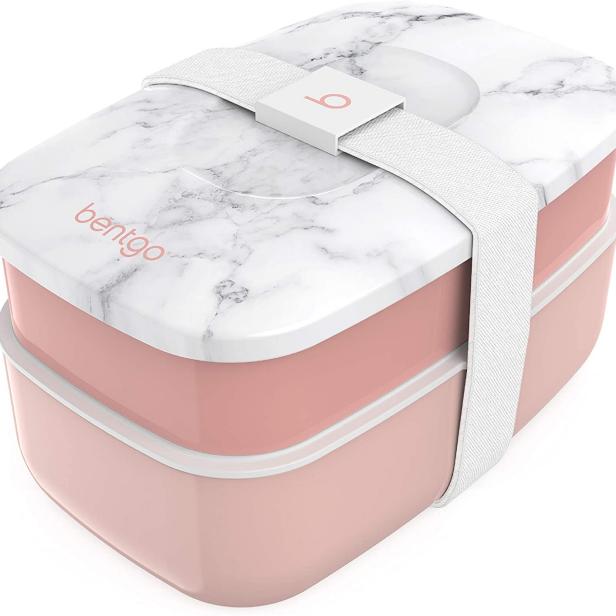 Bentgo is a California-based company that launched its first bento-style lunch box in 2013. Since then, it has expanded its inventory to include all types of lunch boxes. While Bentgo takes inspiration from the concept behind a traditional Japanese bento box, its approach and designs are geared toward American consumers. As such, these bentos tend to be roomier than Japanese-made models and their construction isn't so centered around rice as the focal point of the meal. These are great options for those who are just getting started with bentos and perhaps want to maintain a typical North American-style lunch. The Bentgo classic comes in a variety of colors and is closest in design to traditional Japanese bentos and features two stackable containers. It includes a three-piece Western utensil set (no chopsticks) and an elastic strap to keep everything together.
Buy It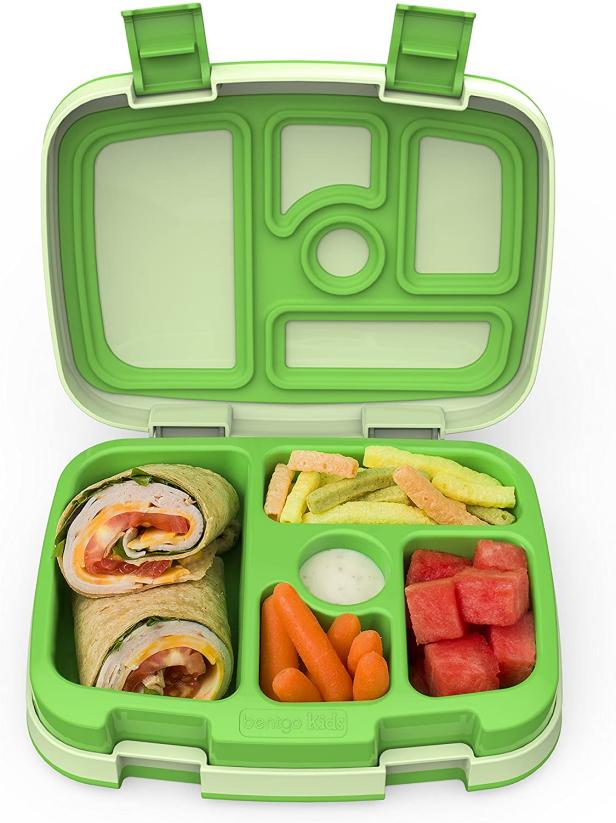 This is one of Bentgo's more non-traditional models intended for small children and their appetites. As such, it resembles more of a toddler's segmented lunch tray than a traditional Japanese bento. This model features a hard plastic case with rubberized corners, locking latches, and a leak-proof inner seal to prevent damage or spills from kids being kids. It's flat, rectangular design means that you can easily slip it inside a child's backpack along with their books and homework. The inner tray is removable and features five compartments to help you pack a healthy, balanced meal without the food touching (if your little one has an issue with that). Best of all, the inner tray is completely microwavable and dishwasher safe. Bentgo also supports Feed the Children, which helps provide nutritional aid to children throughout the world, so your purchase will help other kids along with yours.
Buy It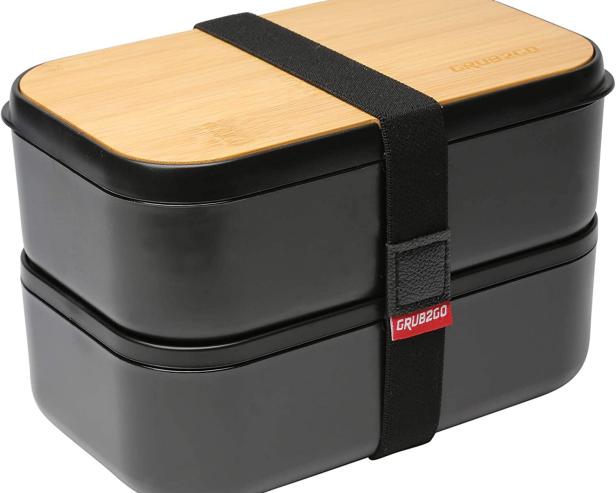 This is the ideal model for someone with a big appetite who really appreciates the traditional Japanese bento box aesthetic. This bento holds an impressive 68 ounces of food, which is more than twice as much as many traditional Japanese models. It features a sleek rectangular design with rounded corners and an attractive bamboo lid that doubles as a miniature cutting board. As well, this GRUB2GO model includes removable dividers, which aren't present in most bento boxes, and the lids to each container (there are two food containers in this set) are lined with silicone, making them leak-proof. The beautiful thing about the design of this bento box, along with including enough space for a large appetite or several meals, is that you can customize your bento depending on the types of meals you have. Many more traditional bentos determine your meal format with fixed dividers, and many cannot be closed without including all the containers in the set. To complete this bento set, the manufacturer includes a knife, fork and spoon, as well as a spill-proof container for sauces or dressings.
Buy It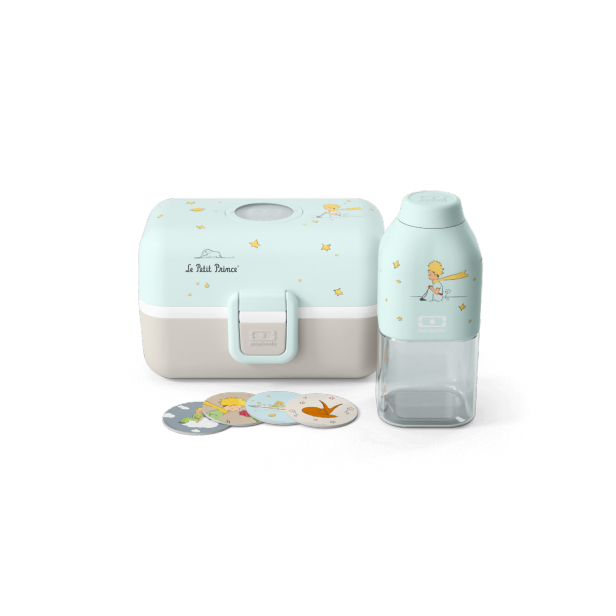 Monbento is a French company that has been around since 2009. Beautiful design has been one of its guiding principles since it designed its first bento box, and it has since won multiple international and European design recognitions, including the coveted Red Dot Design Award. Monbento is proud of its French heritage, and all of its products are designed and manufactured in France. In addition, you can find some clever nods to French popular culture in some of its designs, like its line of Le Petit Prince-inspired lunch boxes. The MB Tresor model is intended for school-aged children and includes three compartments, a three-piece utensil set and a whimsical lid with kid-friendly graphics. While intended for children, the Tresor line can also be used at home, in the workplace or college. And for fans of France's most globally famous children's book, the Petit Prince model is a must!
Buy It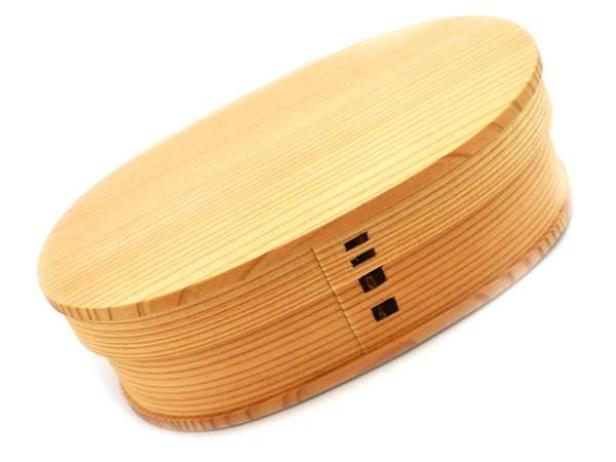 If you want Japanese bento boxes, then there are fewer places to find your perfect lunch box than Bento & Co. The company carries a wide assortment of Japanese bentos from the very traditional to the very conceptual (with a few Indian-style tiffin carriers and non-Japanese models thrown in). If you are seriously getting into the traditional art of packing Japanese-style bentos, this is also the place to go for beautifully handcrafted pieces that are closer to works of art than mere lunch containers. This magewappa model is an example of the traditional Japanese craft of fashioning bentwood containers called magewappa. The best bentwood crafts come from the town of Odate, and that is where this bento box was made. The wood is Japanese cedar, which allows the rice inside the bento to breathe. The natural oils in the cedar give off a beautiful aroma and also have antimicrobial properties. Because this is a traditional Japanese bento box, it is intended for holding rice with various toppings, so take that into consideration before adding this model to your collection.
Buy It