Cupcake Wars: Sweet Cirque du Soleil
Cupcake Wars judge Candace Nelson is the founder and pastry chef of Sprinkles Cupcakes , the world's first cupcake bakery. She joins us on the FN Dish each week to recap all the sweet details of the competition from her seat at the judges' table. Here's what she had to say about last night's episode, Cirque du Soleil.
It is only fitting that the Cirque du Soleil Cupcake Wars would be a spectacular ride. This was truly a show of "firsts," starting with the oxtail cupcake in round one. When people ask me about the most unusual cupcake I have come across in Season Two, it's this one. Not only does Shaunda claim this distinction, but also the additional distinction of being the first contestant to use every ingredient on the challenge table. This round required two ingredients and she used seven. Wow.
Stephanie, who blew us away with a truly artful vanilla bean-ginger, caramelized pear and Thai basil cupcake in round one, got even more ambitious in round two and didn't finish in time. It was another Cupcake Wars first. The judges weren't even allowed to try her beautiful cupcakes. She was disqualified for not completing the challenge.
And, finally, in round three, Ron went all out, giving us the first levitating cupcakes we've seen on Cupcake Wars. The win goes to him for his all out, cupcake-rockin', lights-a-blazing, show-stopping, gravity-defying Vegas-style display!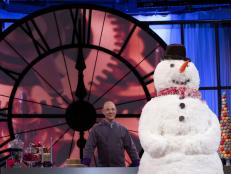 Get your sweet tooth on with new holiday episodes of Cupcake Wars and Sweet Genius, premiering Thursday, December 6.