Hamptons Fun Facts — The Next Iron Chef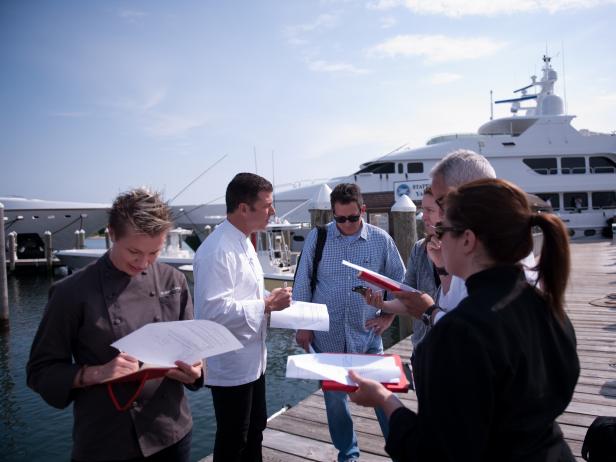 NIC4 Episode 7 Chairman's Challenge "Passion"
Rival-Chef Elizabeth Falkner, Rival-Chef Michael Chiarello, Rival-Chef Geoffrey Zakarian and Rival-Chef Alex Guarnaschelli getting ready to go shopping for ingredients in Episode 7 Chairman's Challenge "Passion" as seen on Food Network Next Iron Chef Season 4.
Edward Chen/Creel Films, 2011, Television Food Network, G.P.
Behind the scenes on The Next Iron Chef, Food Network's culinary production team is responsible for making sure that the rival chefs have everything they need to cook and present their dishes — from a stocked pantry to plenty of serving vessels. This week they shared some fun facts about what it took to pull off the penultimate episode's Montauk seafood challenge.
In the Hamptons, the chefs purchased fish from Gosman's Fish Market. All the fish had been caught that morning or the previous day. What was available to them?
Lobster, mussels, clams, fluke, black bass, bluefish and tuna
While the chefs had to purchase everything themselves for their seafood spread in the Hamptons, they were provided with a limited pantry. What was included?
Dry spices, vegetable oil, olive oil, all-purpose flour, sugar, baking soda, baking powder, liquors, red and white wine, and champagne
For the Hamptons farm-stand shopping, the chefs were each given $500 (Chef Falkner was given $550 because she won the previous challenge). How much money was left over between all the chefs?
More behind-the-scenes extras from Super Chefs, episode 7: