Chatting With the Latest Next Iron Chef: Super Chef Exile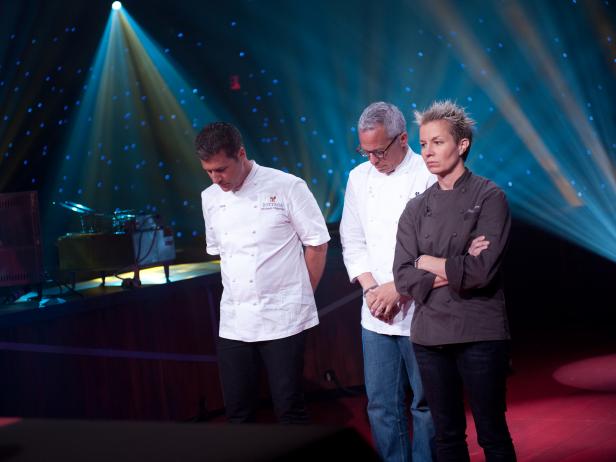 NIC407 Secret Ingredient "Keebler Town House Crackers & Wine" Sh
Rival-Chef Michael Chiarello and Rival-Chef Elizabeth Falkner before Judges to find out who joins Rival-Chef Geoffrey Zakarian in the Finale Battle in Episode 7 Secret Ingredient "Keebler Town House Crackers & Wine" Showdown as seen on Food Network Next Iron Chef Season 4.
Edward Chen/Creel Films, 2011, Television Food Network, G.P.
The fourth season of The Next Iron Chef: Super Chefs is coming to a close, with just two chefs left fighting it out for a grand prize that so many would-be chefs covet: joining the ranks of Iron Chefs Marc Forgione, Bobby Flay, Masaharu Morimoto, Cat Cora, Jose Garces and Michael Symon. Each chef will try to pull out all their tricks to stay in the competition but, ultimately, one chef must go home each week. Every Monday, FN Dish brings you exclusive exit interviews with the latest Super Chef to get the boot.
This week, two competitors said goodbye in a double elimination.
Michael Chiarello was the second to say goodbye, but he fought to the very last second.
FN Dish: What was your first thought when you heard that this specific day was going to be a double elimination?
MC: That there was as 50 percent chance I was going home and there was no playing it safe. I had to swing for the fence. Either you're in the top or the bottom — no room for mistakes.
FN Dish: You said, "I did nothing but give 300 percent of myself — I'm disappointed. I didn't come here to lose." Take us back to those last moments. What would you have done differently, if anything, in that last challenge?
MC: I'm proud of the food I put forward, but if I had the opportunity to do it again, I may have incorporated the crackers into the inside of my offerings.
FN Dish: Who has been the most shocking competitor to you this season?
MC: I've always known Geoffrey to have a toolbox of extraordinary techniques, but I was surprised at how many of them he could use at once. He is a skilled competitor.
FN Dish: What is the most surprising thing you learned about yourself throughout this competition?
MC: I learned that it's helpful to have a depth of techniques in other cuisines in addition to the Italian that I cook every day — including the French I was trained in.
FN Dish: What's next for you?
MC: I'm looking to bring the country boy into the city as I look for a location for my San Francisco restaurant.