The Next Iron Chef Caption It: The Moment of Truth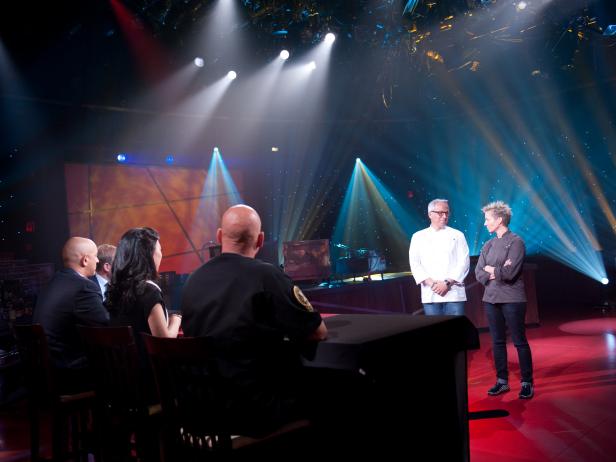 NIC407 Secret Ingredient "Keebler Town House Crackers & Wine" Showdown
Host Alton Brown, Judge Iron Chef Michael Symon, Judge Judy Joo and Judge Simon Majumdar congratulate Rival-Chef Elizabeth Falkner who will join Rival-Chef Geoffrey Zakarian in the Finale Battle in Episode 7 Secret Ingredient "Keebler Town House Crackers & Wine" Showdown as seen on Food Network Next Iron Chef Season 4.
Edward Chen/Creel Films, 2011, Television Food Network, G.P.
After eight weeks of Chairman's Challenges, Secret Ingredient Showdowns and trying eliminations, this bicoastal competition wraps up on Sunday night. But before Chef Falkner or Chef Zakarian is finally declared The Next Iron Chef, these two Super Chefs will compete in one final battle to prove to the judges that his or her cuisine reigns supreme. Who will Judges Symon, Joo and Majumdar grant a permanent place in Kitchen Stadium earning the ultimate culinary title in the process?
Before you tune in this Sunday at 9pm/8c to find out who is The Next Iron Chef, we're challenging you, Next Iron Chef fans, to write your best captions (tastefully appropriate, please) for this moment in the comments below.
Last chance! Cast your Fan Vote up to 10 times per day.