Rachael vs. Guy Celebrity Cook-Off Caption It: We're Watching You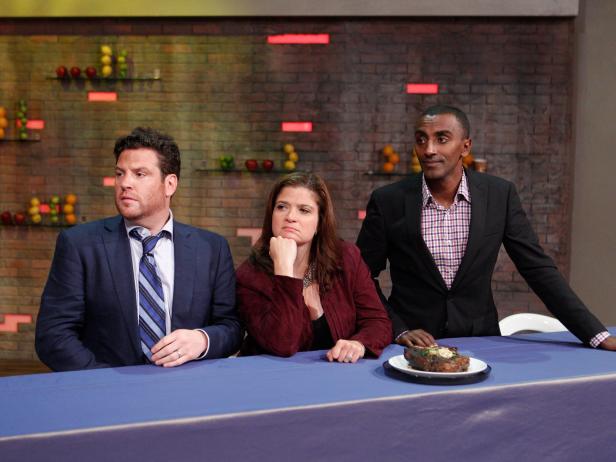 (L-R) Special Guest Judges Scott Conant, Alex Guarnaschelli, and Marcus Samuelsson from "Chopped," watch Cheech Marin from Guy Fieri's team (not shown) and Summer Sanders from Host Rachael Ray's team (not shown) prepare a steak of the third challenge in the 1-on-1 Battles as seen on Episode 3 of Food Network's Rachael Vs. Guy Season 1
Jason DeCrow, 2011, Television Food Network, G.P.
Who better to evaluate this head-to-head battle than Chefs Scott Conant, Alex Guarnaschelli and Marcus Samuelsson, who have judged countless Chopped competitions. Here these all-star chefs look on curiously as the Cook-Off finalists race against the clock to execute plates that are prepared to impress. Will Judges Scott, Alex and Marcus be pleased with the contestants' efforts or will the dishes leave more to be desired?
Before you tune in this Sunday at 9pm/8c to watch the action unfold, we're challenging you, Rachael vs. Guy Celebrity Cook-Off fans, to write your best captions (tastefully appropriate, please) for this moment in the comments below.