Get Ready for Worst Cooks in America
Back in August 2011, FN Dish announced that Bobby Flay would be joining season three of Worst Cooks in America, battling it out against seasoned undefeated champ Anne Burrell. Now you can officially mark your calendars — starting Sunday, Feb. 12 at 9pm/8c, Worst Cooks returns with Anne leading one team and Bobby another. The country's most hopeless cooks will compete for a $25,000 prize, which will be awarded to the winning contestant who achieves the most progress and best performance, in addition to bragging rights and victory for his or her culinary mentor.
In the season premiere, the 16 "recruits," each nominated by family and friends for their atrocious cooking skills, arrive at Base Camp and attempt to impress Anne and Bobby with their signature dishes. Each week, the contestant with the least successful dish on each team will be sent home, while the remaining competitors will cook on.
Tune in: Sunday, February 12 at 9 pm Eastern/8 pm Central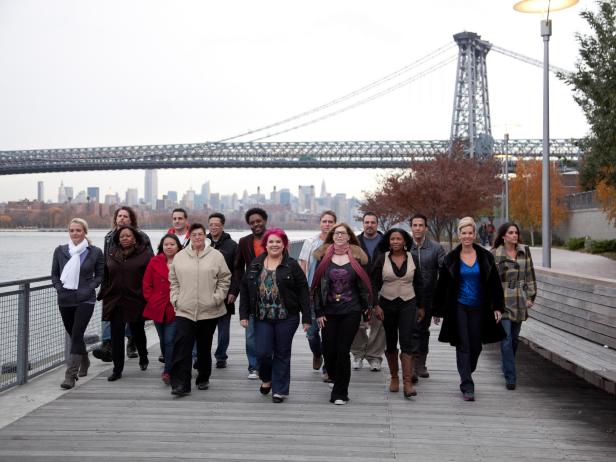 Recruits Anthony Schiano, Benjamin Dennis, David Shelton, Richard Chen, Robert Tamke, Sean Bennett, Vinnie Caligiuri, Dorothy Strouhal, Erica Weidner, Kelli Powers, Libby Shelton Floyd, Melissa Rhodes, Rachel Margolin, Sarina Weeraprajuk, Sherrill Moss-Solomon, and Tiffany Michelle arrive at boot camp for their first challenge, as seen on Food Network's Worst Cooks in America, Season 3.
Heidi Gutman, 2011, Television Food Network, G.P. All Rights Reserved