And the Worst Cooks Winner Is…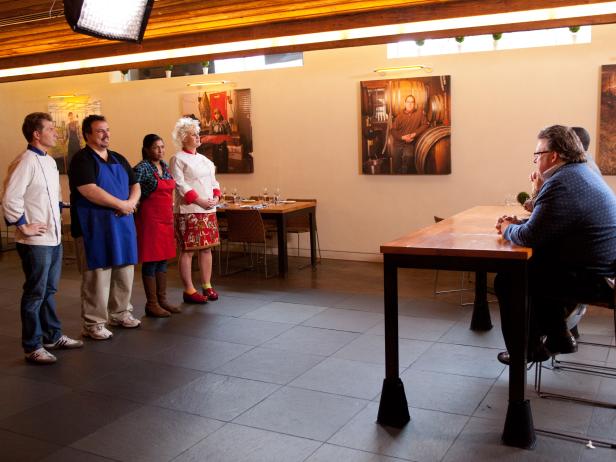 Worst Cooks in America Blue Team Leader Chef Bobby Flay with his recruit Vinnie Caligiuri and Red Team Leader Chef Anne Burrell and her recruit Kelli Powers face the judges for the final verdict. The Judges are Chef Marcus Samuelsson, Chef Susan Feniger, and Chef David Burke.Their decision will determine who is the winner of Season 3 as seen on Food Network's Worst Cooks in America, Season 3.
Heidi Gutman,  2011, Television Food Network, G.P.
It all started with a nation-wide search for the worst cooks in America. After narrowing that search down to 16 recruits, Bobby Flay and Anne Burrell each chose eight, making up their new teams for the season.
A new addition this season was Bobby Flay, who joined the show to battle it out against seasoned champ Anne Burrell. Each hopeless cook competed for a chance to win $25,000, which would be awarded to the winning contestant who achieved the most progress and best performance, in addition to a victory for his or her culinary mentor.
It can be argued that the recruits were handed some pretty difficult tasks this season, tasks that every day home cooks probably don't tackle, like making their own noodles and cooking fresh seafood. But in addition to those, Bobby and Anne made sure they could handle the basics like making breakfast, cooking chicken to the proper temperature and rolling the perfect meatball.
We also saw the recruits get creative with their techniques. Early in the season, we learned that Erica Weidner from Team Bobby was talented in creating double-duty uses for gadgets in the kitchen, like scissors to cut a bell pepper instead of a knife. In the past, she's also used disposable razors to peel turnips and plyers to remove giblets from a frozen chicken.
Week after week, one recruit from each team said goodbye to their mentor. The final episode pitted Vinnie from Team Bobby against Kelli from Team Anne — each recruit cooked up the ultimate three-course meal with the guidance of their mentors.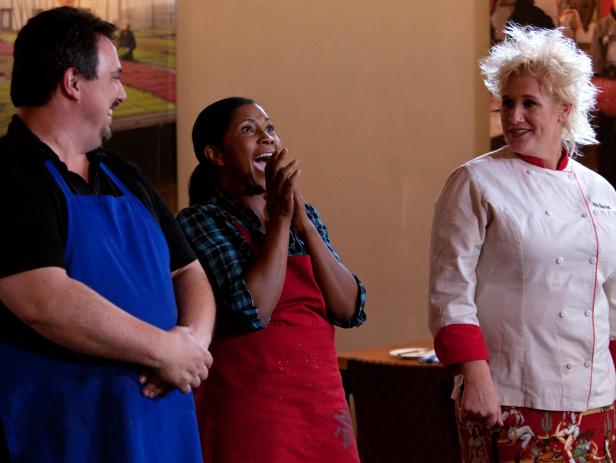 Worst Cooks in America Red Team recruit Kelli Powers is stunned, then elated when it is announced that she is the winner of Season 3. Her team leader, Chef Anne Burrell who has trained her all season proud of her recruit, and celebrates her own victory over Chef Bobby Flay as seen on Food Network's Worst Cooks in America, Season 3.
Heidi Gutman,  2011, Television Food Network, G.P.
So who weathered the storm and took home the grand prize?
Anne Burrell is now a three-time champion as Kelli Powers took home the win with her Sweet Potato Crab Cannelloni, Porterhouse Steak and Roasted Cauliflower and an Apple Crostada With Caramel Sauce.
The three judges, Marcus Samuelsson, Susan Feniger and David Burke — who were given the final dishes blindly — did not come about this decision easily. Vinnie's Yellowtail Tartare and Squab Marsala left a lasting impression. However, the Pistachio Crème Brule brought him down in the last round when the custard wasn't cooked thoroughly for Marcus. Did water get into the brulee dish when Vinnie put them in the oven? I guess we'll never know, but I'd happily eat either one of the finalists' final meals.