Peaches — Iron Chef America Ingredients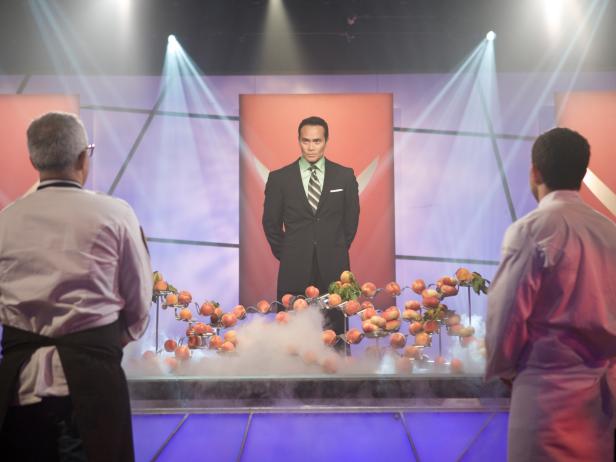 Iron Chef America, Season 10, Food Network, Episode 1024, Food Network Studios
Iron Chef America - Season 10, filmed at The Food Network Studios in New York City. Secret Ingredient for Episode IA1024 is Peach. Chairman Mark Dacascos with Iron Chef Geoffrey Zakarian and Challenger, Chef Michael Ferraro during Iron Chef America Battle Peach, Episode 1024, as Seen on Food Network's Iron Chef America - Season 10
Anders Krusberg, 2011, Television Food Network, G.P.
The average American consumes nearly five pounds of peaches every year, and I can't blame them as peaches are very possibly my favorite fruit of all. If you visited my home in Los Angeles, you would be very likely to find a large fruit bowl in my kitchen laden with quite a few different varieties along with a few samples of their smooth cousins, the nectarine.
As well as eating them raw as a healthy snack, I love to use peaches in a wide variety of both sweet and savory dishes and am always on the lookout for inspiring recipes.
If, until now, you have always thought of the peach as little more than a canned filling for pie, I hope that this week's efforts in Kitchen Stadium will persuade you that there is far more to this humble fruit than you ever imagined. You might even be inspired to head out in search of some interesting varieties at your local farmers' market.
The fruit of the peach tree is a "drupe," which means it has a three-layered structure of skin, flesh and a hard stone or "pit" at the center. This puts it in the same family as other fruits including plums, cherries and apricots, and also relates it to walnuts and almonds.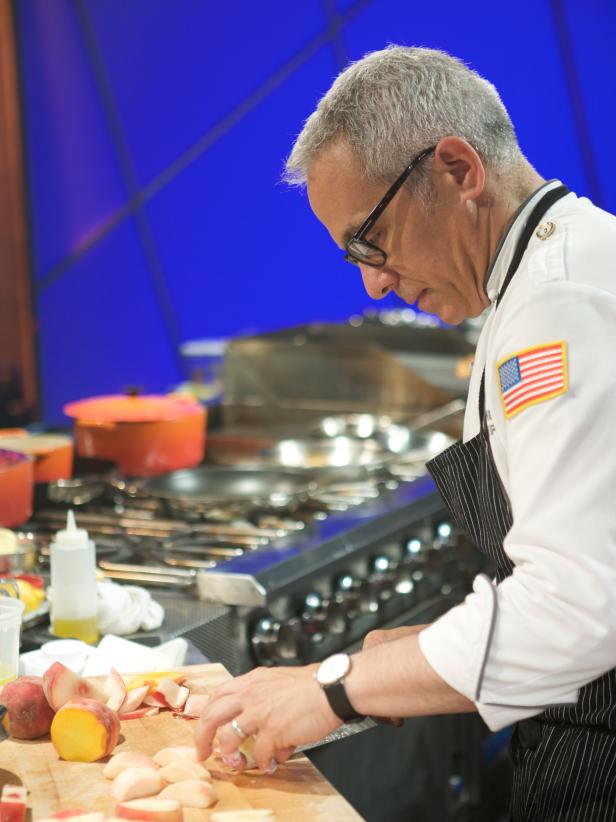 Iron Chef America, Season 10, Food Network, Episode 1024, Food Network Studios
Iron Chef America - Season 10, filmed at The Food Network Studios in New York City. Secret Ingredient for Episode IA1024 is Peach. Iron Chef Geoffrey Zakarian during Iron Chef America Battle Peach, Episode 1024, as Seen on Food Network's Iron Chef America - Season 10
Anders Krusberg, 2011, Television Food Network, G.P.
Peaches derive their name from the Latin malum persicum or persian apple, a name given to them by the Romans, who highly valued the fruit and began cultivating the trees in the 1st century A.D.
Peaches are available in a number of different varieties, but the most common are yellow, white, clingstone (which, as the name suggests, are peaches where the flesh is attached firmly to the pit) and freestone. Nectarines are a cousin of the peach and differ in that the skin of the fruit is smooth rather than fuzzy.
Peaches are a terrific source of fiber and rich in a number of nutrients such as potassium and beta carotene, and they are also low in calories with a large peach delivering only around 50.
Where do peaches come from?
Peaches were originally cultivated in China almost 3000 years ago and moved west with traders who used The Silk Road. They began to be cultivated in Persia, which is now modern-day Iran, where they came to be known by the name Persian apple.
Peaches were brought to South America by the Spanish and to what is now the United States by both the French and the British. The fruit proved popular and relatively easy to grow, and as settlers began to move west so too did the planting of peach trees.
America is now the third-largest producer of peaches, after China and Italy, and there are nearly 175 types of peach available in the U.S. It rates second only to the apple in terms of production volume and California farmers account for more than 50 percent of the peaches sold. Other states get in on the act, too, including Georgia, which has become so synonymous with the delicious fruit that it is known as the Peach State.
How do I cook with peaches?
From a purely nutritional point of view, peaches are best eaten raw as they lose more than 80 percent of their nutritional value once they have been cooked. That being said, there are some truly delicious recipes featuring peaches and the best place to start, of course, is with dessert.
There are few sweet treats better than a hot peach cobbler, where the bubbling juices of the fruit fight their way through the topping to mix with a dollop of melting vanilla ice cream. Slices of peach grilled on the barbecue are also terrific when drizzled with a little honey, and peaches soaked overnight in white wine or even brandy can be a wonderful accompaniment to other desserts.
Although peaches might not seem like the most likely ingredient to add to a savory dish, I occasionally love to use dried peaches as an alternative to dried apricots in a Moroccan tagine. I also love to combine fresh peaches with garlic, ginger, vinegar and jalapeno chili to make a sharp chutney that is perfect to serve with cheese or cold cuts.
Peaches make excellent preserves and while you will definitely enjoy them smeared on a hunk of brioche for breakfast, they can also be used to make an interesting glaze for ribs and pork chops.
However, if I was forced to choose my absolute favorite culinary use of peaches it would have to be the classic addition of white peach puree to sparkling Italian Prosecco in the famous Bellini cocktail, created at Harry's Bar in Venice. It is a magical combination.
Finally, if you ever over indulge in Bellinis, it is well worth knowing that the Chinese have lots of medicinal uses for the peach and make a kidney-cleansing tea with the pits.
Obviously, you can find peaches in any supermarket all year round. However, as the peach is a seasonal fruit, the chances are that if you see them any time before May or any time after September, they are going to be imported. The difference in taste between an imported peach and a peach sold at the height of its season is like chalk and cheese, and it is well worth holding back until the season begins so you can savor the incredible sweetness of the fruit at its best.
If you live in a state that produces peaches, look out for their arrival at your local farmers' market, where you will definitely see some of the more unusual varieties for sale. Good vendors will always offer samples for you to taste before you buy, so you can be sure you are buying fruit that you will like.
Missed Battle Peaches? Catch it again tonight at 1am/12c or on Saturday, May 12 at 5pm/4c.