The Great Food Truck Race Caption It: Staring Contest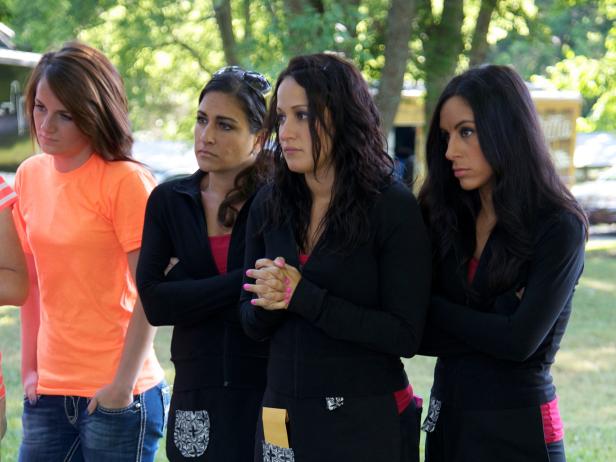 Food Truck Team Nonna's Kitchenette finds out the challenge for the day from host Tyler Florence in the episode taking place in Columbia, Tennessee at Country Duo's Joey & Rory's farm as seen on the Food Networks The Great Food Truck Race, Season 3. The challenge involved all teams having 75 minutes to go shop and prepare a "picnic" type meal.
Donn Jones, 2012, Television Food Network, G.P. All Rights Reserved
Come Sunday night, The Great Food Truck Race shifts into high gear as the final four food trucks cruise into Nashville, Tenn., more determined and confident than ever. There are only three weeks left in the competition, and Pop-A-Waffle, Nonna's Kitchenette, Seoul Sausage and Momma's Grizzly Grub must use everything they've learned so far to outsell their rival trucks if they want to make it out of Music City.
In the sneak-peek shot above from this weekend's brand-new episode, it seems as though Nonna's Kitchenette has lost some of its fire since their Truck Stop win last week. They're no longer celebrating Randy the Razorback or reveling in their first-place earnings; instead, the New Jersey gals are sporting noticeably bleak stares, as they fixate on what's immediately in front of them. On what are the ladies focused so intently? Are their blank expressions the result of seeing their next challenge or another crazy mystery ingredient?
Before you tune in this Sunday at 9pm/8c to find out what's going on, we're challenging you, Food Truck fans, to write your best captions (tastefully appropriate, please) for this moment in the comments below.
Which is your favorite food truck team so far? Cast your Fan Vote up to 10 times per day.