Momma's Grizzly Grub Says Goodbye — The Great Food Truck Race
This week, the remaining four food trucks thought they were cruising straight into Nashville, but Tyler took them beyond the city and into Pottsville, Tenn., where they met on a farm owned by country musicians Joey and Rory Feek. With a grand prize of $50,000 on the line and the chance to keep their truck, each team tries to pull out all their tricks to stay in the game, but ultimately one truck must go each week. Every Sunday night, FN Dish will bring you exclusive exit interviews with the latest Food Truck contestants to get the boot.
Seoul Sausage found themselves in the bottom this week for the first time, but their sales were high enough to keep them in the competition. Momma's Grizzly Grub, however, wasn't as lucky and after keeping up in the race for five long weeks, Angela, Adriane and Tiffany turned in their keys to Tyler.
The team has so much to be proud of. You all learned and conquered so much, especially with the Speed Bumps. If you could create the ultimate Speed Bump for the remaining trucks, what would it be?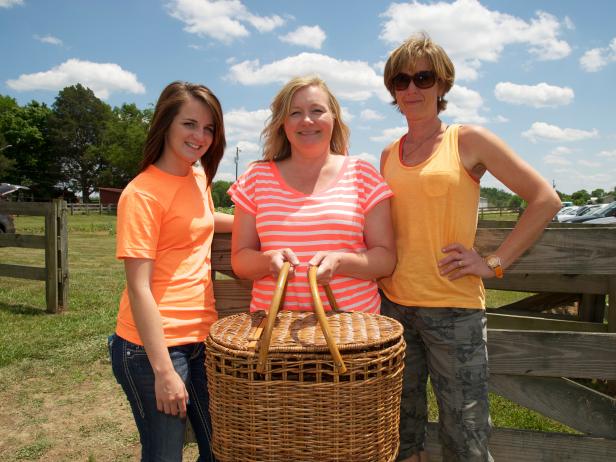 Food Truck Team Momma's Grizzly Grub (L-R) Adriane Richey, Angela Reynolds and Tiffany Seth pose for a photo during the episode which is taking place in Columbia, Tennessee at Country Duo's Joey & Rory's farm as seen on the Food Networks The Great Food Truck Race, Season 3. The challenge was that each team had 75 minutes to shop and prepare a "picnic" style meal.
Donn Jones, @ 2012, Televeision Food Network, G.P. All Rights Reserved
Switch trucks! Tyler could have the remaining teams draw names out of a hat and then completely switch trucks. Just imagine it: The Waffle boys making Italian meatballs, Nonna's making fried kimchee balls and the Sausage boys slinging waffles. It'd be a hoot to watch them make the best of that one.
Last week you gals got lucky with only paying a $250 penalty for the lamp-post. Now that you're on the other end of it, do you think Nonna's got off too easy with only paying the deductible?
Not at all. Accidents happen and people pay deductibles. We were in the race to win it, though, and, honestly, we were hoping Nonna's accident might have had a more dramatic effect on them. Some of our plans didn't come to fruition the day before and we lost some valuable selling time, so naturally, we would have welcomed their disadvantage to stay in the competition.
You partnered with The Cupcake Collection the second day. Do you think that wound up hurting you in the end because you couldn't sell a dessert, too?
Our partnership with The Cupcake Collection benefited us much more than any dessert sales might have. They hooked us up with locations, media alerts and more. We are forever grateful to Francois, Mignon and the entire Cupcake Collection family and crew for their enthusiastic support and friendship to three girls they'd never even met before. They were very gracious and generous — and their cupcakes were to die for.
"Nashville wasn't everything we thought it would be — we expected it to be our city." Was it poor location choices or was your food not well received by the community?
One word: location, location, location! We were Tyler's "sleeper team" and we're confident — based on how well we fared, even in the face of major adversity in previous cities — that we have the skills and strategic prowess to have made it all the way to the top. We had huge plans in Nashville, particularly on Saturday, with support from local friends, family and even an up-and-coming country music star. Being away from the city for that picnic challenge foiled our big plans for the day and we never did find our sweet spot to make up for it. We were definitely contenders, but even contenders can get tripped up by the game.
Will there ever be a Momma's Grizzly Grub truck in Alaska? If not, what do you plan on doing next?
Absolutely. With generous support and help from family and friends, we are in the process of procuring a truck. We'll have the truck outfitted and ready to "get rolling" by next spring. Keep your eyes open, Alaska — we are coming to a street corner near you.