The Return of the Worst Cooks in America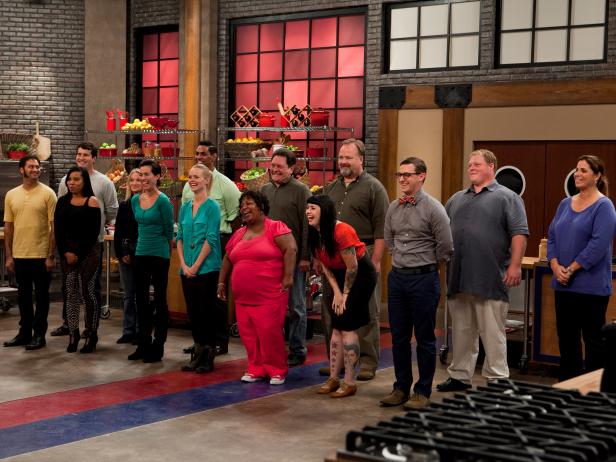 (L-R) Aadip Desai, Rasheeda Brown, Alex Stein, Carrie Lee Riggins, Diana Derosa, Alina Bolshakova, Chet Pourciau, Carla Johnson, Dr. Bob Schaefer, Crystal Lonneberg, Tim Burger, Micahel Hayden, "Big" Mike Paul and Sue Mangogna wait to hear which team they will be on, as seen on Food Network's Worst Cooks in America, Season 4
David Lang, 2012, Television Food Network, G.P.
You may not be able to crank out a four-course dinner in an hour and your souffles may sink more often than they rise, but don't despair because when it comes to grasping basic culinary know-how, you're likely leagues ahead of the helpless kitchen novices on Worst Cooks in America.
Come February, Food Network will kick off an all-new season of competition among the best of the worst in the kitchen, as Chefs Anne Burrell and Bobby Flay return to lead 14 of the Worst Cooks in America through a rigorous, no-nonsense Boot Camp. This year's recruits have been nominated by friends and family who've had the unfortunate experience of tasting the smelly, nauseating and overall unappealing creations these culinary felons are notorious for preparing . Chefs Anne and Bobby have just seven weeks to transform these cooking disasters into fearless kitchen leaders, and at the end of that time, the top competitors from each team will face off in a final showing for Worst Cooks glory and a life-changing $25,000 prize.
In this fourth season, the competition is sure to get heated not just between the recruits but team leaders Bobby and Anne as well. A three-time champ with an undefeated past, Chef Anne will look to keep up her perfect record while Chef Bobby tries to end her winning streak by putting all of his culinary confidence in his batch of recruits. Will this be the year that Chef Anne's Worst Cooks reign finally comes to an end, or will she prove her staying power with a fourth consecutive win?
Watch the video below (click the play button) to get an insider's look at the all-new season.