One-on-One With the Latest Red Team Recruit to Go Home — Worst Cooks in America
For the 14 recruits competing on Worst Cooks in America, it's the opportunity of a lifetime to learn kitchen basics and culinary how-tos from Anne Burrell and Bobby Flay — two of New York City's top restaurant chefs and some of Food Network's most celebrated stars. It's up to the contestants to use the tools the chefs provide to learn how to master certain skills on their own and demonstrate progress in the kitchen. Despite their best efforts, however, one recruit from Chef Anne's Red Team and another from Chef Bobby's Blue Team will ultimately succumb to the challenges of Boot Camp week after week as they compete for $25,000 and bragging rights for their coach.
Check back with FN Dish every Sunday after the episode for the first interviews with the latest eliminated contestants to read their exclusive reflections on the competition, thoughts on difficult challenges, plans for the future and more.
After choosing recruits to represent her on the Red Team, Chef Anne challenged them to recreate her meat-and-potatoes-style dish of pan-seared pork chops and new potatoes in just one hour and without the assistance of a microwave. Each contestant battled his or her own kitchen demons like onions and sharp knives, but not all of them overcame them. Photographer Diana De Rosa and chiropractor Dr. Bob Schaefer offered the most disappointing plates of the day, presenting Chef Anne with a dish that lacked sauce and was exceptionally greasy, respectively. In the end, however, the Red Team said goodbye to Diana on account of her inability to serve every component, and she left the competition believing that she's "still one of the Worst Cooks in America."
Was there one element of Boot Camp that particularly surprised you?
DD: I didn't know what to expect so everything was a surprise, from the huge kitchen with all those supplies to meeting the other recruits to the way we were living and so on. I have to say that putting salt on the outside of the meat was something that I was totally clueless about.
You said that your Oatmeal and Quinoa Fruit Surprise is one of the few things you cook. Quinoa isn't the most mainstream ingredient and it's been known to trip up even experienced at-home cooks. What's the story behind your signature dish?
DD: I am into a healthy lifestyle and I heard that quinoa has protein in it. I am not a vegetarian but I often eat like one just because I happen to like vegetables, fruit, nuts, etc. So, I try to think of ways to eat more protein because I have been anemic in the past. I cook it overnight, so I just put the oatmeal, quinoa, raisins, cinnamon (also very good for you) and cut-up fruits in the slow cooker. I let it cook and by the morning I have my oatmeal mush (as I refer to it since it tends to overcook), hot and ready to eat. I'm pretty easy to please so even food that isn't cooked just right tastes pretty good to me.
"It's really embarrassing to know how old I am and not know how to cook," you told Bobby and Anne during tasting. Has being on the show inspired you to learn how to cook?
DD: Of course watching those two chefs toss out a meal was what I really loved and that's what I want – to be able to go into the kitchen and not stress over how to cook something. So yes, they truly did inspire me. I want to learn how to cook but I was really hoping that I'd have more time on the show to get more of the basics. I'm not a read-the-book-type person. The best way I learn is from having someone show me what to do, which is exactly how they did it on this show. But then I only had one chance, which wasn't quite enough to go back home and actually have gained enough knowledge to cook. Having the chance to learn from the best of the best (albeit only one time) was something I will always cherish though.
Is there one kitchen skill in particular that you wish you could have mastered before you left?
DD: Cutting with a knife. Anne showed us but I found that very difficult and ended up cutting myself.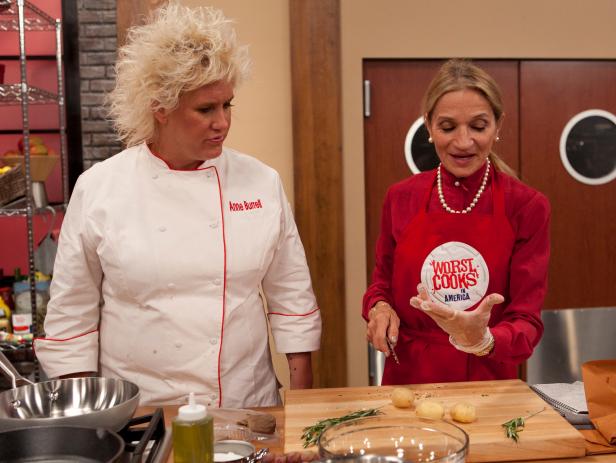 Chef Anne Burrell reacts to Diana Desrosa attempt to make Chef Anne's Pan seared pork chops with grape sauce as well as Garlic Yukon gold mashed potatoes or Hash brown potatoes or Herb roasted potatoes. The recruits were each given sacks of potatoes and a card telling them which pototo recipe they were to make, as seen on Food Networks Worst Cooks in America, Season 4
David Lang, 2012, Television Food Network, G.P.
After the elimination, you said that you believe you're still the Worst Cook in America and that you'd be interested in competing again on Season 5. If you were to join the contest again, would you prepare for the competition differently? How so?
DD: I would love to come back for Season 5. It's actually my hope and dream to be given another chance (and my mom and dad would thank Food Network from heaven, I am sure). I was pretty devastated to have it confirmed that I was truly the Worst Cook in America. The problem with me is that that I don't cook at all. So, I fail at anything I try to cook because I don't have a clue about what to do. All the other people on the show, except maybe Dr. Bob, had cooked before and so they are comfortable around a kitchen. But for me I don't even know where to begin. So, I might start by trying to better understand the terminology and the different pots and pans. I was totally at a loss just trying to figure out those things. I think I also should have remembered to have a check-off list. As soon as I realized I forgot to put in the one ingredient, I knew that would get me eliminated. My heart sunk while I was standing there from that point on because I knew it would take a miracle for me to not be eliminated. To this day I stress over that simple but stupid mistake. I had cooked the sauce and was just waiting until the last minute to pour it over the food so the food wouldn't be too cold. I should have prepared the meal sooner and maybe I would have caught my mistake, and I should have had a check-off list. I'd also spend some time trying to use the knife the way Anne showed us. And I'll watch more of the other Food Network shows to see if I can pick up anything. Once you are in that kitchen and the pressure is on it's pretty scary, but I really do want another chance and am hoping Food Network gives me that chance.