Melissa's Take on the Chopped Basket — Champions Grand Finale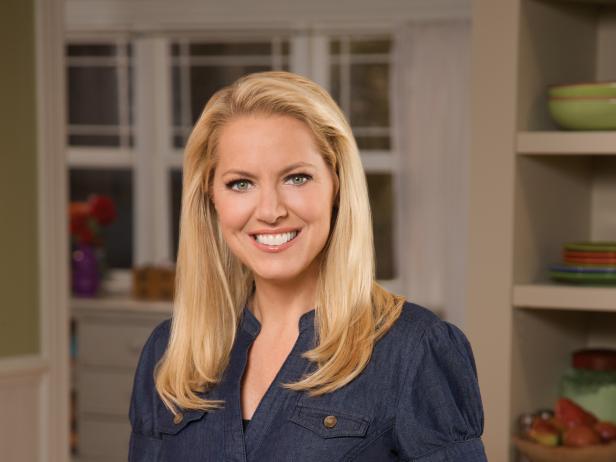 Melissa D'Arabian, 10 Dollar Dinners with Melissa D'Arabian
Melissa D'Arabian - HOST as seen on Food Network, 10 Dollar Dinners with Melissa D'Arabian, Season 4. On her daytime cooking series, season five winner of The Next Food Network Star and stay-at-home mom, Melissa d'Arabian, shows viewers how to incorporate creative and tasty meals into their budgets by sharing her tried-and-true recipes. With countless tips to save time and money in the kitchen, she keeps her $10 promise in every episode: four people, ten bucks, infinite possibilities. From approachable Parisian and Moroccan menus to sophisticated upgrades for everyday chicken and pork, Ten Dollar Dinners with Melissa d'Arabian demonstrates home cooking at its finest.
Anders Krusberg, 2011, Television Food Network, G.P.
It's the finale, so I'm tempted to give myself longer than 30 seconds to pick my menu. But I won't. So here go the final Chopped Champions baskets:
Appetizer basket: pig ears, ramps, pine nuts and apple strudel
Two tricky ingredients in this one – pig ears and ramps. Just kidding. Apple strudel? Yikes. My mind races first to April Bloomfield's gorgeous cookbook A Girl and Her Pig, and I am inspired to fry up the pig ears. How will they get tender so quickly? By boiling, slicing very thinly, dipping in batter and frying. I get the ears into the boiling water, which I salt. And then I turn my attention to the strudel. I make a quick decision to separate the phyllo from the apple filling and turn it into two ingredients. I crisp up the phyllo in the oven and make strips for a panzanella (bread salad). I caramelize the ramps, toast the pine nuts and blend up the apple filling with apple cider vinegar and olive oil for a vinaigrette. Chop up bitter greens, toss with the pine nuts, ramps, dressing and maybe some sweet yellow tomato if available. Top with my strudel strips and fried ear "cracklings." Simple.
Entree basket: abalone, curry leaves, Serrano ham and amaranth grain
My heart sinks when I see abalone for the protein. I've just used a great strategy for a chewy protein – slice thin and fry. I could saute the abalone, but I am worried about it getting tough as it sits waiting for the judges to eat it. My thought: I won't cook it at all. I'll make a spicy lime and curry ceviche! Immediately I heat coconut milk with curry leaves to infuse the flavor. I'll pull some aside to work into the ceviche (blast chill!), and I'll use some mixed with stock to cook the amaranth, which needs to get boiling ASAP. Next up: Get the abalone diced and into the acid so it has time to work its magic. Once my abalone is in lime juice, I'll prep the ingredients to go with the amaranth. Since the ceviche is a bit on the sparse side for a main dish, I'll turn the amaranth into a "fried rice" using onion, garlic, ginger and Serrano ham. To the ceviche, I'll add cucumber, some fresh chiles, ginger and tiny cubed apples to play off the salty ham. I'll chill the ceviche and fry the cooked, drained amaranth. To garnish, I'll flash-fry some Serrano ham and a few grains of amaranth (which will pop like corn). I'll serve the cold ceviche in a small dish next to the fried amaranth. I love a cold and hot entree; I hope the judges do too.
Dessert basket: carrot juice, almond flour, candied ginger and honeycomb
The final dessert-round basket is a gift for making it this far. But, it's a gift for your opponent too, which ultimately means it's a hard basket. We had a babysitter who ate gluten-free so I've made plenty of recipes that use almond flour instead of wheat flour. It's heavier, but so tasty (and heavy in a good, almost oily way in the right recipe). Immediately I decide to make chocolate lava cakes with carrot ginger caramel. I'll infuse a little bit of the ginger into the cream to make ganache that I'll mix with egg yolks and the almond flour and a bit of the honey. I'll pulse almonds from the pantry with some sugar in the processor and use that to dust my ramekins. These cakes will only take 8 or 9 minutes to bake so I'll put them on standby. Meanwhile, I'll make a quick syrup from water and the sugary ginger, and then mix that with the carrot juice and sugar to make a caramel sauce. I'll batter and fry some honeycomb pieces. To serve: I'll unmold my cakes (make an extra in case of disaster!) onto a plate swirled with the caramel and top with the honeycomb and some chopped roasted almonds. A honey whipped cream would be a perfect addition, if I have time (ha!).