One-on-One With the Latest Blue Team Recruit to Go Home — Worst Cooks in America
David Lang, 2012, Television Food Network, G.P.
For the 14 recruits competing on Worst Cooks in America, it's the opportunity of a lifetime to learn kitchen basics and culinary how-tos from Anne Burrell and Bobby Flay — two of New York City's top restaurant chefs and some of Food Network's most celebrated stars. It's up to the contestants to use the tools the chefs provide to learn how to master certain skills on their own and demonstrate progress in the kitchen. Despite their best efforts, however, one recruit from Chef Anne's Red Team and another from Chef Bobby's Blue Team will ultimately succumb to the challenges of Boot Camp week after week as they compete for $25,000 and bragging rights for their coach.
Check back with FN Dish every Sunday after the episode for the first interviews with the latest eliminated contestants to read their exclusive reflections on the competition, thoughts on difficult challenges, plans for the future and more.
Tasked with recreating their coach's dish of filet mignon with bacon smashed potatoes, Chef Bobby's Blue Team recruits struggled with all aspects of meat-and-potatoes cooking, including over- and undercooked beef and unbalanced sauces. Alina Bolshakova and Tim Burger cooked the least successful plates of the day due to dry meat and a raw Brussels sprout side dish, respectively. Come elimination, Chef Bobby realized that both recruits still "have a lot to learn," but he ultimately asked Tim to turn in his Blue Team apron. Before leaving, Tim promised that despite being the first to fall, "I will learn to cook for my family."
Bobby Flay said after the Main Dish Challenge, "I thought you started off like you were going to kill" it. What went wrong? Was there one element of your dish in particular that you felt did you in?
TB: I WAS going to kill that challenge. I was a freight train of culinary confidence, for the first 20 minutes anyway. Then my train was derailed by a shallot! A simple shallot on my tracks derailed my train. Or was it a scallion? I got so confused on whether to use a shallot or scallion in my potatoes that I froze and panicked. From that point on my confidence was shot. I was absolutely amazed at how one tiny thing could have thrown the entire competition. By the time I recovered from that, there was no time to boil the water for my Brussels sprouts, no time to reduce the wine in my sauce and I completely forgot I had to present it all on the same plate! I told you I was a bad cook; now do you believe me?
After nearly making yourself sick with the feta-broccoli dish you brought to the audition, have you retired that concoction once and for all?
TB: My Hippie Balls? I'm telling you that dish is better warm! Ok, yes, it made me sick and I almost honked on Bobby Flay, but I think it was mainly nerves. And possibly that rancid broccoli. But regardless, no, I have not retired it. I love my Hippie Balls. Had I made it further into the show and actually learned a little bit more, then maybe I would have retired them, but for now, don't touch my Hippie Balls!
What do you think is more important for a kitchen novice to have: the correct ingredients or the right equipment and utensils?
TB: The ingredients are the key. Equipment and utensils can be made from anything. Just ask any soldier or marine who can fashion an excellent meal by combining different elements of an MRE using a canteen cup and a KA-BAR knife. Their kitchen is in the middle of a jungle or sun-baked desert, but their meals are every bit as ingenious and tasty as you'll find in any world-class kitchen.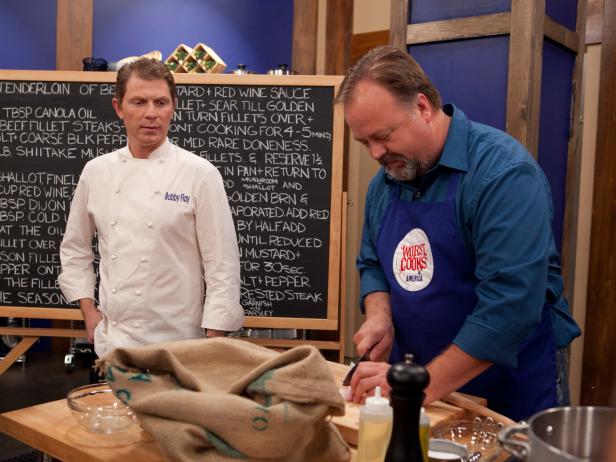 Chef Bobby Flay talks to Tim Burger of his Blue Team while he is wokring on Chef Flay's recipe for Tenderloin of beef with a mushroom, mustard and red wine sauce as well as Buttermilk-bacon smashed potatoes or Roasted red potatoes or Yukon gold hash. The recruits were each given sacks of potatoes and a card telling them which pototo recipe they were to make, as seen on Food Networks Worst Cooks in America, Season 4
David Lang, 2012, Television Food Network, G.P.
You said that if you cooked them a filet with red wine-mushroom sauce at home, your family "would be very impressed." Have you cooked for your family since the competition? If so, what do they think of your food?
TB: I do insist that we only use kosher salt and canola oil for cooking now, and that we salt and pepper everything. Also, my blanching technique for cooking vegetables has greatly improved. And yes, maybe I strut around our little kitchen and exclaim to my wife that "I was classically trained by an Iron Chef" and that she doesn't know what she's talking about when she suggests I do something different. But that usually only lasts for a minute or two until I get the look; then she takes over.
Which Blue Team recruit do you think is the competitor to watch, the one you think is most likely to take his or her team to victory?
TB: I think my man Chet is going to carry the Blue Team to victory. He's a sharp dresser. Have you seen his ties? With an eye for fashion like that, his dishes have to be equally impressive.