Bonding With the Bikers — Worst Cooks in America Caption It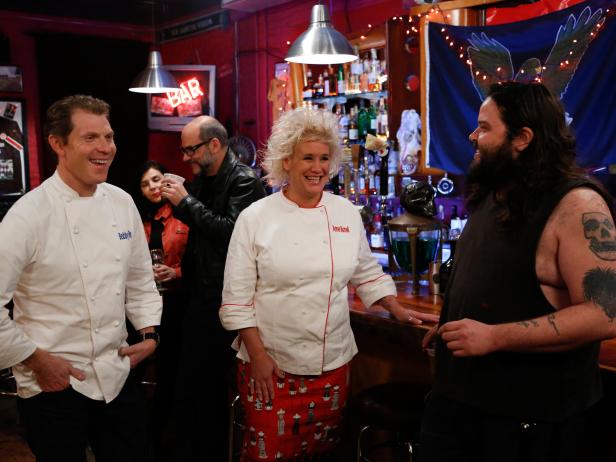 Blue Team Leader Chef Bobby Flay and Red Team Leader Chef Anne Burrell check in with biker Andy Animal to see if he's happy with the appetizers the recruits prepared for a gathering of his friends for the "Biker Bites" Challenge.The recruits had to prepare chicken wings based on recipes she and Chef Bobby Flay demonstrated to their recruits plus an additional appetizer for a party for hungry bikers- a tough crowd to please, as seen on Food Network's Worst Cooks in America, Season 4.
Heidi Gutman,  2012, Television Food Network, G.P.
Heading into their fifth week of Boot Camp, the Worst Cooks in America recruits will be forced to face one of their top culinary fears: cooking for others. Many of the competitors have admitted to making their friends and families sick with haphazardly prepared dishes from kitchen attempts past, so it's no surprise that they're leery about unsuspecting strangers sampling their latest offerings. Have their skills come so far in the past month that they can now be trusted to feed the public? How will the taste testers react to the contestants' meals?
After Sunday's initial challenge of making Asian-inspired dumplings for supermarket shoppers, it will be up to Chef Anne and Bobby's teams to prepare a spread of bar snacks for a crowd of hungry motorcycle riders. In the above sneak-peek shot from the all-new episode, the mentors are seen chatting with one of the bikers, and so far, the group seems to be enjoying the experience the contestants are providing. Do you think these happy faces will last throughout the cook-off, or will a partygoer ultimately encounter a disastrous dish? Which samplers — the shoppers or bikers — will be more lenient with the recruits' culinary shortcomings? Will the mentors be wowed by the contestants' progress, or will they find some making too many rookie mistakes?
Before you tune in this Sunday at 9pm/8c to find out who makes the best bar bites, we're challenging you, Worst Cooks in America fans, to write your best captions (tastefully appropriate, please) for this mingling moment in the comments below.