One-on-One With the Latest Blue Team Recruit to Go Home — Worst Cooks in America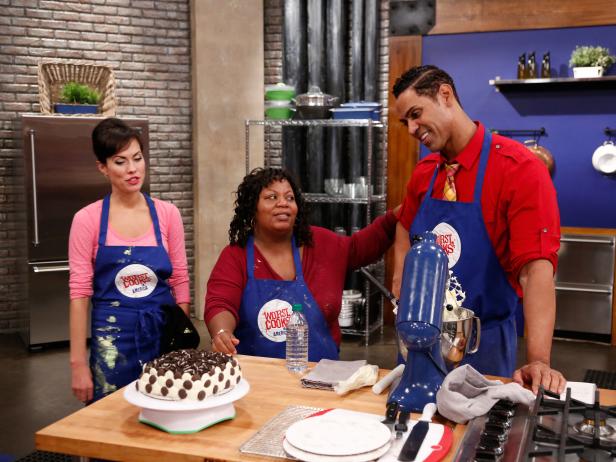 Blue Team Recruits Carrie Lee Riggins and Carla Johnson admire Chet Pourciau's variation of a Basic Vanilla Cake with Swiss Meringue Buttercream Frosting demonstrated by Chef Ron Ben-Israel for the Cake Bake Off Challenge. Chef Ron gave the recruits very specific directions to follow as a basis for their own unique cakes. Chet has made what he calls his "Biracial Cake." Ingredients include Pineapple and Almonds. He decorated his cake with round white chocolate, round dark chocolate, and Oreo cookies, as seen on Food Network's Worst Cooks in America, Season 4.
Heidi Gutman,  2012, Television Food Network, G.P.
For the 14 recruits competing on Worst Cooks in America, it's the opportunity of a lifetime to learn kitchen basics and culinary how-tos from Anne Burrell and Bobby Flay — two of New York City's top restaurant chefs and some of Food Network's most celebrated stars. It's up to the contestants to use the tools the chefs provide to learn how to master certain skills on their own and demonstrate progress in the kitchen. Despite their best efforts, however, one recruit from Chef Anne's Red Team and another from Chef Bobby's Blue Team will ultimately succumb to the challenges of Boot Camp week after week as they compete for $25,000 and bragging rights for their coach.
Check back with FN Dish every Sunday after the episode for the first interviews with the latest eliminated contestants to read their exclusive reflections on the competition, thoughts on difficult challenges, plans for the future and more.
No strangers to delivery dinners, the recruits were familiar with the Asian-inspired takeout dishes prepared during this week's Skill Drill, but their penchants for restaurant-made meals didn't help them when challenged to prepare these plates from scratch. Chef Bobby demonstrated the whats and hows of executing shrimp lo mein, and when it came time for his team members to re-create his seemingly simple dish, Chet rose to the occasion while Carrie Lee seemed to struggle. She found it difficult to stay focused in the kitchen and was forced to start over after burning her garlic. More problems surfaced for Carrie Lee during the next day's Main Dish Challenge in which she and her rival recruits were forced to tackle baking. Despite a tutorial from Sweet Genius Ron Ben-Israel, she admitted, "I don't feel comfortable in this at all" and was even tempted to give up during the challenge. Her teammate Carla also struggled with baking, as portions of her cake layers stuck to the pans and had to be scraped off. In the end, although Carla's dessert was ultimately deemed to be far too dry, Carrie Lee Riggins was asked to turn in her Blue Team apron.
Why were you so tempted to just give up and walk away this week? Were you simply frustrated, or was the stress of the competition becoming too much to handle?
CR: I was extremely frustrated during the burger challenge. The original concept I had for my burger was Mexi-Cali inspired and the ingredients I needed (i.e., Manchego cheese, jicama, pepitas, etc.) were not available, so I went a different direction doing a Greek burger. Obviously, the kitchen can't be stocked with every ingredient our minds can imagine, but I felt my creativity was being stifled by the limited range of products. Unfortunately, when you share cooktops with other contestants, burners can get altered by accident. More than once my burners were turned all the way up and the griddle became way too hot. I had to go around the front of the island to try to move the pan. My foot found a stray onion, and I hit the deck. Thankfully I sprung up pretty quickly with a small bruise on my knee and a bigger one on my ego. I heard Rasheeda make a cute joke, saying, "I heard a penny drop and I look over and Carrie Lee was on the floor!" That made me lighten up for a moment! Thank you, Rasheeda! I have to say one of the best parts of the show was working with this group of people. All had hilarious personalities across the board to go along with their very contrasting and incredible backgrounds.
During the casting process, you told Bobby and Anne that you've only cooked three times at home. After returning from Boot Camp, what was the first meal you made? Was it successful?
CR: After returning from Boot Camp, the first meal I made was tilapia with Chef Flay's relish he taught us from the black sea bass recipe. I took my time, and it came out well. I assure you that I made damn-well sure I got all my pin bones out of it. Although still not terribly confident in my skills, I cooked just for myself and didn't subject my boyfriend to my cooking YET. Instead of boarding a boat and cruising out to catch dinner, I simply went over to the market and made my fishmonger supply me with a beautiful fillet. I also forwent the Smurf outfit. However, my doorman now calls me Smurfette ever since that episode aired. Thank you, Worst Cooks in America, for that!
What was your favorite part about learning to cook from Chef Bobby?
CR: My favorite part about learning from Chef Flay was he helped shake my disdain for "spicy." He showed me the light and taught me to embrace heat. I really enjoy some fire in my food and the dynamic dishes that are now being incorporated into my meals.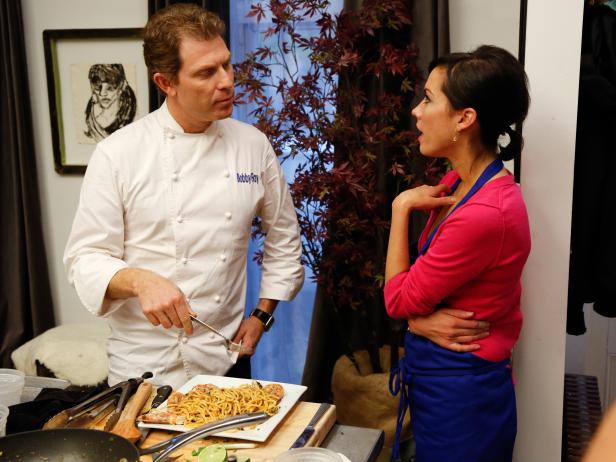 Worst Cooks In America Team Blue Team Leader Bobby Flay tastes the Green Shrimp Lo Mein prepared by Carrie Lee Riggins for the "Take On Take Out" challenge. Chef Anne and Chef Bobby arrived at the recruit's house to find the recruits had been ordering take out food instead of cooking, and now they must race to replicate Chinese food recipes before the food deliveryman gets to the house, as seen on Food Network's Worst Cooks in America, Season 4.
Heidi Gutman,  2012, Television Food Network, G.P.
Tell us a bit about life at the Worst Cooks house. What was it like living with your rival recruits? What would you guys do during your off time?
CR: Life in the Worst Cooks in America house was mostly enjoyable. I was the insomniac of the house, for sure. I think the first night we slept in the brownstone I closed my eyes for an hour. I got up at 4 am and did yoga in the living room. Chet discovered me about an hour later doing handstands. We hardly knew each other yet, and he probably thought I was absolutely insane. I am such an active person that, if I don't physically exhaust myself, I am a restless sleeper. There were times I would do a little ballet in the house, and I don't think the boys minded one bit. In fact, I think I made a ballet fan or two out of that experience. There were times we got stir-crazy and I might have done some makeup on Aadip and Alex. Alex wanted to look over-the-top, a la Lady Gaga. His wish was granted down to big cherry red lipstick and black eye shadow. He put on a tight leopard dress of Rasheeda's and WERK'd it out to Gangnam Style in the living room. It seemed he really enjoyed it, and I don't think it was the first time Alex has done something like that as he had stated … hmmmm. I put a cool bandana on Aadip and gave him rock star eyeliner.
What's your plan for the future? Will you continue to hone your culinary skills?
CR: I have met an amazing man, Justin, who is a wizard in the kitchen. He flies all over the world, and he has been sharing some of his knowledge of cuisines and cultures with me. I am thrilled to be his sous chef! He is a patient and wonderful teacher, and I look forward to learning more with his guidance in this loving and calm environment. It is much better than trying to learn on a TV show with seven cameras and people screaming at the tops of their lungs. At least cooking at home with Justin, I'll be the only one flirting with the teacher!