Chef Wanted: Culina Update
We're sorry, there seems to be an issue playing this video. Please refresh the page or try again in a moment. If you continue to have issues, please contact us here.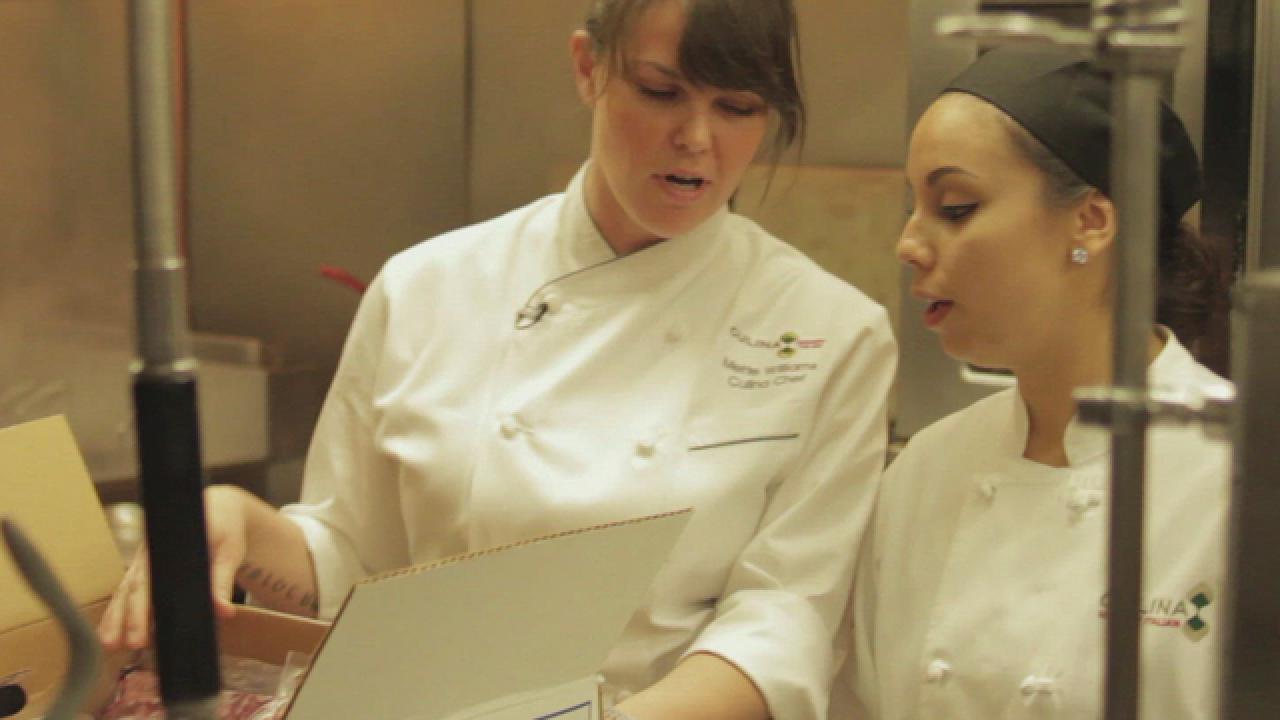 Culina, Modern Italian is a restaurant located in the Four Seasons Hotel Los Angeles at Beverly Hills. General Manager Mehdi Eftekari was looking for a new executive chef because the former executive chef, Ashley James, was promoted to oversee the entire hotel. The two men were in need of someone who could cook innovative Italian food, lead a large staff and be comfortable with their customers. Anne Burrell and the Chef Wanted team were called in to help with the search. After two tests and two dinner services, an offer was extended to Chef Mette Williams.
Mette Williams is an executive chef from Los Angeles and a single mother of a 14-month-old boy. The position at Culina would give her the stability that she wants for herself and her son.
For the first test, the chefs were challenged with creating a pizza (a specialty of the restaurant), but not just any pizza — a seafood pizza. Chef Williams made a pizza with a bagna cauda sauce, shrimp and clams. Mehdi and Ashley had nothing but compliments for Chef Williams' successful dish. The second test challenged the chefs to create a simple dish using only four ingredients. Chef Williams' rack of lamb with fennel puree, roasted fennel, roasted garlic and olive tapenade went over very well, but Anne wasn't happy with the raw garlic used in the tapenade, which she warned the chef about earlier. When it came to service, Chef Williams was successful at putting out flavorful food in a modern Italian style, but a few missteps gave Mehdi, Ashley and Anne some things to worry about: there wasn't enough fresh pasta to serve everyone who ordered the dish and the chef had trouble plating consistently and uniformly. She did, however, redeem herself through her positive interactions with customers, including the hotel owners. In the end, Mehdi and Ashley were impressed overall and, instead of waiting any longer, surprised Chef Williams by announcing to the entire dining room of guests that she was the new executive chef of Culina.
FN Dish caught up with Chef Williams since the show taped. Watch the video above to find out how she's been doing since taking the executive chef position at Culina. Mehdi recounts that Chef Williams' first few days were all about learning the philosophy of the restaurant through observation to ease her into the new role. As the new executive chef, Mette is making it her goals to bring a more rustic flair to the Culina menu and to set the restaurant apart from the hotel so it's more relaxed and welcoming. She wants to use produce that's in season and cook with a focus on simplicity.