We're sorry, there seems to be an issue playing this video. Please refresh the page or try again in a moment. If you continue to have issues, please contact us here.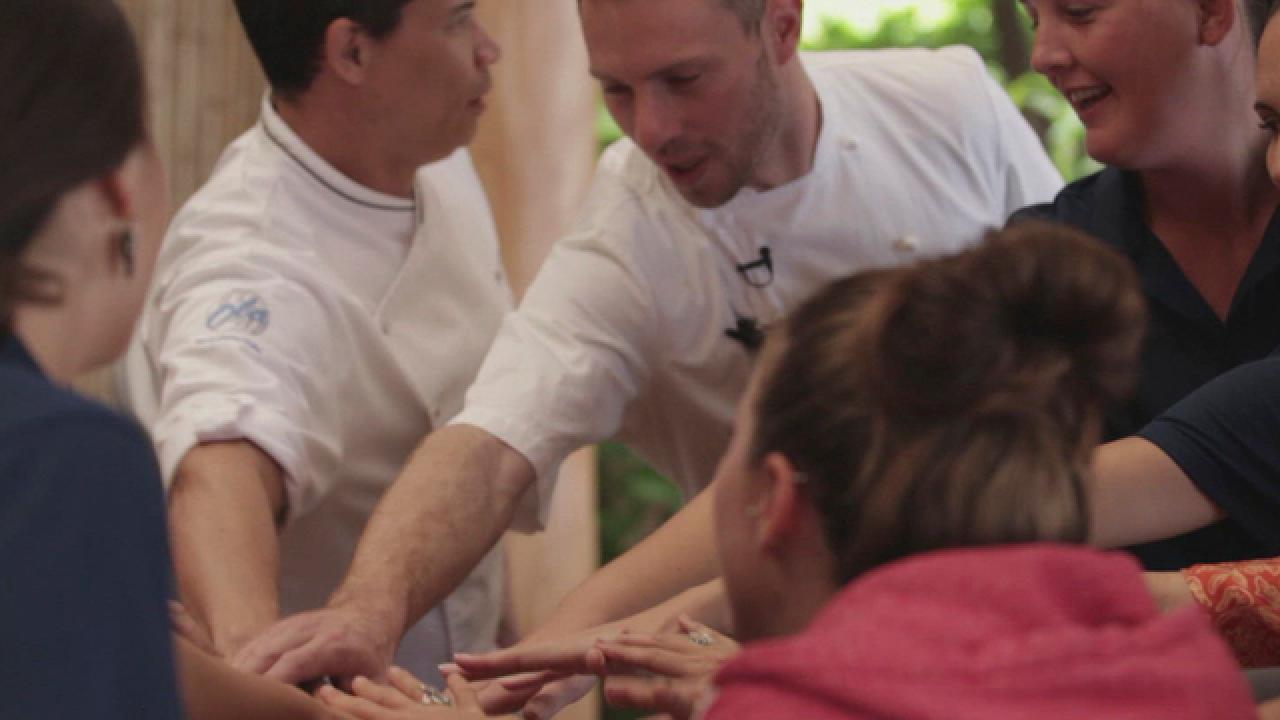 Ola restaurant is located at Turtle Bay Resort on the north shore of Oahu, Hawaii. Chef/owner Fred DeAngelo opened the restaurant eight years ago with his wife, Cheryl. Fred was looking for an executive chef who could relieve some of the pressure from his workload, as he has a new restaurant to run. His hope was to find a chef who could expertly work with the local island ingredients and who shares his philosophy for the restaurant, which is reflected in the name Ola, meaning "life." Anne Burrell and the Chef Wanted team were called in to help with the search. After two tests and two dinner services, an offer was extended to Chef Casey Barnes.
Casey is an unemployed chef from Los Angeles — he actually quit his job with a Michelin-rated chef just to interview at Ola. He recently got engaged to his girlfriend and is ready to move to Hawaii to start fresh with this new job.
For the first test, the chefs were told to create an upscale version of the Hawaiian comfort food loco moco, a rich dish with a beef patty, gravy and a fried egg. Chef Barnes reinterpreted the dish with fish. Cheryl called his dish of seared opah with a crispy rice cake and tomato jam a good departure from tradition, and Fred thought the fish worked really well with the jam. The second test, however, proved to be much more difficult for some — it required the chefs to make an entree using disjointed ingredients. They had to choose a fish (ono, kampachi or onaga) and then pair it with at least one of the following ingredients: sea asparagus, Kona coffee or breadfruit. Chef Barnes decided to take on all three of the ingredients to create a coffee-crusted grilled ono with breadfruit curry and sea asparagus. Fred really appreciated the butchering and cooking of the fish, as well as Chef Barnes' use of all the ingredients.
When it came to service, Chef Barnes showcased his creativity with the local ingredients — only one dish made with a charred taro leaf pesto needed revising. Unfortunately by the time service had started, Chef Barnes was so preoccupied with fixing his pesto that he let a bunch of tickets pile up. Throughout service, Casey remained strangely calm, which alarmed the owners. At one point he even gave up control of the tickets to the expeditor. After Anne straightened him out, he improved his focus and took back control of the kitchen. Ultimately, Fred and Cheryl were very impressed with how Chef Barnes' dishes embraced Hawaiian ingredients, so they offered him the position of executive chef.
FN Dish caught up with Chef Barnes after the show taped. Watch the video above to find out how he's been doing since taking the executive chef position at Ola restaurant. In the video Casey says that the fact he got the job — and in a place like Hawaii — is still sinking in. His philosophy is to make the experience of eating, which is a necessity for life, amazing and wonderful. Fred couldn't be more excited to see where Casey takes the restaurant.