Chef Wanted: Precinct Update
We're sorry, there seems to be an issue playing this video. Please refresh the page or try again in a moment. If you continue to have issues, please contact us here.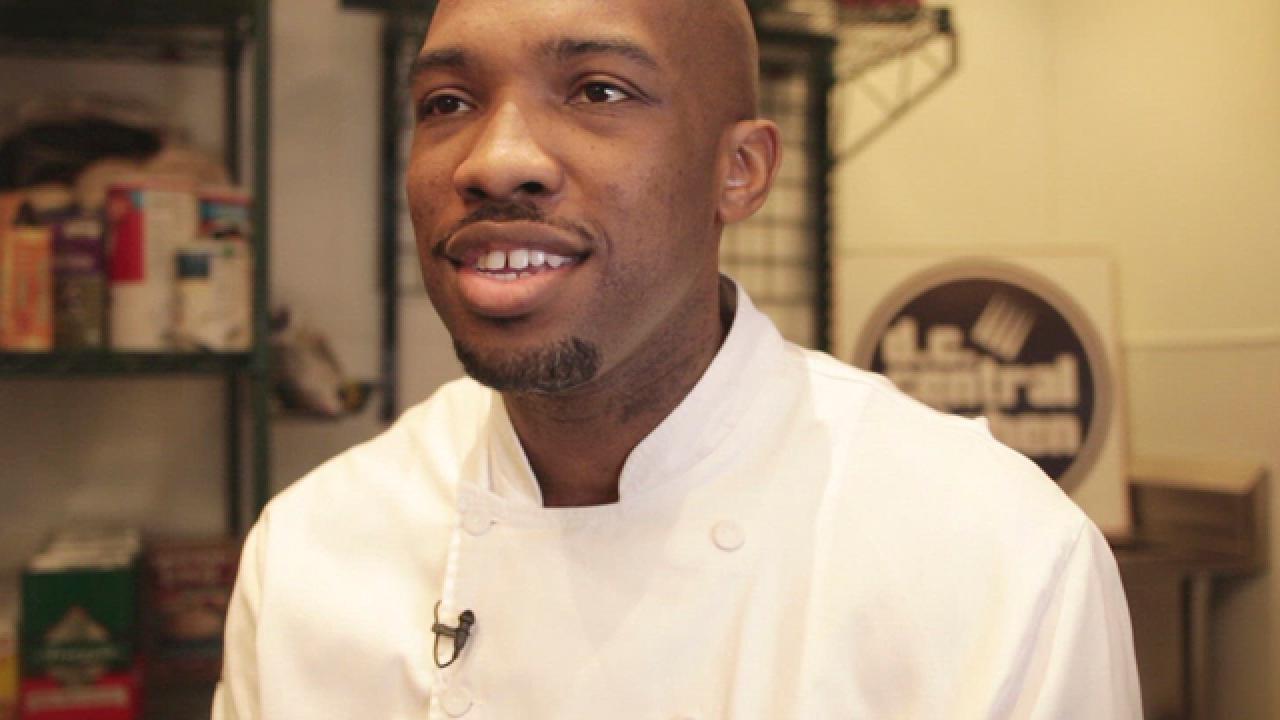 The Precinct in Cincinnati is a former police station from the early 1900s that was converted into a steakhouse by owner Jeff Ruby in 1981. Jeff, with the help of his daughter Britney, was looking for a new chef who could meet three criteria. They wanted a chef with tremendous culinary depth, who knew beef as well or better than Jeff himself and could make everyone in the kitchen better at their jobs. Anne Burrell and the Chef Wanted team were called in to help with the search. After two tests and two dinner services, an offer was extended to Chef Rahman "Rock" Harper.
Rock left the restaurant business about three years ago to work for D.C. Central Kitchen, a nonprofit in Washington, D.C., that helps rehabilitate homeless people and gives them the skills to enter the culinary field. Rock wants to re-enter the professional kitchen and sees Precinct as the perfect opportunity.
For the first test, the chefs were tasked with creating a high-end dish using inexpensive cuts of beef. To achieve that, they each had to break down a 200-pound hindquarter to get to the cuts of meat. Rock ended up making braised beef shank, which Anne and Jeff thought was very ambitious, but Britney thought the dish lacked visual appeal. For the second test, the remaining chefs were asked to create a seafood dish worthy of being named after Jeff. Rock decided to make another ambitious dish, using lobster, crab and sea bass. He had trouble cooking the fish through and ended up serving only one half of the fillet. Jeff and Britney found the dish had great flavor, but they thought it was too small a portion.
Before Rock could start his dinner service, an issue came up with one of his side dishes during pre-service: Jeff didn't like the macaroni and cheese, so Anne told Rock to replace it with potato gratin. Rock had to start the new dish from scratch at the last minute. It ended up setting back service and lowering the quality of dishes going out. In fact, many of Rock's shrimp scampi dishes were sent back because they were overcooked. Rock got very frustrated and even snapped at the managers and wait staff coming into the kitchen. After a chat with Jeff, Rock calmed down and regained focus. Later Rock had a moment to visit the dining room to greet an 8-year-old boy who said he wants to be a chef when he grows up. Service ultimately ended up going smoothly. In the end, Jeff and Britney chose Rock because of his leadership skills and what he can bring in terms of mentoring the staff.
FN Dish caught up with Chef Harper after the show taped. Watch the video above to find out what he's currently doing. Chef Harper didn't end up taking the job at Precinct because he felt he couldn't leave behind his hometown community and all that he's doing for the nonprofit in D.C.