One-on-One With the Latest Red Team Recruit to Go Home — Worst Cooks in America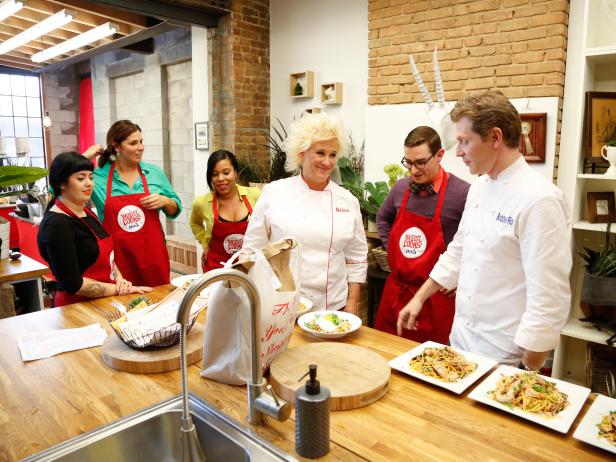 Worst Cooks In America Team Red Team Recruits and team leader Chef Anne Burrell show off their Shrimp Fried Rice to Blue Team leader Chef Bobby Flay. They are sure they did better than the Blue Team in the "Take On Take Out" challenge. Chef Anne and Chef Bobby arrived at the recruit's house to find the recruits had been ordering take out food instead of cooking, and now they must race to replicate Chinese food recipes before the food deliveryman gets to the house, as seen on Food Network's Worst Cooks in America, Season 4.
Heidi Gutman,  2012, Television Food Network, G.P.
For the 14 recruits competing on Worst Cooks in America, it's the opportunity of a lifetime to learn kitchen basics and culinary how-tos from Anne Burrell and Bobby Flay — two of New York City's top restaurant chefs and some of Food Network's most celebrated stars. It's up to the contestants to use the tools the chefs provide to learn how to master certain skills on their own and demonstrate progress in the kitchen. Despite their best efforts, however, one recruit from Chef Anne's Red Team and another from Chef Bobby's Blue Team will ultimately succumb to the challenges of Boot Camp week after week as they compete for $25,000 and bragging rights for their coach.
Check back with FN Dish every Sunday after the episode for the first interviews with the latest eliminated contestants to read their exclusive reflections on the competition, thoughts on difficult challenges, plans for the future and more.
For the first time in Boot Camp, the recruits skipped traditional homemade American dishes and embraced the international flavors of classic Asian takeout. Contestants from both Chef Anne's and Chef Bobby's teams admitted to frequently resorting to delivery dinners, but when tasked with re-creating their mentor's shrimp lo mein and shrimp fried rice, respectively, many were at a loss for how to execute those meals from scratch. The Red Team's Crystal found this Skill Drill particularly challenging, as she was forced to get hands-on with shrimp — an ingredient she despises — and later suffered a broken egg yolk, which prevented her from making a sunny-side-up egg and completing her fried rice on time. At the next day's Main Dish Challenge, the recruits were once again forced out of their comfort zones, this time thanks to an intense cake-baking how-to from Master Pastry Chef Ron Ben-Israel, the ultimate Sweet Genius. After dropping one of her cake pans full of batter on the floor, Crystal served only a single-layer cake, while her fellow contestants offered stacked creations. Sue, too, struggled in this bake-off, as her cakes seemed to cook improperly and her frosting was oddly stiff. In the end, while both ladies' confections met criticism from Chef Anne, ultimately it was Crystal Lonneberg who was asked to turn in her apron on account of what Chef Anne believed to be "a cop-out" in Crystal's excuses for why dishes failed.
This was an especially emotional week for you. Talk to us about your teary elimination.
CL: Being away from my dog, friends and art for a long period of time with no immediate connection to them was really hard. I started having anxiety about being away, what I was missing and how I was going to catch up when I got back. Adding to the stress was living in a house with so many different personalities all sharing living spaces with no privacy, ever … I really wanted to learn more than win. I learned so much and made such amazing friends that I feel like I won!
Before competing on Worst Cooks, what was your signature takeout order from the local delivery spot? Have you resorted to that takeout since the show?
CL: There is a great Italian restaurant that is half a block from my house. The delivery guys know me by name and honk when they pass me while I'm jogging. Since I've been back, I've only ordered from there once when I had a party. Now when they see me they honk and ask, "Where have you been?" It's nice to be missed, but I don't see myself going back to my old ways.
What's the most-valuable culinary skill you learned from Chef Anne?
CL: Chef Anne taught me low-tech solutions! When you're unfamiliar with something, it can be really intimidating and scary, but knowing that most things can be solved with a little patience and commonsense, it isn't so scary after all.
Tell us about the first meal you cooked after returning from Boot Camp. Were you pleased with the finished dish?
CL: When I got home, I bought all new pots and pans. Then I got groceries. I made grilled tofu with mushrooms and Brussels sprouts cooked in fresh garlic, grated onion and chicken stock. It was amazing! Even my dog ate the leftovers. I didn't think dogs like vegetables, but she ate them.
Can you share any funny moments from Boot Camp or some interesting tidbits from behind the scenes that didn't make it on air?
CL: So many hilarious things happened in the house that a whole new show could have been made from just that. The first week, we set the smoke alarm off every time someone tried to cook, so we had to move the smoke alarm out of the kitchen. We started getting stir-crazy after a few days, so to pass the time, Bowtie Mike and Aadip would play banjo and guitar while we made up songs about each other. One night Carrie Lee and Resheeda dressed Alex up like a girl with a full face of makeup and a matching skintight leopard-print dress. Alina made Dr. Bob's hair look like Anne Burrell, and somehow Aadip got turned into a pirate. During downtime or between tapings I would draw silly sketches of the cast members, and Aadip would write jokes/captions for my sketches. We would switch out the cast house pictures with sketches of angry pizza, cats with mustaches or silly sketches of each other.
For future Worst Cooks recruits, what's the one piece of advice you'd most like to offer?
CL: For future recruits, I would advise to stay calm, take a deep breath and draw pictures of the instructions in your notebook to help you remember, because, when the pressure is on, trying to remember when to chiffonade or julienne will make you crazy. Just draw pictures. It worked for me!