What to Watch: Special Occasion Recipes and the Finale of Worst Cooks in America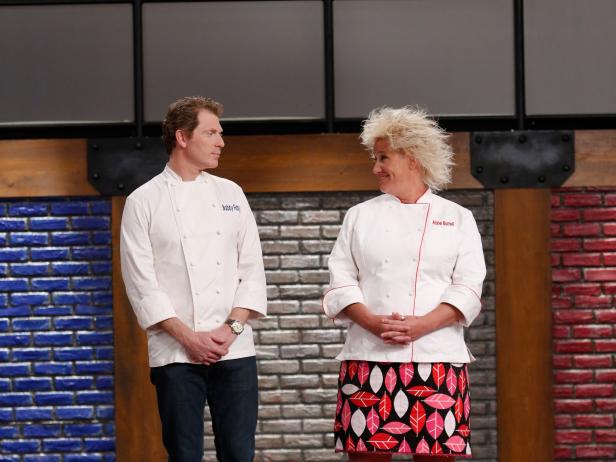 Worst Cooks in America Blue Team Leader Chef Bobby Flay and Red Team Leader Chef Anne Burrell greet recruits at boot camp for the final time. This will be a practice run. The chefs will guide their recruits through the preparation of the three course meal the recruits must prepare on their own for the the finale, as seen on Food Network's Worst Cooks in America, Season 4.
Heidi Gutman,  2012, Television Food Network, G.P.
This weekend, Food Network has new episodes from Ree, Ina and Giada on Saturday and three competition shows with new episodes on Sunday, including the finale of Worst Cooks in America.
On Saturday morning, tune in as Ree cooks dishes for her homeschooled kids. Then watch Ina surprise her dear friend on her birthday by stocking her kitchen with goodies. Afterward, Giada takes a stroll down memory lane with recipes that have had a special meaning in her life and career.
On Sunday evening, watch a special rock-and-roll-themed episode of Cupcake Wars. Then tune in for the finale of Worst Cooks in America to find out whether Chef Anne's or Chef Bobby's recruit scores a win. And finally it's an all-new episode of Chopped on a special night: A mystery basket ingredient in the appetizer round takes the competitors by surprise.
Ree is running both the classroom and the cafeteria for homeschooling on the ranch. She's making Muffins With Vanilla Butter for breakfast and Chicken and Noodles for lunch. Plus, she has Chocolate Dipped Peanut Butter S'mores to hand out for spelling bee prizes.
Tune in : Saturday, March 30 at 10am/9c
For her friend Dwyer's birthday, Ina has a surprise planned while Dwyer is out of the house. It includes filling her kitchen with home-cooked Italian Seafood Salad and German Chocolate Cupcakes, a birthday cheeseboard and amazing flowers by Michael at The Bridgehampton Florist.
Tune in : Saturday, March 30 at 11am/10c
Giada makes four recipes inspired by meaningful moments in her life and career. Her recipes include Baked Lemon Ziti, a twist on one of her first TV recipes; Mozzarella Fonduta, a version of a favorite childhood dish; Rib Eye Steak Panini, a frequent craving; and Pink Grapefruit and Thyme Bellinis, a cocktail reminiscent of her engagement.
Tune in : Saturday, March 30 at 11:30am/10:30c
The bad boys of Cupcake Wars are returning to the kitchen in true rock-and-roll style to compete for the chance to have their cupcakes center stage at a party celebrating the iHeartRadio Music Festival in Las Vegas.
Tune in : Sunday, March 31 at 8pm/7c
Chefs Anne Burrell and Bobby Flay go head-to-head in the Worst Cooks in America finale. Chef Anne, the 3-0 winner, is ready to fight for her crown but Bobby wants redemption. Watch to find out who turns out to be the better teacher and which recruit will walk away with $25,000.
Tune in : Sunday, March 31 at 9pm/8c
The chefs get a surprise in the first-round basket: One of the ingredients is staring back at them. Some competitors find it more challenging than others to create an appetizer. In the entree round, one chef plays with fire, creating a dangerous situation. The two finalists have their work cut out for them when they must make a dessert using a common starchy side dish.
Tune in : Sunday, March 31 at 10pm/9c