Vote: Who Do You Want to Win Worst Cooks in America?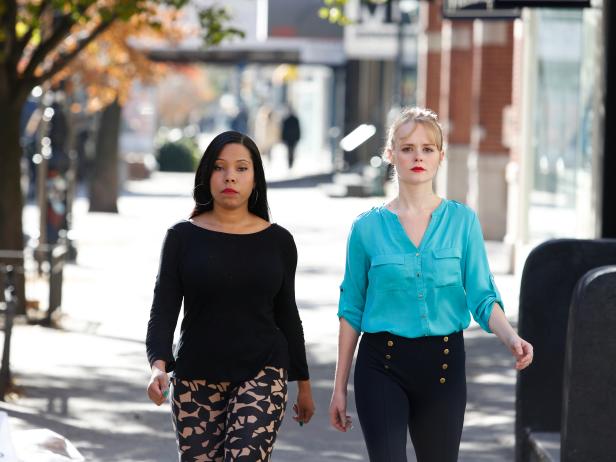 The Red Team Recruit Rasheeda Brown and Blue Team Recruit Alina Bolshakova walking the The Dutch restaurant for the cook off. The recruits must prepare a three course restaurant-quality meal for a panel of distinguished culinary experts who will determine who takes home the $25,000 prize money, and the right to say they are no longer one of the worst cooks in America, as seen on Food Network's Worst Cooks in America, Season 4.
Heidi Gutman,  2012, Television Food Network, G.P.
No longer two of the Worst Cooks in America, Rasheeda Brown and Alina Bolshakova have survived six weeks of Worst Cooks Boot Camp and are now armed with the knife skills, kitchen techniques and culinary confidence needed to cook a restaurant-quality meal for three professional-chef icons. Both recruits have endured their shares of struggles in the competition, falling short in several challenges, but they've proved themselves worthy of the chance to represent their mentors in front of the judges' panel. Come Sunday night, one of them will earn $25,000, as well as exclusive bragging rights for her chef, but not before competing in the ultimate finale cook-off, complete with the demands of a multi-course meal and rigid time constraints.
When Rasheeda and Alina are cooking for Boot Camp glory on Sunday, who will you be rooting for? Are you hoping that Chef Anne's Rasheeda takes the crown and earns her mentor a fourth-straight victory, or do you think it's time for Chef Bobby to enjoy a win and Alina to best her competitor? Should the Red Team's Rock Star Rasheeda take home the prize, or should the mad scientist on the Blue Team collect the triumph? Cast your fan vote below to tell us who you want to win Worst Cooks in America.