Transforming the Familiar — Chopped After Hours
We're sorry, there seems to be an issue playing this video. Please refresh the page or try again in a moment. If you continue to have issues, please contact us here.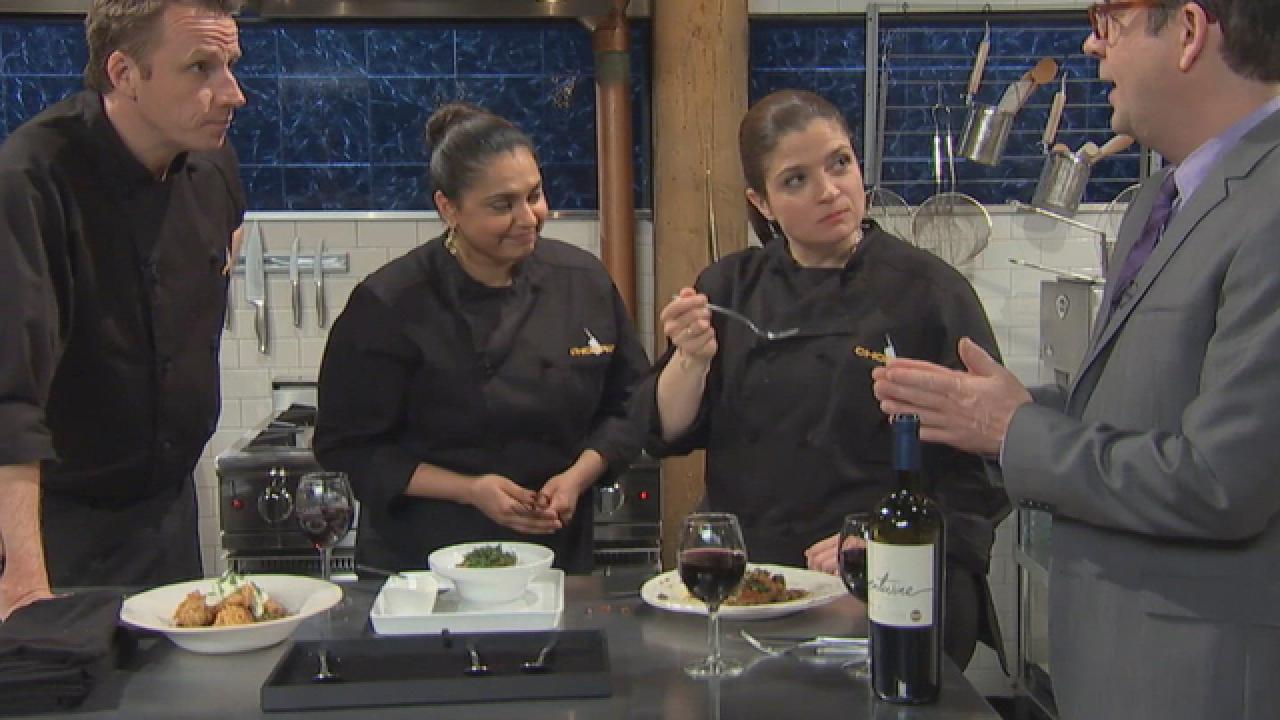 The Chopped judges have seen their share of odd, uncommon ingredients come out of the mystery baskets — haggis, goat brains and shad roe sack, to name a few. But sometimes what trips up the competitors more than any strange products is a selection of ordinary ingredients, like eggs, flour tortillas and apples. If the competitors are judged on their abilities to use the basket ingredients, they'll have to think beyond omelets, tacos and fruit salads, for example, if they want to avoid the Chopping Block.
On tonight's all-new episode of Chopped, judges Alex Guarnaschelli, Maneet Chauhan and Marc Murphy welcomed four moms to the kitchen with baskets of familiar ingredients that home cooks would likely use. In the entree round, that meant a spread of mustard greens, pork butt, red quinoa and carrot baby food — products that, while perhaps difficult for these nonprofessional cooks, should have been a cinch to prepare for the chef-judges, who later tried their hands at this very basket.
Alex admitted that, with the exception of the baby food, "It's like a nice, innocent little basket." But that didn't stop her and the rest of the panel from facing some of the same challenges the moms did, like how to make a tough piece of pork tender and how to quickly cook quinoa with limited time. During their friendly face-off, Marc resorted to using a meat grinder to break down the pork and make it into meatballs. Maneet incorporated the meat into a casserole-style dish, and Alex took advantage of almost every second of the competition to fully cook her quinoa.
What do you think of the judges' abilities to transform these familiar ingredients into inspired main dishes? Is it more difficult to find new ways to approach everyday products, or do these commonplace ingredients present challenges of their own? Could the judges have been more creative in their approaches, or are their finished plates sufficient, given the battle?
Click the play button on the video above to watch what went down in the kitchen, then join fellow Chopped After Hours fans in a discussion about the judges' battle in the comments below. For more insider dish on the showdown, browse behind-the-scenes snapshots to see Alex, Maneet and Marc in action.