Discover the Midwest on Amy Thielen's Heartland Table
America's middle may be known for its lush green pastures and rolling hills, but it's also home to some of the most comforting and creative food in the country, thanks to its focus on farming and rural, rustic living. On her all-new upcoming series, Heartland Table (Saturday, Sept. 14 at 10:30am/9:30c), Amy Thielen, a born-and-raised Minnesotan, is on a mission to introduce her Midwest to viewers through her signature takes on the classic dishes of the area.
Amy is a chef and a former restaurant cook who enjoyed a stint in some of New York City's most revered eateries, but after years in the Big Apple, she moved home to Minnesota with her husband to raise their family. On Heartland Table, she'll showcase some of her region's most comforting and authentic dishes using only the freshest goods available, like straight-from-the-garden greens, locally sourced eggs and meat, and neighborhood produce. Now a cookbook author and blogger, Amy knows what it takes to turn out the hearty, family-focused food for which the heartland is famous, and she'll show audiences how deliciously simple it is to make these meals in their homes, no matter which part of the country they're in.
When she's not cooking in her log cabin, Amy will be scouring the area to find the local businesses and meet the purveyors that specialize in producing some of the Midwest's most traditional eats and drinks, like just-made butter and microbrews. She'll learn the secrets of their trade and even taste some of their signature products while giving viewers an insider's look at the hows and wheres of these goods.
Don't miss the premiere of Heartland Table on Saturday, September 14 at 10:30am/9:30c.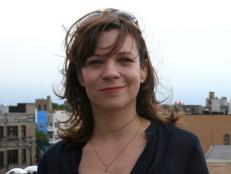 Amy Thielen grew up a few miles from the headwaters of the Mississippi River in Minnesota and graduated from Macalester College. She spent 7 years cooking professionally in New York under David Bouley, Daniel Boulud, Jean-Georges Vongerichten and Shea Gallante. Since returning to Minnesota in 2008, she has written for Minneapolis' Star Tribune, Men's Journal and Saveur, and won a James Beard journalism award in 2011. Her cookbook, The New Midwestern Table, a collection of 200 Midwestern recipes, was published by Clarkson Potter in September 2013. Amy lives out in the country near Park Rapids, Minn., with her husband and their son.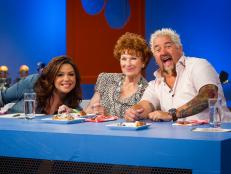 Watch Food Network this weekend for the premiere of Heartland Table and all-new episodes from Ina, Giada, Bobby and more. Plus tune in for the competition on Sunday night.