Cooking, Eating and Living La Dolce Vita — Chopped After Hours
We're sorry, there seems to be an issue playing this video. Please refresh the page or try again in a moment. If you continue to have issues, please contact us here.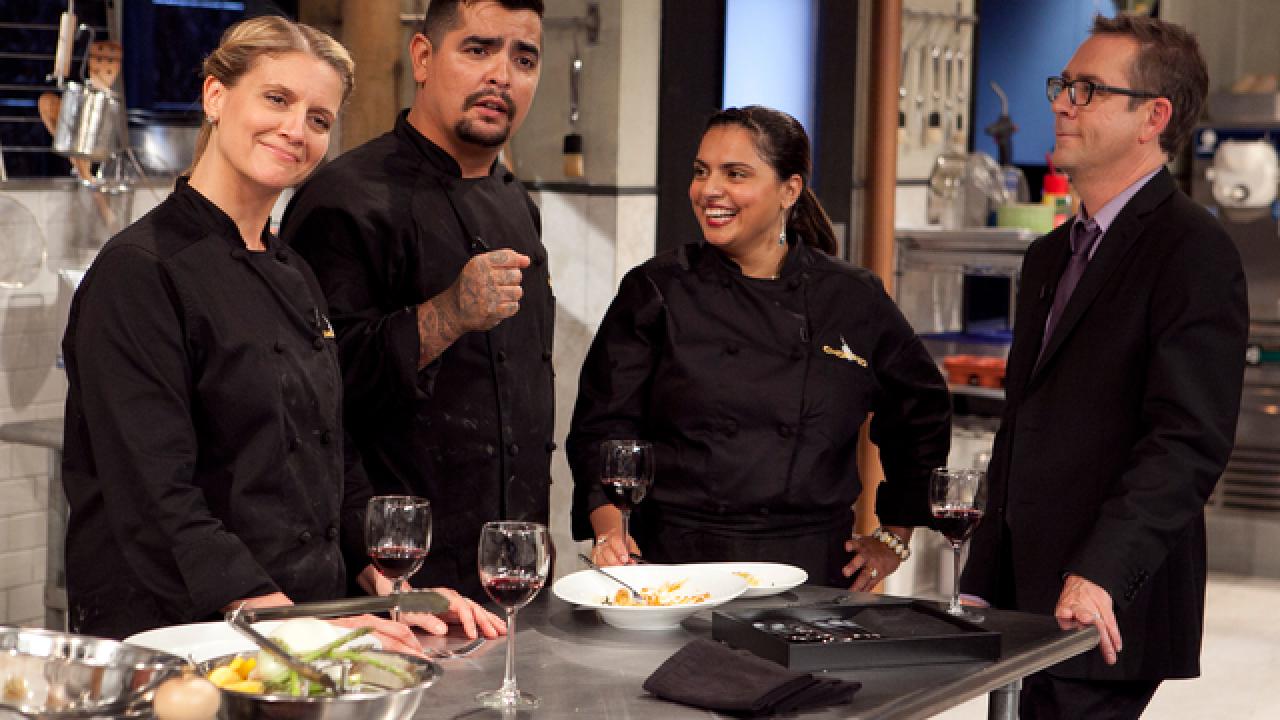 When you think of Italy, one of the first things that come to mind is probably the food. Then it's imagining all the enjoyment of eating it. Just think: big bowls of pasta, plates of salami and a final celebratory toast with limoncello. Those are exactly the ingredients from the appetizer basket in this week's episode of Chopped, which had a special Italian theme. To have their way with the ingredients, judges Amanda, Aarón and Maneet took up spots in the Chopped kitchen for an After Hours competition. They faced cooking with pasta dough, soppressata, limoncello and baby fish.
On the show, the competitors all tried making pasta in some shape or form, but not without some sticky situations. Just think about how much time you might need for rolling out pasta! Amanda and Maneet reinvented the pasta. Amanda, deciding to make a fritto misto, thought not only was she going to fry the fish, she would fry the pasta too. And Maneet wanted to turn her pasta into Mexican tostadas with an Indian twist. Only Aarón tried to make a traditional Italian pasta dish of ravioli uovo, which is pasta with an egg yolk inside. Unfortunately his attempt to make "the best pasta ever" didn't turn out so well, so instead he switched to plan B.
Aarón blamed his stubbornness for taking on too much, but he was quick to create a different dish with hand-cut pasta and a flavorful soppressata and baby fish sauce. Maneet loved his crispy soppressata and the addition of asparagus: "That was a brilliant idea because lemon and asparagus are such a beautiful marriage." Amanda created a soppressata sauce to serve under her fried fish and pasta gnocchi, which Aarón loved: "The idea of transforming the pasta into this dumpling is phenomenal." Maneet's tostada was filled with freshly made paneer, for which she used lemon juice to curdle the milk. "I love how you did the lemon and the limoncello," said Amanda of the layering of citrus flavors. By the end, Ted felt they should all be throwing dinner parties in an Italian villa, but they all agreed they would rather be doing the eating than the cooking. "We'll hire Scott Conant as our chef," said Amanda.
Click the play button on the video above to watch the entire After Hours episode and see the dishes Amanda, Aarón and Maneet created. Then browse behind-the-scenes images for an insider's look at the cooking.
Start a conversation with fellow fans and tell FN Dish in the comments below how you would have approached this Italian basket: What would you make out of pasta dough, soppressata, limoncello and baby fish?
Catch up on past Chopped After Hours episodes by watching all the Web-exclusive battles online.
Watch the seventh battle of Food Network's Chopped After Hours to see the judges face off with the same mystery basket ingredients from the show.