Traditions of All Kinds — Chopped After Hours
We're sorry, there seems to be an issue playing this video. Please refresh the page or try again in a moment. If you continue to have issues, please contact us here.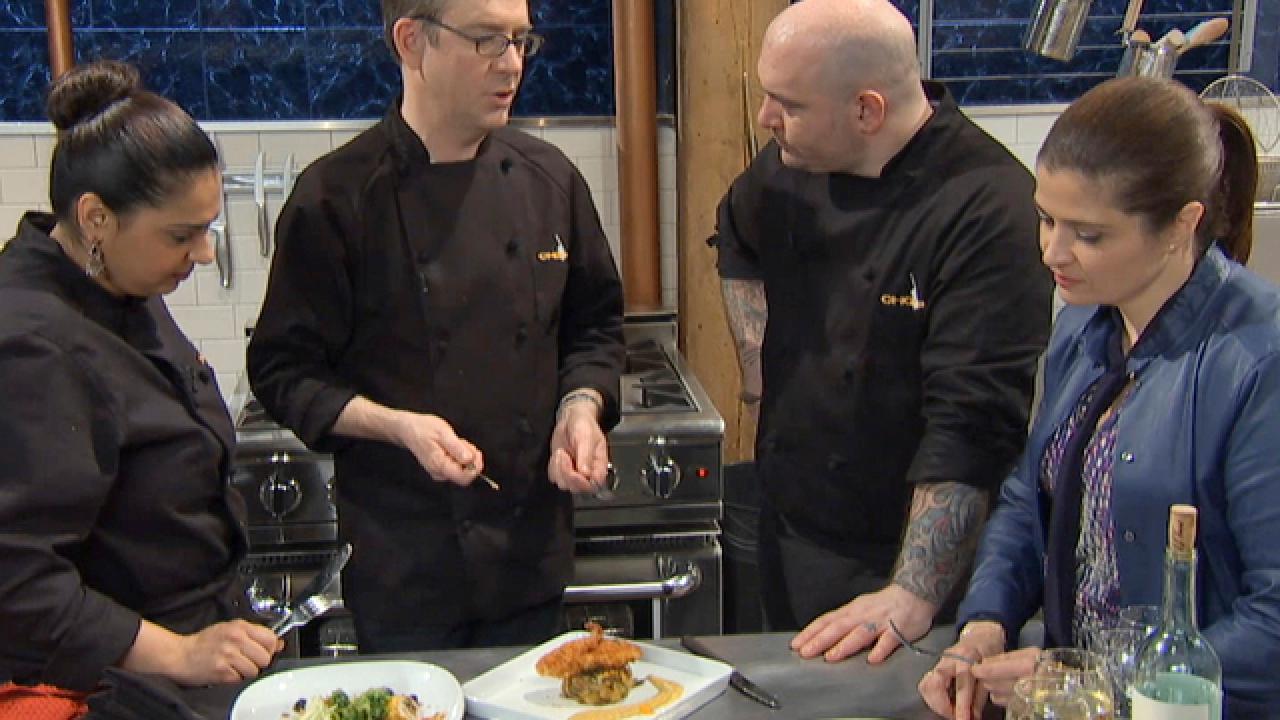 It was Thanksgiving in the After Hours kitchen this week as Chopped judges Maneet and Chris, and host Ted, rolled up their sleeves to prepare a holiday feast in only 40 minutes, working with such classic fixings as giblet gravy, Brussels sprouts, pumpkin pie ice cream and, of course, a whole turkey. (Just like the show's chefs, the judges were allowed an extra 10 minutes to cook on account of the whole turkey.) Thanksgiving is a holiday centered on tradition just as much as it is on food, so it's no surprise that the judges took the timeless elements of a tried-and-true Turkey Day menu and opted to celebrate them rather than hide them.
For host-turned-competitor Ted, that meant "a very traditional Thanksgiving turkey and dressing," he explained to Maneet, Chris and guest host Alex. To make sure he'd have time to cook such a large bird, Ted worked with only a segment of the meat and let the stuffing be a shining element on his plate. "My favorite part of the Thanksgiving meal is the stuffing or the dressing." Ted said, noting that his offering was a "straight-up sage stuffing." He added, "I tried to make it look a little nicer by putting it in a mold, which sort of worked."
Maneet incorporated tradition, too, but did so by enhancing the ingredients for this all-American dinner with flavors that are important to her. "Already I can see you infusing your culture and your heritage by using ginger and fresh chile in a Thanksgiving stuffing," Alex told Maneet as the latter worked on what would become tandoori-laced turkey roulade and a Brussels sprouts-apple salad.
Tell FN Dish in the comments section below: What classic Thanksgiving dishes must be on your Turkey Day table every year, and how do you incorporate traditional favorites into new, creative recipes?