Scott's One-Pan Strategy — Chopped After Hours
We're sorry, there seems to be an issue playing this video. Please refresh the page or try again in a moment. If you continue to have issues, please contact us here.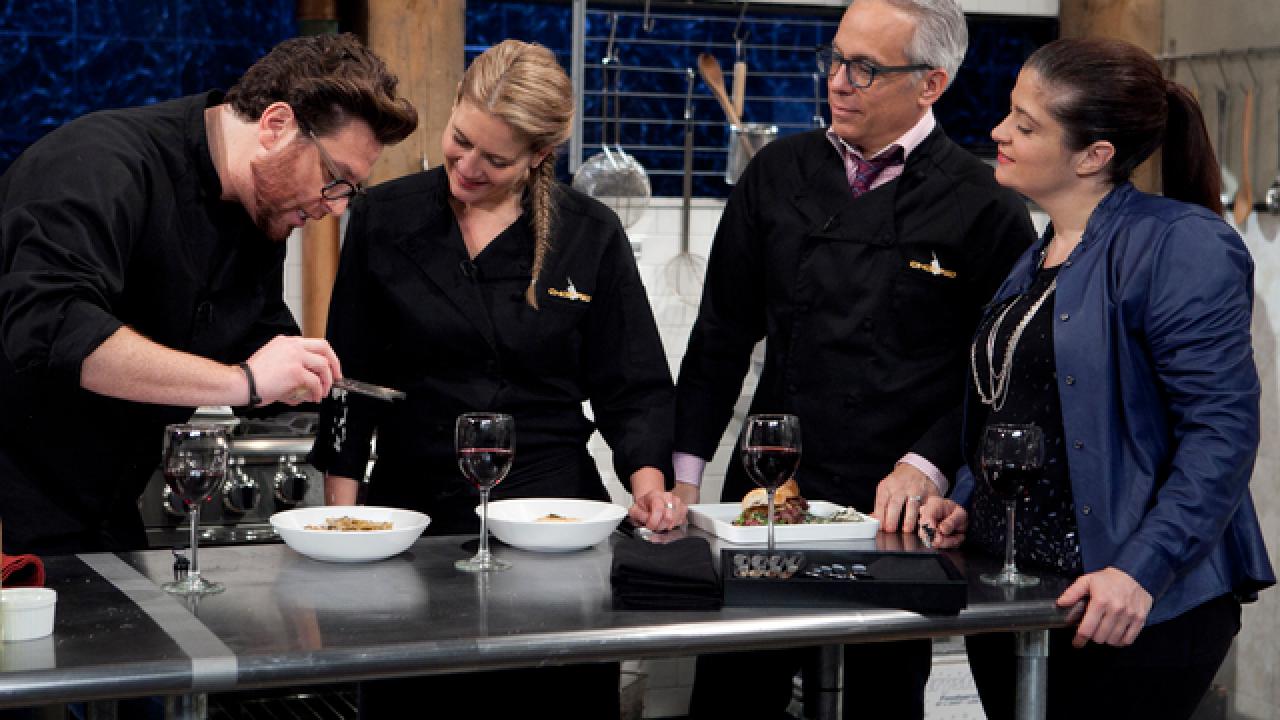 For most competitors, the idea of putting any four basket ingredients onto a single plate is daunting enough — let alone combining them in one pan for one sauce. But that's exactly what Scott Conant did tonight on an all-new installment of Chopped After Hours. Joined by guest host Alex Guarnaschelli, Scott, Amanda Freitag and Geoffrey Zakarian took over the Chopped Kitchen for a battle with the same entree-round ingredients that four amateur cooks had just worked with on the show. They had only 30 minutes to make a dinner dish out of tikka masala sauce, hanger steak, Asian long beans and croquettes, and in true Italian form, Scott embraced pasta.
He combined these disparate products — some fresh, others prepared and bottled — into a one-pot Bolognese-inspired sauce. While these ingredients may have lent themselves to this type of preparation better than most others, Alex couldn't help but wonder what would happen if the flavors didn't meld well when combined. "Seems like you're putting the whole basket into one thing," Alex told him. "What if it doesn't work out?" He answered simply with a smile: "You punt. At that point, I'm just going to eat Geoffrey's sandwich."
In the end, thanks to his flawless technique of finishing the noodles in the sauce, Scott's finished plate was indeed a success, as Amanda praised it "so delicious." Geoffrey added: "You know what's nice about it is the beans, the crunch of the beans. And you did it with a piece of meat that's not that fatty, but it's still unctuous and luscious."
Click the play button on the video above to watch the entire After Hours episode, then browse behind-the-scenes photos to see the judges in action. Start the conversation with fellow fans in the comments below. What did you think of Scott's strategy? Would it be a worthwhile tactic for future competitors to consider, or was this a special case given the ingredients?