One-on-One with the Latest Recruit Eliminated from the Red Team — Worst Cooks in America
On Worst Cooks in America, 14 recruits have the tremendous opportunity to be mentored by Food Network chefs Anne Burrell and Bobby Flay. They've come to Boot Camp with some of the worst skills imaginable, but if they're able to survive seven weeks of competition without getting eliminated, they might just be named the best of the worst and win $25,000. And their mentor gets bragging rights. This year, Anne is fighting to get back her title after losing to Bobby in Season 4. Every week, one recruit from each team is sent home. This week saw the competition reduced from three to two recruits per team.
FN Dish has the exclusive interviews with the eliminated recruits from the Red Team and the Blue Team.
More Worst Cooks in America
This week the recruits got another surprise: an early morning Skill Drill that began with a visit from Anne and Bobby, who tasked them with making breakfast. Carie turned out a really successful dish of eggs Benedict that Anne praised — all it lacked was a little seasoning. But when it came to the Main Dish challenge of cooking surf and turf, Anne saw that Carie struggled a lot when cooking and cleaning the lobster. Carie promised Anne a very flavorful dish, and she did deliver one, but it was too over-the-top for Anne. Ultimately Carie was sent home.
Anne praised you for how well you did in your eggs Benedict challenge. And you looked more in control and seemed to have a great time during the cooking. What was different this time than other challenges?
I had confidence this time, and the fact that I actually saw myself doing what I was supposed to be doing made me feel like I was learning something amazing.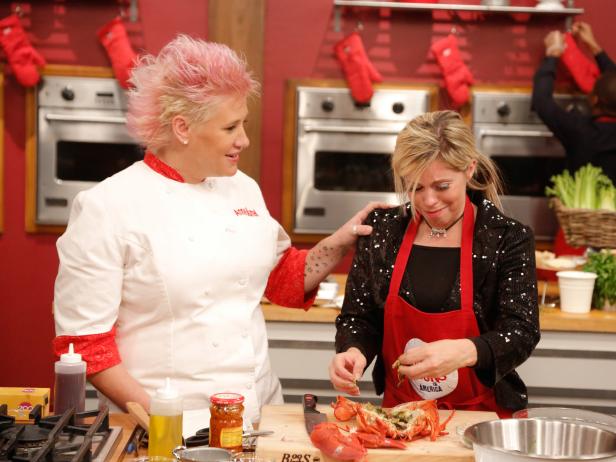 Chef Anne steps in to check Red Team member Carie Pullano-Keller's progress during the Surf and Turf Challenge. Each team must replicate a steak and lobster dinner from scratch, demonstrated to them by their team leader; Grilled Ribeye with Fra Diavolo Lobster Relish by Chef Bobby Flay for the Blue Team, and Dry Rubbed Rib Eye with Chili Lobster by Chef Anne Burrell for her Red Team, as seen on Food Network's Worst Cooks in America, Season 5.
Heidi Gutman, 2013, Television Food Network, G.P. All Rights Reserved
You did really well in your surf and turf challenge, except that the sugar got burned on the steak. When it came to taking apart the lobster, you had an emotional moment. Can you talk about that?
I felt like when I was cutting the lobster, all these memories as a child came back. I can remember my grandma sitting there picking crab. It just got to me. This entire process was either going to make me or break me. I was cooking from my heart. It just got emotional for me. I was super proud of my dish when I finished.
Out of curiosity, why did your family ban you from using olive oil?
My family bans me from using olive oil because it's so expensive and the fact that they actually make it and have it sent over from Greece, they don't want me messing up or wasting it because they can't afford to keep buying more when I screw up.
You started out on Bobby's team but were switched to Anne's team. Which team did you feel more comfortable on? Do you think you excelled more on the Red Team?
I feel like I was more comfortable on the Blue Team only because Chef Bobby kind of lets you go at your own pace and wasn't so nitpicky on your skills. But then when I got sent over to Chef Anne's I felt like she really was behind me, pushing me. I didn't have a choice — it was either sink or swim, and I decided to start swimming.
What was the hardest challenge for you during the competition?
The hardest thing that I've done in this show thus far is cooking the lobster. I didn't want to kill the lobster, cut the lobster. Everything about that lobster was horrendous and I even have battle marks to prove it.
What are some of the best lessons you've learned during your time on the show?
There are two things I'm taking away from this. First, I came into this show snapping both ends off a green bean and cooking the crap out of them. Now I know better. Second, I've met such amazing people, who are so diverse. They've not only taught me about life but made me realize who I am. I feel like I've grown as a person in these past few weeks.
Did you ever think you would make it this far?
I never thought I'd make it this far. I wanted to go far, but I was really nervous about it.
What's next for you? Will you be cooking a lot more?
I most definitely think I'm going to cook more when I get back home. In fact, I think I want to switch up careers and go to culinary school. I love the whole art behind cooking, and I feel like being here proved that to me — that it's really coming from the heart. It fascinates me. Maybe in school I won't have that pressure of trying to win a game. It will be more relaxed and it will sink in a little bit easier. This was hardcore and super scary.