One-on-One with the Latest Recruit Eliminated from the Blue Team — Worst Cooks in America
On Worst Cooks in America, 14 recruits have the opportunity of a lifetime: to be mentored by two renowned chefs, Anne Burrell and Bobby Flay. They arrive at Boot Camp with some of the worst kitchen skills imaginable, but if they're able to last through seven weeks of competition without getting cut, they get the chance to be named the best of the worst and win $25,000 in prize money. Plus their mentor gets bragging rights — and this year Anne is fighting to win her title back after losing to Bobby last season. Unfortunately, two recruits, one from each team, must be eliminated every week.
Every Monday night, FN Dish has the exclusive interviews with the eliminated recruits from the Red Team and the Blue Team.
More Worst Cooks in America
In this fourth week of competition, the remaining eight recruits discovered that their Skill Drill would involve making sushi rolls in a Japanese restaurant with actual diners tasting and scoring their food. For the Main Dish challenge, the recruits would be throwing a surprise birthday party for a special guest. Before the challenge, Anne and Bobby let them take their aggressions out on giant, lifelike pinatas that revealed candies, the flavors of which they would use to inspire their hors d'oeuvres. Unfortunately for Danielle, flavor was the number one thing lacking in her finger food.
How did you approach the sushi challenge, since you've never made or eaten sushi before and seemed grossed out by the salmon?
I just wanted to do the best that I could. I try to do that in every challenge. But this one was a team challenge, so it wasn't just about me; it's about everyone else too.
During the hors d'oeuvre challenge you cut yourself and moved on like nothing happened, but then you were afraid to use the food processor. Why was that?
I was hesitant to use the food processor because every time I saw someone else use it, it never worked. I already didn't have enough time so I just wanted to use a blender, which I knew how to use.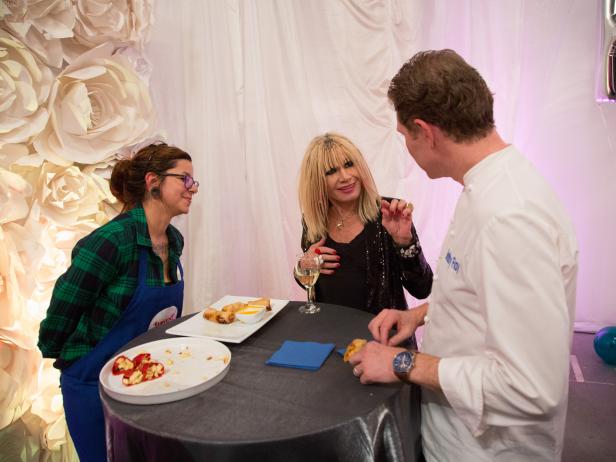 Blue Team member Danielle Ruiz-Wiley waits anxiously for the verdict, as Betsy Johnson and Blue Team Leader Chef Bobby Flay sample her dish, during the Surprise Party Challenge. Blue Team members had to replicate Blue Team Leader Chef Bobby Flay's recipe for Shrimp and Brussels Sprouts Spring Rolls with Sesame Ginger Dipping Sauce and Raw Tuna-Stuffed Piquillo Peppers, and infuse it with their individual surprise candy flavor (Stephanie's was orange), as seen on Food Network's Worst Cooks in America, Season 5.
Heidi Gutman, 2013, Television Food Network, G.P. All Rights Reserved.
At elimination time Bobby said that he was surprised your dishes didn't have more flavor because you're usually good at that. What do you think happened?
I think I didn't taste the food and that is why it lacked flavor. If I would have tasted it, I would have known it was missing something.
Is there anything you think you could have done differently to keep you out of the bottom?
I think I probably would have calmed down more and not been so negative in this challenge. I think I would have gone further.
What was the hardest thing for you about doing the show?
The hardest thing for me was being away from my family and my daughter. I'm sad to go but at the same time so happy to be going home.
What's the number one thing you learned during your time on the show?
The number one thing I learned is to season, because if you don't have flavor, it's probably not going to be good. You want the food to be good.
Did you ever think you would make it this far?
I had thought I would be going home the first day, so I'm really proud I made it this far. It would have been great to make it to the end. But I'll take this one.
What's next for you? Will you be cooking a lot more?
I'm definitely going to be cooking more. I feel like I'm going to get home, go food shopping and show my family what I did on the show.