One-on-One with the Latest Recruit Eliminated from the Blue Team — Worst Cooks in America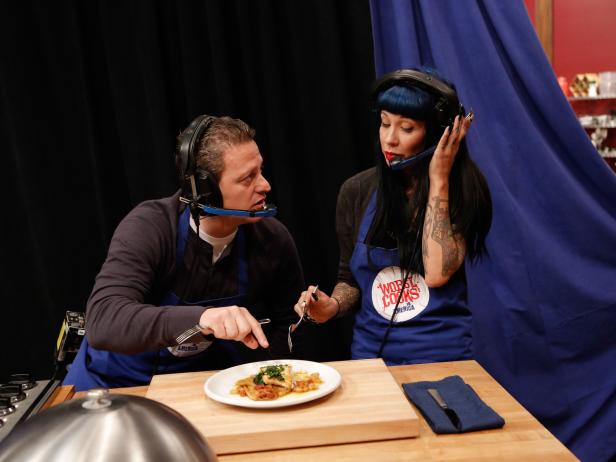 The Blue Team, Daniel Beyda and Amber Brauner, try to determine the ingredients and flavors of their Halibut with Endive and Gremolata, during the Remote Control Skill Drill. They have to direct Blue Team Leader Chef Bobby Flay via headset to make the same dish they are seeing for the first time, as seen on Food Network's Worst Cooks in America, Season 5.
Heidi Gutman, 2013, Television Food Network, G.P. All Rights Reserved
On Worst Cooks in America, 14 recruits have the opportunity of a lifetime: to be mentored by two renowned chefs, Anne Burrell and Bobby Flay. They arrive at Boot Camp with some of the worst kitchen skills imaginable, but if they're able to last through seven weeks of competition without getting cut, they get the chance to be named the best of the worst and win $25,000 in prize money. Every week, two recruits, one from each team, must be eliminated. This week, the competition would be reduced to the final two recruits to compete in the finale.
Every Monday night, FN Dish has the exclusive interviews with the eliminated recruits from the Red Team and the Blue Team.
More Worst Cooks in America
After five weeks of Boot Camp led by Chefs Anne and Bobby, week six was the opportunity for a role reversal. For their Skill Drill challenge, the recruits told Anne and Bobby what to cook in a game of Remote-Control Chef. They used headphones and microphones to dictate the ingredients of a dish for their mentors to cook. Unfortunately the Blue Team's Danny ate all the evidence and had trouble discerning key components of the dish and they lost the challenge. In the Main Dish challenge, the mentors surprised the recruits by bringing in their family members, who they had to cook for. A blind tasting helped Anne and Bobby determine their finalists. In the end, Bobby chose to take Amber to the finale, sending Danny home.
In the Remote-Control Chef challenge, do you think you should have spent more time examining the dish before diving in and eating it all?
What we should have done is cut it in half, slid it over, kept the half intact and ate half. So we would have been able to describe the dish better. That's what our strategy should have been to better describe the presentation. I was hungry!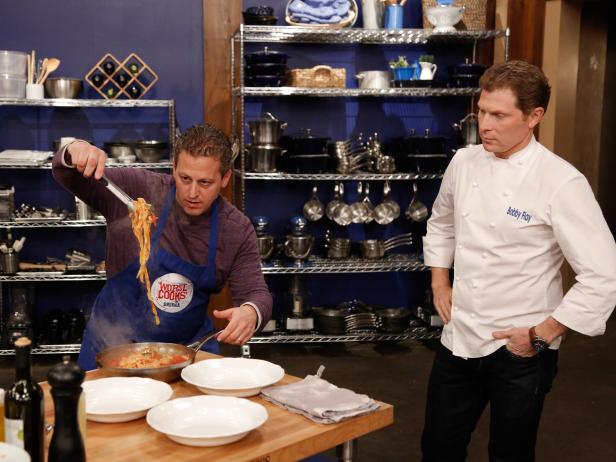 Blue Team recruit Daniel Beyda races to complete his dish for his loved one as Blue Team Leader Chef Bobby Flay looks on, during the Feed the Family Challenge. Blue Team recruit Daniel Beyda has to prepare Blue Team Leader Chef Bobby Flay's Spaghetti & Meatballs with Ricotta, as seen on Food Network's Worst Cooks in America, Season 5.
Heidi Gutman, 2013, Television Food Network, G.P. All Rights Reserved
What was it like cooking for your daughter in the final challenge? Did it add any extra pressure?
There was a little bit of extra pressure. Ali has never liked my food before. I make good food now — it's the truth. So making this spaghetti and meatballs and to have here be one of the judges was awesome. She's one of the toughest critics — and I've got to live with her.
During the final cooking challenge, you started off really focused, but it looked like you lost some steam and time toward the end. What was slowing you down, do you think?
The meatballs. There was no demo — all I had to go on was a recipe card. That was new for me, to just make meatballs from scratch. I had made the red sauce before, but the pasta and the meatballs threw me for a loop a little bit.
What did you think when you heard the comments from Zoi and Alison? And how did you feel when your daughter said she liked your dish better than the other dish?
That was incredible. I would have given her a pass if she picked Amber's dish, because that was good too. But having Ali pick my dish was awesome. Not only did she like it, she said she would eat this. She kind of knew it was mine, too, because that's probably how I would cook if I had cooked before. That was the first time she's seen me since starting this process.
During elimination, Bobby called you the comeback kid. What do you think was your biggest comeback or your biggest accomplishment on the show?
Two things: the roulade challenge and Betsey Johnson's party for Lulu. The roulade challenge got me into a groove — I didn't win, but I could have won because my dish looked good. That's something I'm going to make when I get home. And when we had the party, I made awesome appetizers that went over well, and I won that challenge. Those two things together created the momentum for me to rise to the top two.
Bobby often said he expected more precision from you, being that you're a doctor. What do you think wasn't meshing for you?
I think outside of the box. In cooking, I'm not organized. Even though I wasn't the picture-perfect organized chef, I got to where we needed to be. If you take away the preparation, my plate of food looked good.
What's the No. 1 thing you learned from Bobby during your time on the show?
Flavor. Bobby taught us a lot of things, but most importantly to flavor every component of a dish — all the different layers. If there's flavor in each component individually, then the combination of flavors will be delicious.
Did you ever think you would make it this far in the competition?
No. My wife told me to pack for one episode and when I didn't come home, she was like, "What's going on?" And then more days passed, and I was here for six weeks of Boot Camp. Nobody thought I'd get this far. I didn't think I'd get this far. But once I starting getting into the groove of making stuff, I thought, "OK, that's awesome." And I think that's what kept me going to get this far.
What's next for you? Will you be cooking a lot more?
I'm not scared of the kitchen anymore. The reality before this competition was that I wouldn't go in the kitchen. With a little bit of practice, and without the cameras and time constraints, I'm going to make pasta, dough for pizza and doughnuts, and more. I can save money. I can make good food. I'm just going to make a whole bunch of things. This is over. Now we go back to our lives. What we take of it is up to us. The chefs aren't there anymore. I'm going to continue cooking.