One-on-One with the Latest Recruit Eliminated from the Blue Team — Worst Cooks in America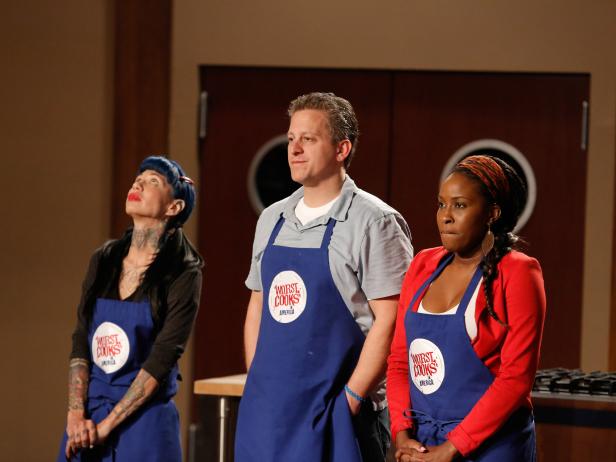 Chefs Bobby and Anne announce the winners of the Surf and Turf Challenge, Amber Brauner from the Blue Team and Jamie Thomas from the Red Team, who are both now safe from elimination. Of the remaining recruits, one from each team must be eliminated, leaving each team down to two recruits, who will go head to head to compete for the chance to represent their chef in the final cook-off, and the chance to win $25,000, as seen on Food Network's Worst Cooks in America, Season 5.
On Worst Cooks in America, 14 recruits have the opportunity of a lifetime: to be mentored by two renowned chefs, Anne Burrell and Bobby Flay. They arrive at Boot Camp with some of the worst kitchen skills imaginable, but if they're able to last through seven weeks of competition without getting cut, they get the chance to be named the best of the worst and win $25,000 in prize money. Plus their mentor gets bragging rights — and this year Anne is fighting to win her title back after losing to Bobby last season. Unfortunately, two recruits, one from each team, must be eliminated every week. By the end of this episode, only two recruits from each team go on to next week.
Every Monday night, FN Dish has the exclusive interviews with the eliminated recruits from the Red Team and the Blue Team.
More Worst Cooks in America
Taking the recruits by surprise, Anne and Bobby showed up in the early hours of the morning to give the recruits their Skill Drill challenge: a special breakfast request. This time the mentors would sit back and secretly watch the cooking. Stephanie misunderstood her recipe and ended up making a hollandaise that was way too watery. When it came to the Main Dish challenge, instead of replicating Bobby's dish down to the last detail, she decided to take some creative liberties that Bobby wasn't pleased with. At elimination, Stephanie's time on the show came to an end.
What happened to your hollandaise sauce? You seemed to know what you had to do since you helped Dan out, but you made the hollandaise incorrectly two times.
When I was making the hollandaise sauce I was supposed to put a tablespoon of water in it, but to me a tablespoon was like a cupful of water. Clearly that was not correct. So I put too much in and it made it watery. I included the right amount of lemon juice and butter, but the fact that I put too much water made everything disastrous. Still I was proud of my dish. I would have never imagined doing that. I can really only make scrambled eggs. So to put poached eggs on an English muffin and salmon was definitely a learning experience — a fun one, at that.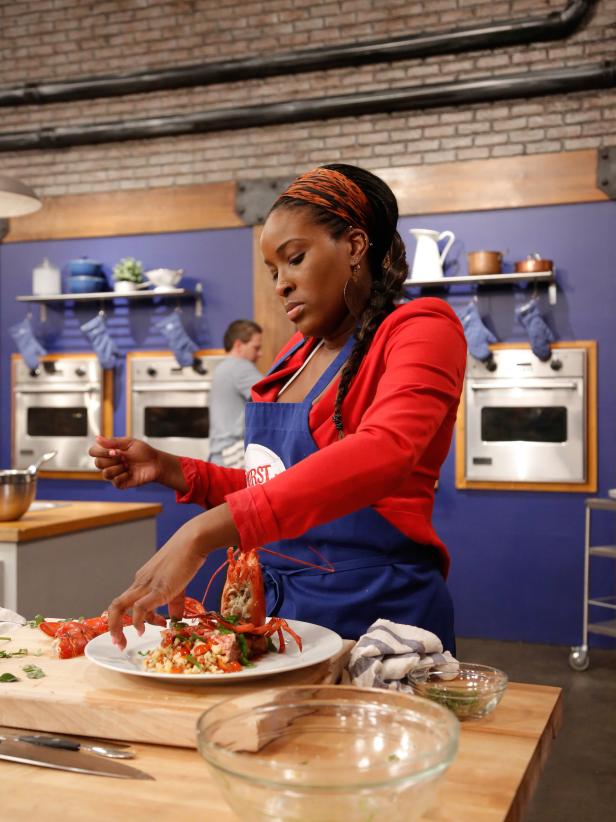 Blue Team member Stephanie St. Aubin puts the finishing touches on her dish for the Surf and Turf Challenge. Each team must replicate a steak and lobster dinner from scratch, demonstrated to them by their team leader; Grilled Ribeye with Fra Diavolo Lobster Relish by Chef Bobby Flay for the Blue Team, and Dry Rubbed Rib Eye with Chili Lobster by Chef Anne Burrell for her Red Team, as seen on Food Network's Worst Cooks in America, Season 5.
You seemed to do really well in the surf and turf challenge. How did you feel when you found out you would be going home? Do you think your dish justified Bobby's decision?
I was really surprised, disappointed and a bit hurt to find out that I was going home. I felt like it was a self-accomplishment of killing the lobster and making that meal. I thought of my late dad to give me the strength to get through that challenge. To leave your heart out on the table and then to get eliminated was very discouraging. But I really appreciated Bobby's kind words and I'm OK with that.
You were switched from Anne's team to Bobby's team. Which team did you feel more comfortable on? Do you think you excelled more on the Blue Team?
I did feel more comfortable being on Bobby's team simply because I was more of myself. I was looser. I was able to be more creative, which I think I wasn't able to do on Anne's team. They have two different teaching methods and personalities. I felt ultimately my personality meshed better with Bobby.
What was the hardest thing for you about doing the show?
I think the hardest thing was coming from being pampered for the majority of my life, and not having to worry about a lot of different things, to now having to worry about putting on an apron and cooking my own meals. But I'm so grateful for this experience. I truly appreciate every step regardless of the ups and downs.
What's the No. 1 thing you learned during the competition?
I learned how to cook! I'm ecstatic. I am no longer one of the worst cooks in America. I'm going back to Maryland knowing how to make flavor combinations and properly prepare a steak or a lobster. I'm definitely going back a different person. Not only am I going back as Stephanie, but also as chocolate Barbie in the kitchen.
Did you ever think you would make it this far?
I never imagined that I would make it this far. I didn't think I was going to make it past the first episode. I'm so overwhelmed with emotions and feelings for making it this far.
What's one of the first things you'll cook when you get home?
I definitely will take the surf and turf recipe home with me, because I love steak and lobster. And when it comes to pizza and making the dough, I have a niece at home and I definitely want to be able to make pizza with her. I take home with me all the information that I've learned and am able to retain. I'm excited to start cooking.