Worst Cooks Skill Drills: Flavor, Flavor, Flavor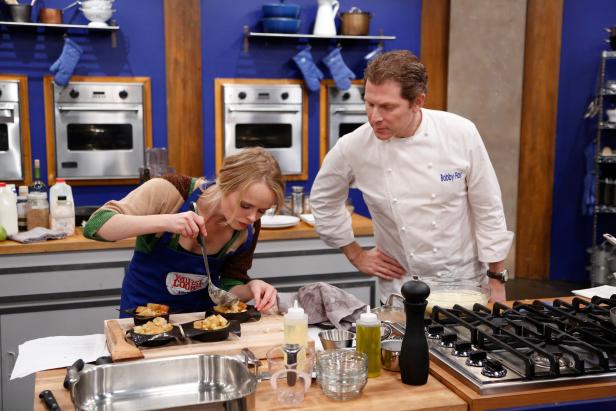 Blue Team Leader Chef Bobby Flay coaches Blue Team Finalist Alina Bolshakova during the final skill drill: a practice run of her finale menu and Alina's final chance to learn from Chef Bobby before she must prepare this meal with no hands on help from Chef Bobby. They are starting with her desert course so the bread pudding can cook while she prepares the rest of the meal. Alina's menu is: Appetizer - Lobster Scampi over Creamy Polenta with Garlic Chips Main Dish - Spice Rubbed Pork Tenderloin with Roasted Brussels Sprouts, Jalapeno Pesto and Pomegranates, and hazelnuts. Dessert - Granny Smith Apples and Ginger Bread Pudding with Vanilla Bean Creme Anglaise At the final cook off Alina must represent her team leader Chef Bobby Flay and prepare a three course restaurant-quality meal for a panel of distinguished chefs and food critics. Only one winner will take home the $25,000 prize, and Chef Bobby is confident Alina will be the first Blue Team winner, as seen on Food Network's Worst Cooks in America, Season 4.
Heidi Gutman,  2012, Television Food Network, G.P.
When it comes to cooking, the most-important aspects that determine a successful plate of food are taste and flavor — that's a given. Food that tastes good is good. But on Worst Cooks in America, taste and flavor are oftentimes the last things on recruits' minds. What happens quite often is they will overcompensate with salt or use way too many spices when they're told their food is not flavorful enough. And on occasion they will mix up competing flavors, making, say, a Cajun curry — a dish that is confused and muddled.
The lesson that Anne and Bobby try to teach is taste, taste, taste. Taste as you go, as you cook, so you won't end up oversalting your food before serving it. It's all about layering flavors and making combinations that work well together and do not compete against each other. This is a cornerstone of learning to cook, and hopefully by the end of Boot Camp the recruits will have learned this lesson.
Watch the video above to relive some top moments and learn a lesson or two on adding flavor to your dishes. The next time you see a recruit going overboard with salt or not using enough of it, take it as a reminder of what not to do in the kitchen. They risk getting eliminated by not seasoning properly, but you might risk being shunned by your friends and family.
We're sorry, there seems to be an issue playing this video. Please refresh the page or try again in a moment. If you continue to have issues, please contact us here.