Flavortown Market Is Back and It's Bigger Than Ever — Guy Dishes on Season 2
Guy's bringing Flavortown Market back in an all-new season of Guy's Grocery Games, premiering May 11 at 8|7c. Fans of the show will be excited to see returning judges Melissa d'Arabian, Richard Blais, Troy Johnson and Catherine McCord — as well as some new faces. But that's not all. Guy's challenging a brand-new roster of chefs on an all-new set. That's right — this season, Flavortown Market moves to Guy's hometown, Santa Rosa, Calif. FN Dish recently caught up with Guy on set and asked him what viewers can expect to see this season.
"First and foremost, this set — Flavortown Market — will knock your socks off. It has the most-eclectic and most-international profile of ingredients available," Guy shares. "When you use the term 'super' in supermarket, that's what this set is — it's truly defining in all shapes and sizes. The aisles are wider, the lighting is better, so it makes it easier for the chefs to shop and see what's on the shelves. Going along with the shelves, the culinary team has stocked and set them up so they're far more shopper-friendly. There are a lot of great markets around the country, but I wish Flavortown Market really existed."
So what can fans expect in Season 2? "I think the biggest difference is that competitors have seen the show, so they have insight into the mechanics of it. When chefs walked in the door the first season, you'd hear, 'Well, now what do we do?' But since most have seen the show, they understand how it progresses," Guy explains. "I also think a bigger profile of chefs has been made available — so the competition is even more fierce."
"My favorite part about this show is working with the judges. I love the judges. Having them there to laugh with and swap stories with keeps the day going. And believe it or not, I learn a ton on this show. I probably learn two to three new things every day we shoot. Like, 'take it to the bank' kind of things. You've got an enormous mix of chefs coming into the fold and sharing their expertise with viewers. When you see the chefs this season, they're bringing their best tricks of the trade."
But what's the most-rewarding element of the show? "Seeing everyday people winning money — big amounts of money — and seeing them celebrate during their moment in the sun is what gets me. This is a life-changing show for some of these contestants," Guy says.
In fact, Guy's only gripe is that he wishes he got to eat on the show too. He steals bites here and there, but he doesn't get to feast like the judges do!
We're sorry, there seems to be an issue playing this video. Please refresh the page or try again in a moment. If you continue to have issues, please contact us here.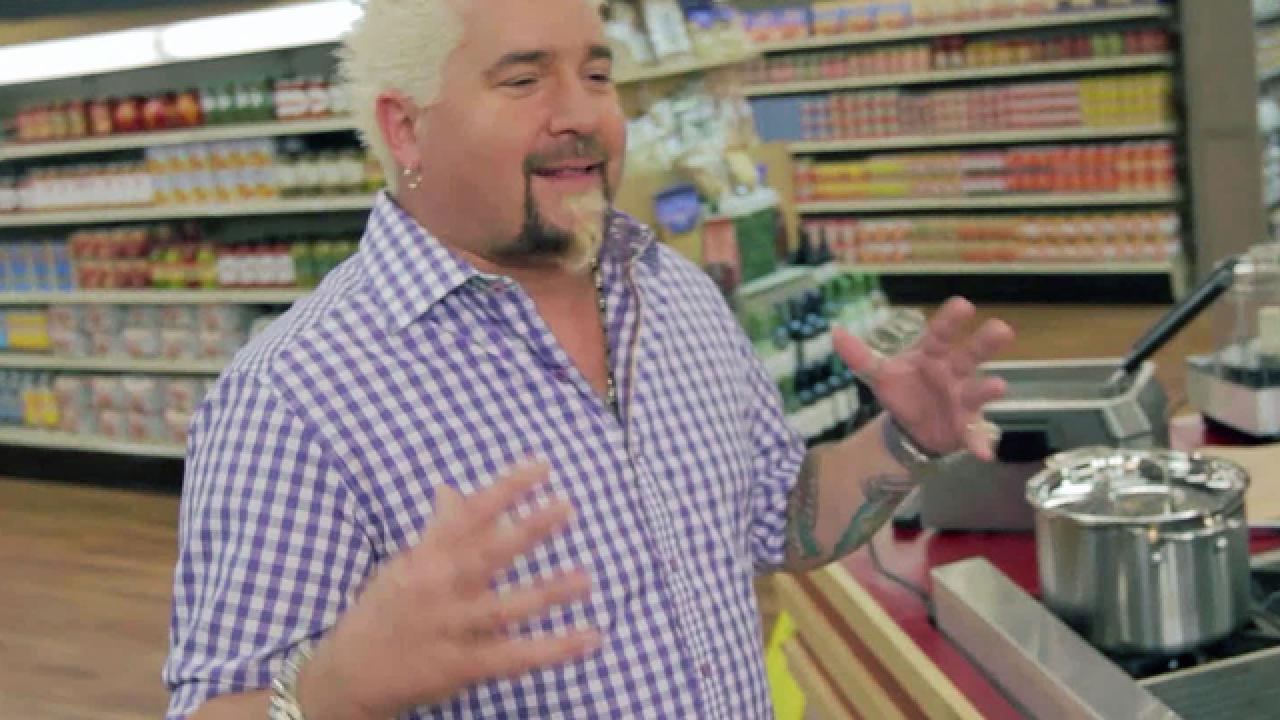 Take a tour of the actual market that was used to film the new series Guy's Grocery Games on Food Network.
Find out all about the new Guy's Grocery Tournament of Champions, premiering Sunday, Nov. 29 at 8|7c.