"Best. Challenge. Ever." — Alton's After-Show
We're sorry, there seems to be an issue playing this video. Please refresh the page or try again in a moment. If you continue to have issues, please contact us here.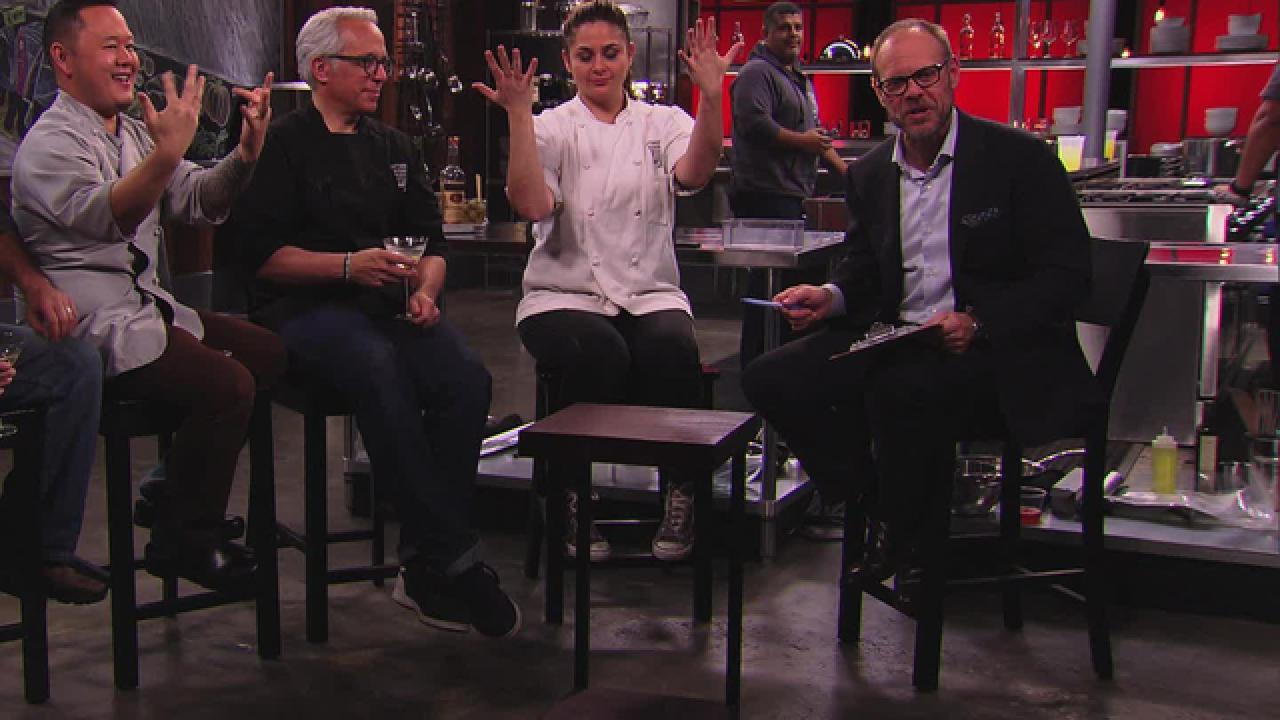 This week's was a Cutthroat Kitchen episode like none other as host Alton Brown welcomed four of Cutthroat's frequent judges into the kitchen — not to evaluate competitors' dishes, but to be the battling chefs for the day. In true evilicious fashion, the sabotages didn't stop just because the contestants were superstars Antonia Lofaso, Geoffrey Zakarian, Jet Tila and Simon Majumdar; in fact, this episode saw some of the trickiest tests yet, and what resulted were three rounds of brutal mind games. While Alton's After-Shows are known for revealing all to the once-sequestered judges, this week's catch-up found Alton with the judges-turned-competitors, and together they shared plenty of laughs as they looked back at the good-natured challenges that had just taken place.
The infamous mini kitchen made an appearance in Round 1, and much of the group agreed with Simon when he deemed it the "Best. Challenge. Ever." After being gifted that challenge, Jet admitted, "I was deathly afraid of it. I didn't even know how to, like, navigate that thing." Geoffrey ultimately found himself tasked with adapting to this tiny workspace, but, according to him, "It's not as bad as it appears." And it's a good thing that Geoffrey didn't seem to mind the sabotage, as Simon — jokingly — noted later: "The reason it only went for $1,500 is I think some of us agreed that we should give it to Geoffrey for no other reason than we wanted to see Geoffrey Zakarian — the Iron Chef — kneeling down, cooking in the kitchen."
Click the play button on the video above to hear more from Alton and the judges, and get an insider's look at this week's special episode.