Back for More Battles: Bobby Dishes on New Season of Beat Bobby Flay
Just two losses after nearly 10 battles — that winning record could be earned only by Bobby Flay, a famed Iron Chef and the master of the throwdown, who first challenged hopeful chefs to head-to-head competitions on Beat Bobby Flay last year. This summer, Bobby's bringing his A-game yet again for an all-new season of Beat Bobby Flay (premiering July 31 at 10|9c), and with his reputation on the line, the stakes will be higher than ever. FN Dish caught up with Bobby recently and chatted about what he's looking forward to in this upcoming batch of face-offs. Read on below for an exclusive interview, and find out Bobby's most-memorable battles, plus his strategy for securing victory after victory.
What are you most looking forward to in Season 2?
Bobby Flay: Being pushed to the edge. I want it to be really challenging 'cause that's what keeps my edge going.
What are some of your most-memorable moments from the first season?
BF: When I lost the taco [battle] — that was memorable. One of my favorite dishes I made was the meatloaf with the Korean-style kimchi in it, 'cause I've only made meatloaf a couple times in my life, really, and I'm not that big of a meatloaf fan. So when they said meatloaf, I was like, Oh, brother. But it actually turned out to be really tasty.
Which Season 1 battle was the most difficult for you, and why?
BF: Unfortunately, the one that I thought I did the worst at, which is the chicken and waffles [battle], wasn't even the one I lost. I completely messed up the waffle batter, so I was 50 percent in the hole basically before we even started.
You had a winning record after last season. What was your strategy in the kitchen, and are you going to stick with it again in Season 2?
BF: I can't have an individual strategy because I don't know what the dish is going to be, but my strategy usually is layer the flavors and respect the signature dish from an authenticity standpoint, but then bring it to a place where maybe it hasn't been seen before.
From Iron Chef America to Throwdown to the premiere season of Beat Bobby Flay, you're a pro at culinary cook-offs. Do you still get nervous?
BF: Oh, every time. I always get nervous. I say if you don't get nervous being on television, you should just quit. And in a competition, you're just going to lose your edge.
Don't miss the Season 2 premiere of Beat Bobby Flay on Thursday, July 31 at 10|9c.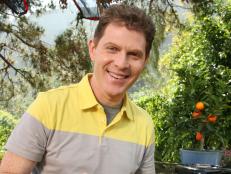 Get the first look at Food Network's Bobby Flay's all-new series, Back to Basics on All-New Barbecue Series, premiering on Sunday, June 22 at 11a|10c.