You're Only as Young as You Cook — Chopped After Hours
David Lang, 2014,Television Food Network, G.P. All Rights Reserved.
We're sorry, there seems to be an issue playing this video. Please refresh the page or try again in a moment. If you continue to have issues, please contact us here.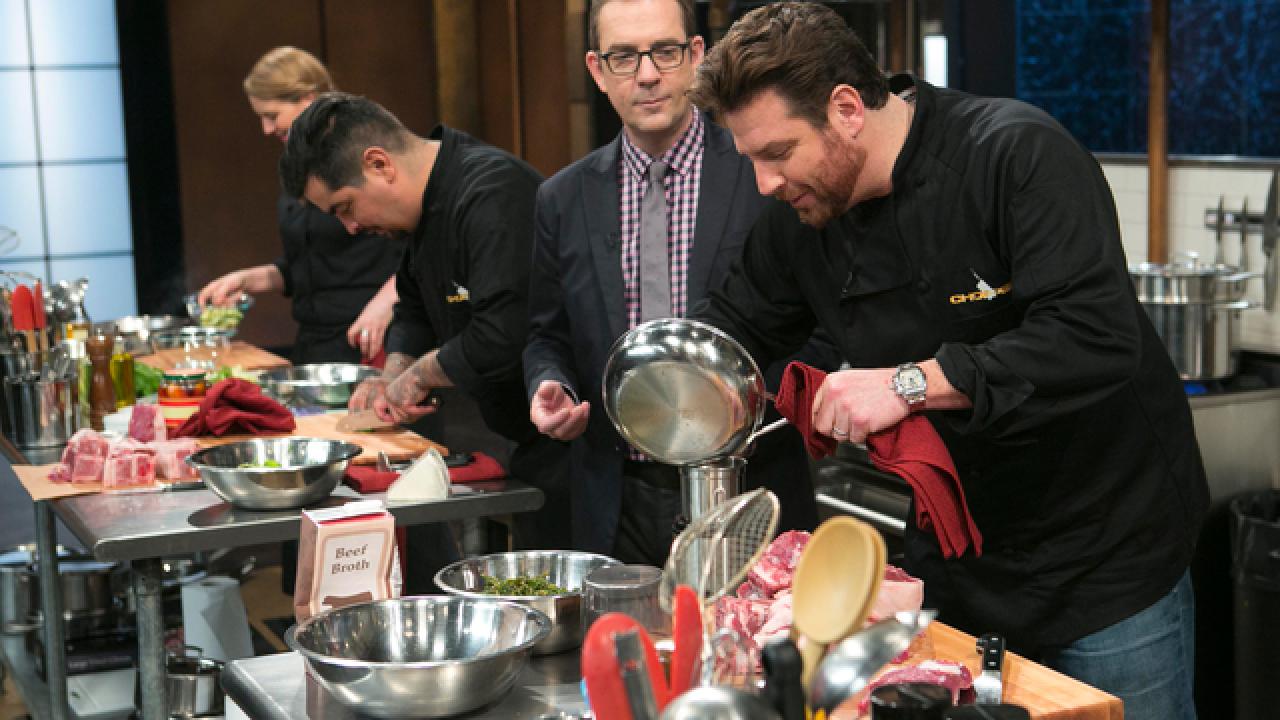 When it comes to cooking, it doesn't matter how young or old you are — it's the food that matters. And the teens on Part 1 of tonight's Chopped Teen Tournament proved that talent is ageless. But, when it comes to the judges of Chopped After Hours, age doesn't matter when it comes to letting loose, which is all too easy for them. As Ted points out in this all-new episode: "This is going to be tough for you," as he asks the judges to act more mature than normal.
Amanda, Aarón and Scott take on the appetizer-basket ingredients from tonight's episode. The ingredients include cherry drink pickles, lamb chops, kale chips and ricotta salata. Creating an appetizer out of these ingredients is all about finding the right balance and proportion — after all, it is an appetizer. The teen chefs learned, though the hard way, that cooking lamb chops on the bone isn't possible in such a short amount of time, so quick thinking is necessary, especially when it comes to forming a plan B or C.
Like some of the competitors, Amanda decided to make a lamb salad, which she acknowledged wasn't the brightest idea, calling it "predictable." But Aarón thought her balance of flavors made the dish an example for others to emulate. He, on the other hand, went outside of the box by making a tartare, a good use for the short time. Mixing French and Mexican ingredients, Aarón came up with a fusion that incorporated all the basket ingredients in one bite. Scott came up with spice-rubbed lamb with couscous, which Aarón praised for "embracing the Mediterranean and all the regions that encompass it."
Click the play button on the video above to watch the entire After Hours episode and see the dishes Amanda, Aarón and Scott created. Then browse behind-the-scenes images for an insider's look at the cooking.
Start a conversation with fellow fans and tell FN Dish in the comments below how you would have approached this basket: What would you make out of cherry drink pickles, lamb chops, kale chips and ricotta salata?
Catch up on past Chopped After Hours episodes by watching all the Web-exclusive battles online.