Chatting with the Chopped Teen Tournament, Part 3 Winner
David Lang, 2014, Television Food Network, G.P. All Rights Reserved.
Four young chefs-in-training entered the competition on tonight's third episode of the five-part Chopped Teen Tournament. But only one kid made it through all three rounds of mystery baskets, securing a spot in the grand finale, where he or she will have the chance to win $25,000 in prize money, a $40,000 culinary school scholarship and bragging rights as the first Chopped Teen Grand Champion, which goes pretty far when you're just a kid in high school. FN Dish has the exclusive interview with the teen-chef winner from Part 3.
Appetizer: rabbit and ginger sausage, dandelion greens, dried currants, hot-sauce-flavored candy canes
Entree: pineapple upside-down cake, Cornish hens, hen-of-the-woods mushrooms and edamame hummus
Dessert: chocolate fudge sauce, cinnamon cereal, pie crust and grape carbonated candy
Judges: Chris Santos, Alex Guarnaschelli and Alex Stupak
Tommi Rae came into the competition excited to be cooking for the esteemed panel of judges, but nearly let her nerves get the best of her when faced with the pressures of competition. She managed to plow through to the end by cooking from the heart. Her comforting dishes revealed a strong grasp of cooking skills and a quiet confidence. She'll be back Aug. 12 to compete alongside Part 1 winner Jason, Part 2 winner Dante and the winner of the last preliminary round in the tournament.
How does it feel to win today?
It feels amazing. I feel like all of my hard work has paid off. And now I get to do it again.
Did you practice before coming on the show? What kind of things did you do?
I did. I had about two months of practice, spent on Mondays and Wednesdays. It was a rush trying to get everything down, but I think I got the basics down good. My chef at the career center gave me mystery baskets and timed me. Having an extra 10 minutes in the appetizer round helped a lot, because I was so used to the 20-minute mark.
How different was actually competing than what you might have imagined?
It was a lot longer than I thought it was going to be. You see an hour episode, but it took a lot longer. And the competition I had was really fierce. I was scared, especially in the last round, because I knew that Max and I were really neck and neck.
What was the hardest basket for you today?
The hardest basket was the entree, because it had the pineapple upside-down cake. The judges thought the puree I made out of it was too sweet. I got choked up at that point. But I prevailed. I gathered myself and finished it out strong.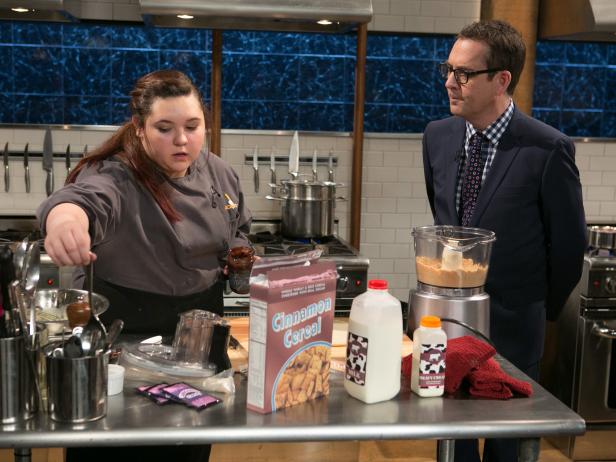 Chopped host Ted Allen checks in with teen competitor Tommi Rae Fowler (16) as she works on her dessert that must include: chocolate fudge, cinnamon cereal , pie crust and grape-flavored carbonated candy as she competes for a slot in the Teen Challenge and a chance to win $25,000 and a $40,000 culinary school scholarship, as seen on Food Network's Chopped, season 21.
David Lang, 2014, Television Food Network, G.P. All Rights Reserved.
You had a really great story for your dessert, about going to the county fair. Alex Stupak said that the story helped him like the dish even more. Do you think it helped the dessert?
I do. I did think about it a lot once I decided to go with my take on a funnel cake. I was thinking about how you're walking around and you want to go to all these different places. It's just the little kid inside of you that jumps out and screams because it's so exciting to try all kinds of different things.
What's your strategy going into the finale?
I think my strategy is to basically do the same thing I've done today, to keep the thought process going and to not give up, because I could have totally given up at points today and I wouldn't be where I am right now. I think I'll just keep pushing through like I have been and keep it Southern but give it a little modern take, like I believe I have.
What's one of your earliest memories of cooking?
I remember this one time I smashed a whole egg, shell and everything, in a cast-iron pie pan and I put it in the microwave because I wanted to cook like my grandmother. And thank God she stopped it, because it was sparking and I didn't know. I thought it was so cool, like that's how it worked. I guess I got started there. My family's been big in the restaurant industry, so I've been around it all my life. I think it's just my calling.
What do you think your friends and family will say when they see this on TV?
Oh my gosh. I think my house is going to be flooded with tears once my family sees this. I know they will be proud of me, because I'm proud of myself. I am my hardest critic. My friends will just be like "I knew you could do it." They'll be ecstatic for me. I have a really good support system at home.
What do you think your big brother, one of your biggest critics, will say?
I hope he's going to say that he's proud of me. He's another reason that I was gearing toward it, because he's really big into sports. His motto has always been "Practice how you play, and don't give up." At points during the competition he kind of popped into my head, and I was like, "You've got to do this for him to show him that you may be the baby but you're going to do great things."
Visit Chopped headquarters for the latest on the Teen Tournament.