Chatting with the Chopped Ultimate Champions: Pros, Part 1 Winner
David Lang, 2014, Television Food Network, G.P. All Rights Reserved.
For the first time on Chopped, professionals and amateur cooks will go head-to-head at the end of the five-part Ultimate Champions tournament. But they've all competed on Chopped before: They've tasted what it feels like to win, and they're hungry for more. On tonight's first round, four professional chefs battled to determine which one would move on to the grand finale, where there's a chance to win the largest prize in the show's history, $50,000, with a brand-new car to top it all off. FN Dish has the exclusive interview with the winner from Part 1.
Appetizer: eel, pepihuates, shaved coconut and sea beans
Entree: dressed squab, stuffed grape leaves, feta cheese and cherry cola
Dessert: grasshopper pie, Granny Smith apples, puffed rice and smoked sea salt
Second round: Lauren Kyles
Winner: Giorgio Rapicavoli
Judges: Scott Conant, Chris Santos and Marc Murphy
Since winning Chopped the first time, Giorgio Rapicavoli has made a name for himself in the Miami area, where he now owns and runs two restaurants. Returning to the competition, his confidence, technique and knowledge has grown. His three courses showed an expert grasp of cooking concepts that impressed the judges so much so that they were able to overlook a missing basket ingredient in his appetizer dish, which they deemed to be the best overall. Going up against tough competition, Giorgio showed that his dishes were unmatched. His dessert was a technical display, and although it wasn't perfect, it showed he wasn't afraid to push the envelope. He takes the first spot in the grand finale, representing the pros.
What were your expectations going into this competition? How different do you think it was competing now vs. your last time on the show?
Giorgio Rapicavoli: Honestly, my expectations were to win. I came back here and I've won once. I came in here winning. I expected to be much calmer, and, honestly, I was. I felt much more relaxed throughout the event. I kept my composure, my cool. I wasn't panicking. I think that's what made it different. I think it's also a matter of comfort and not necessarily knowing the arena. It's more about learning to control your timing and learning to pace the meal, and the production of the dish really made a big difference.
Lots of things have changed in your professional life since you were last on the show. Do you think you had a different mind-set coming in to this?
GR: I definitely came in with a different mentality. I came in with this kind of composure. It really made it for me throughout this battle. I kind of knew what to expect. I felt like I made beautiful dishes, but I don't think there are many times in an appetizer round on Chopped that you've got somebody picking herbs on point. It's like I allowed myself to do that because I wanted to.
David Lang, 2014, Television Food Network, G.P. All Rights Reserved.
Did you think you were going home after the appetizer round for leaving an ingredient off the plate?
GR: I was a little concerned about the missing ingredient, but in my head I knew that the toasted coconut wasn't going to make the dish, and it also wasn't going to break the dish. And as chefs, the judges knew that too. It's crazy for them to say that the one dish that was missing an ingredient was the best dish they ate all day. After that I knew I was starting with a handicap. I knew I needed to bust my ass to knock these guys off their feet.
What made you put all that technique and technology into your dessert?
GR: I basically had the principal parts of my dessert done in 5 to 10 minutes. Within the 10 minutes the apples were caramelized and the ice cream was in the freezer. And I thought: "Now what can I do? How can I accentuate this dish?" I just thought about flavor profiles. When you have that technology and it speeds up your processes tenfold, that sort of amazes me. It's incredible that you can puree cereal and have a mousse. I love that. But it's never tool or technique before ingredient. It's always ingredient, the perception I want and how can we achieve that. I think it was really well executed today.
Did you ever think any of it wouldn't work?
GR: Honestly, the pie ice cream. I was a little suspicious about it. And once it broke, there was no turning back. It wasn't like I had another pie. I did what I could with it, and, granted, some of the parts may have not been 100 percent. But take one of those three and see if any of them would ever puree a pie and turn it into ice cream. Even though Scott said he had parts of pure butter, but in your head you're thinking, "This dude pureed a pie." I think that's what gave me the advantage.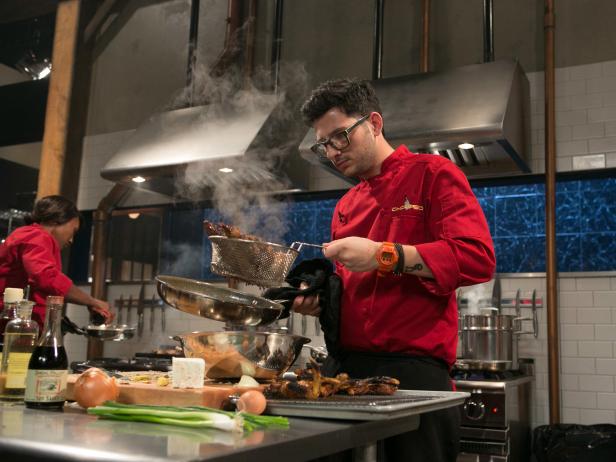 Chef Giorgio Rapicavoli works on his entree that must include: whole dressed squab, stuffed grape leaves feta cheese and cherry cola as he competes for a slot in the Chopped Ultimate Championship competition, the winner of which receives $50,000 and a new car from Buick, as seen on Food Network's Chopped, Season 21.
David Lang, 2014, Television Food Network, G.P. All Rights Reserved.
When you saw the squab in the entree basket, what was going through your mind, knowing that you cooked squab last time you were on Chopped?
GR: That was difficult for me when I got the squab, because I needed to make something that tasted so far from the last time that I made it. And Chris being my judge then, he knew the dish. So that was kind of tricky. And then the grape leaves. I saw rice. So I thought fried rice. Peking duck. One thing led to another and somehow that dish came to life. I was very happy with it, much happier than getting eel. I don't ever want to see eel ever again in my life. They are so gnarly to peel. And I was the only one that took the skin off.
Was that basket, the appetizer, hardest for you to work with today?
GR: The appetizer basket to me was the most difficult and, strangely enough, became what was the best dish. When I saw coconut and peanut, I instantly got drawn back to my flavors and foods that I know. We do a dish with these tomatoes at the restaurant that has a very similar dressing. But that's no fail. Granted, I know it's a peanut-coconut profile together. It's flawless. It's a match made in heaven.
What's your strategy going into the finale, being that you will be up against nonprofessionals?
GR: My strategy is just to do what I did today and not worry about what anyone else is making, not be concerned about it, not look over, just do me, do the food that I know how to do, food that I love, but most importantly, food that I'm proud of and respect. That's the most important thing. When you're proud of what you do, it shines. And the judges notice that. Instantly when Tom went up, they were like, "You're not proud of this dish, are you?" That's how quick it is for them. That made me the winner in that sense. I think it's really important to have a lot of pride in your food and stand behind it.