Chatting with the Rachael vs. Guy: Kids Cook-Off, Season 2 Champion
Eight super-talented kids entered the competition in Season 2 of Rachael vs. Guy: Kids Cook-Off. In every episode they were challenged to cook quality dishes and present their creations on camera, honing their skills as budding chefs. On tonight's finale, it all culminated in a food festival, at the end of which the winner was announced. On the line was a three-episode Web series on FoodNetwork.com, potentially jump-starting the culinary career of one of these young chefs.
Ultimately Gibson's creative East Coast fusion dish, his Philly Cheesesteak Egg Rolls on a Stick, along with his near-professional delivery in front of the crowd, won over judges Curtis Stone, Haylie Duff and Brian Malarkey. His concept won him his own Web series on FoodNetwork.com.
Watch the Jersey Shore Kid Below
We're sorry, there seems to be an issue playing this video. Please refresh the page or try again in a moment. If you continue to have issues, please contact us here.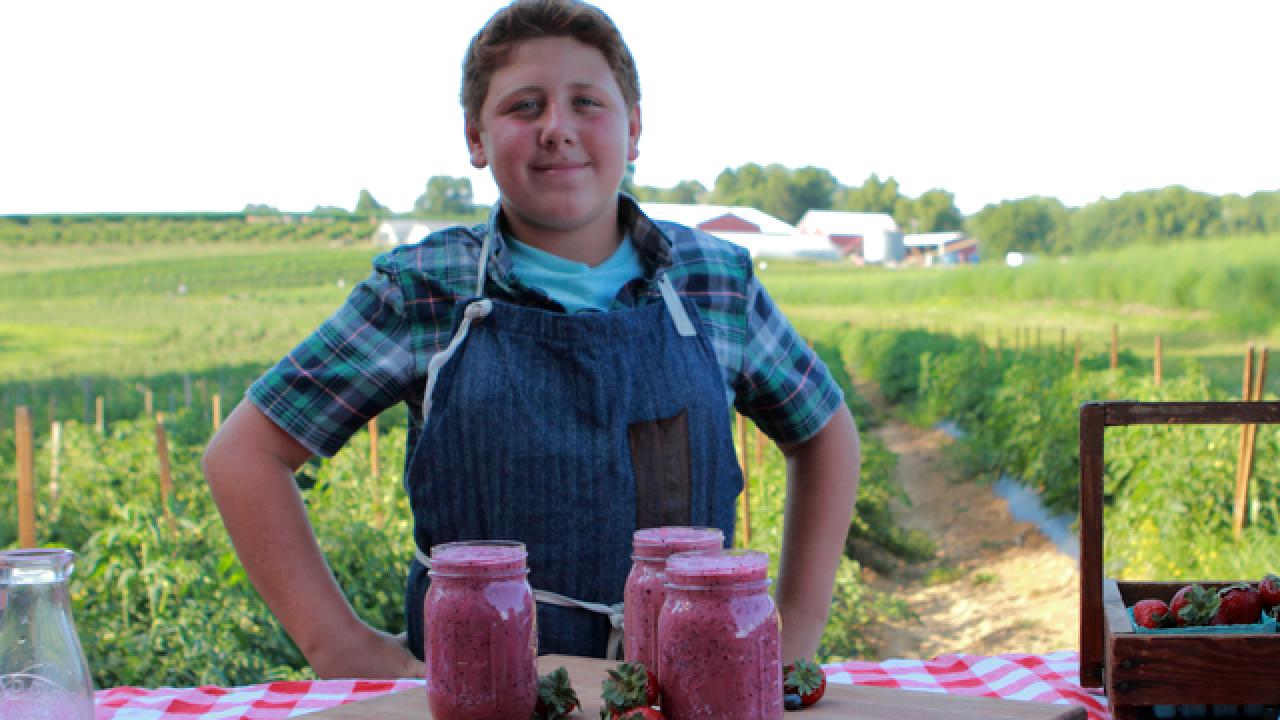 FN Dish caught up with Gibson on the set of his new show at the taping of the Blueberry and Strawberry Smoothie episode at Alstede Farms in New Jersey. He delves into what it was like taping the series, what it was like getting coached by his mentor, Guy, and what it felt like to win.
FN Dish: How did you feel on your first day, going into the competition?
Gibson: When I walked in I was like, these people — even though I haven't even seen them cook — are probably better than me. I'm this one kid who's 12 years old and cooks for his parents, and I've never really done something this big. Like Amber, she has a Web series and has cooked for Michelle Obama. Sean is a famous dancer. I was like: "I am probably not going to win. I'm not going to do anything. I'm just here to learn to cook." And then I won. It was very shocking because I was like, "All these people — I thought that they were better than me." And I thought that. But I didn't let that get the best of me.
What was going through your mind when they announced you had won? What did you feel?
Um, what?! Are they pranking me? Is this a joke? And then they didn't say anything after that. And I dropped to the floor and I felt like crying, I was so happy. And my mom came over, and Guy, and they were all just coming over and hugging me. I was like, "Oh, my God ... I just came out on top." It's an indescribable feeling almost to win something on Food Network, anything really.
Who do you think was your biggest competitor during the show?
At first I thought it was Helen, just because when I asked her, "What do you do?" She's like, "I shoot and trap." I was like: "Oh, so if I mess with you, you could possibly shoot me? So, um, I'm going to leave this alone." She seemed to just, like, cook really well. The first time I saw her, she cooked ... this great meal. I was like, "She's probably a good competitor." And then we just became best friends.
What was the hardest challenge for you?
Oh, God. The sandwich one where I had to grill that huge piece of lamb. It was this big and this wide [motions with his hands], and I was like, "You're going to make me grill this?" And they're like, "Yeah, just grill it!" And I'm like, "I've never grilled lamb before." They [the culinary staff] were like, "You'll be fine." I was like, "OK." That was just a bad challenge overall for me.
What was the most nerve-racking thing about competing in general?
It was probably just the element of the time limit. Just that we had to cook something — and I'm fine with cooking — it's just that we had to cook it in an hour. And that scared me, because I was like: "What if I don't get it on the plate? What if it all fails?" So many things went on through my mind. It just got easier. I was honestly terrified because I thought I was going to make a fool out of myself. I thought I was not going to get anything done and that I was going to fail. I was terrified of that. Then I just didn't let the time get the best of me. I was like, "Just cook until you can't cook anymore." And it just all fit together.
So from the casting tape we get that you're a big fan of Guy.
What was it like having him mentor you and being on his team?
It was pretty surreal, to be honest. Because he walked in the room and I sort of had a heart attack inside, because I was like: "The person that I read about in books and watch on Food Network is standing in the same room as me, looking at me. Do I look OK? Do I look presentable at this point?" And then it was just like when he picked me for his team, it was very crazy because I was nervous, because he's such an idol of mine. When he picked me for his team, I was like, "What?!" When he watched me cook, I was like: "This is not happening. What is life anymore?" Then he came and sat with us ... when we broke for lunch. One day, they didn't have this on camera, but we went all into his trailer and watched the Brazil-Mexico game in the World Cup together with his son. It was really cool, to be honest. Just having your mentor, someone that you've looked up to for most of your life, come and watch you cook, and teach you, is probably the coolest thing you could imagine.
Off the top of your head, is there anything special you learned from him during the show?
I learned so much from Guy. I think that we would be here for five more days if I explained everything. The biggest one I really learned from him was just to have fun. Don't stick inside. Don't be over-rehearsed. Just have fun with what you're doing. If you don't like what you're doing. Stop. Just have fun. I think that's the biggest thing I took away from him, and I thought about it during this whole contest, is to just really have fun. It doesn't matter what you do, as long as you're having fun, that's what you need.
How has it been taping your Web series? What's been the most fun?
Oh, my God! I think this day was pretty much the most fun, being on the farm, picking all the blueberries, eating ice cream. This is pretty much a fun day. I got on set [on the first day], and I'm like, "This is where it's all happening?" I thought it was just going to be a small Web series, and then 20 people showed up to film. I was very nervous, honestly. So I'm like, "Now these people expect so much from me, now that I've won ... am I reaching their expectations?" And everyone turned out to be really nice, and it's been just a roller coaster from there.
What will your friends and family say when they find out you've won?
I honestly have no clue. I haven't really thought that through. Probably just, "Can you cook for me ASAP?" I feel like my dad — whenever I cook for him — he's like, "Do you know what you're doing?" I'm like: "Dad, a Rachael vs. Guy winner is cooking dinner. He wouldn't have won if he didn't know what he's doing. I know what I'm doing." But, like, I don't really know what they're going to say. I know there's going to be a bunch of different reactions. But I haven't, like, pictured a real clear reaction from all my friends and family. If I had to choose one, it would probably be just screaming.