Vote on Your Least-Favorite Foods as a Kid — Rachael vs. Guy: Kids Cook-Off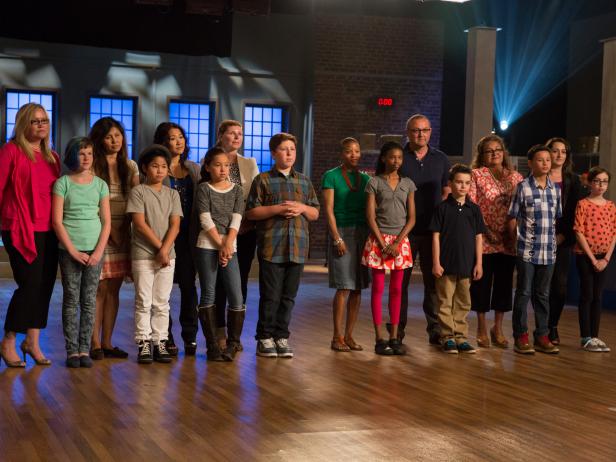 Contestants pose with their families as they learn about their challenge (L-R), Helen's mother Jen, Helen Wilson (TG), Sean's mother Miya, Sean Lew (TG), Amber's mother Yokho, Amber Kelley (TG), Gibson's mother Alison, Gibson Borelli (TG), Madison's mother Gina, Madison Grant (TR), Finn's father Renato, Finn Skerlj (TR), Luis' grandmother Georgina, Luis Ortega (TR), Lauren's mother Mariya and Lauren Zilberman (TR) as seen on Food Network's Rachael vs. Guy: Kids Cook-Off, Season 2
Justin Lubin, 2014, Television Food Network, G.P. All rights Reserved
On this past Sunday's episode of Rachael vs. Guy: Kids Cook-Off, the kids faced one of their toughest challenges yet, cooking their least-liked foods. And they couldn't lie to Rachael and Guy — their parents were on hand to spill the beans on what the kids really hate the most. The whole idea behind the mini challenge was to, hopefully, get the kids to like those foods, or at least find an appreciation for them. And along with Rachael and Guy, each kid chef had to taste his or her creation, so there was no getting out of it. It's worth mentioning that some kids didn't change their minds!
Thinking back to when you were a kid, what was your least-liked food? It was most likely an ingredient, like a vegetable, that now, as an adult, you don't mind or maybe even love. Brussels sprouts? Yeah, they stank, but wasn't it always because Mom overcooked them? You know better that the little cabbages are perfect roasted or sauteed, not boiled to within an inch of their lives.
Vote in the poll below, and if you don't see the ingredient you didn't like, feel free to add it.
See Food Network talent dish on the foods they hated as kids below.
We're sorry, there seems to be an issue playing this video. Please refresh the page or try again in a moment. If you continue to have issues, please contact us here.