Three Slices of Pie Aren't Necessarily Better Than One — Dante's Journey on Holiday Baking Championship
Recap what happened on Episode 3 of Holiday Baking Championship and relive Dante's journey on the show in gifs.
Jessica Brooks, 2014, Television Food Network, G.P. All Rights Reserved.
Pie was the theme this past Sunday on Holiday Baking Championship. After creatively baking non-pies with ready-to-bake pie crust in their pre-heat challenge, the bakers moved on to the real challenge, making three holiday pies to wow the judges. Unfortunately not everyone's pies came out equally as nice. Luckily Bobby let them get rid of their least successful one, a blessing in disguise for most, but not for Dante, who had to make a choice between two pies that were equally as bad. Ultimately it ended in his elimination from the competition. But this former navy man turned pastry chef has had a memorable time on the show.
In the first episode, Dante went at his pre-heat gift with abandon, tearing up layers to find a cookie scoop inside that humongous box.
And when it came to trying his cookies, the judges were impressed.
In Episode 2, the bakers had to use a mortar and pestle to grind the spices for their baked goods. While everyone was complaining about it, Dante, however, had no problem.
In Episode 3, Dante really wanted to show off his heritage, making two Italian pies, a pastia made with baked pasta and a cheese pie.
Dante ended up getting rid of the pastia, the choice, though, was "the lesser of two evils," as he pointed out both were pretty bad: the pastia undercooked and the cheese pie grainy.
The judges just couldn't get over the texture of the cheese pie, Lorraine likening it to "overcooked scrambled eggs." And in the end, Dante was the third baker to go home.
Visit the Holiday Baking Championship page to go behind the scenes with photos and videos of the competition, and get to know the expert judges and the talented bakers. Connect with fellow fans on twitter using the hashtag #BakingChampionship.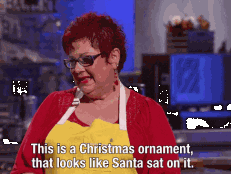 Relive the funniest moments from Episode 3 of Holiday Baking Championship in GIFs.